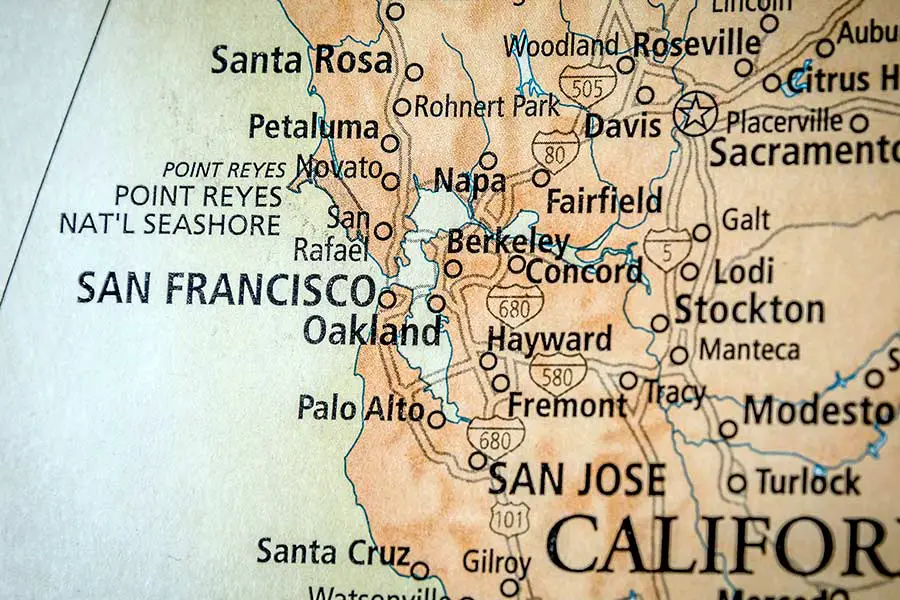 We've all heard the term "Bay Area." And most of us know that it refers to the general area around the San Francisco Bay. But what precisely is the Bay Area?
The Bay Area is the San Francisco Bay and the nine counties that surround it. Some looser definitions of "Bay Area" include further-flung counties and regions to the south, but the Association of Bay Area Governments only recognizes nine counties in their ranks.
So what nine counties are we talking about? What waterways are part of the San Francisco Bay? How many people live here, and what kinds of things are there to do? Is it all urban, like San Francisco, or are there more relaxed places? Read on to learn more about this interesting region.
The San Francisco Bay Area: Breaking it Down
The San Francisco Bay is a large estuary that brings the flowing waters of California to the depths of the Pacific Ocean. Human activity has shaped the bay for hundreds of years. As humans have variously dredged, filled, mined, dammed, and dumped, the coastline and wetlands of the bay have been shifted, contoured, or otherwise changed for the needs of civilization. Thanks to human ingenuity, places like Alameda sprung up out of the bay. And shipping has been made much safer over the years by this terraforming activity.
So how big is the San Francisco Bay? Well, that's a complicated question. The various human activities listed before have changed a lot of things about the bay over the years. However, depending on what you consider part of the bay versus an independent estuary, you can estimate the area of the San Francisco Bay to be anywhere from 400 to 1,600 square miles.
Currently, much of the Bay Area is restoring native wetlands and otherwise working to clean up the coastal waters of the bay and balance the needs of our civilization with the needs of nature. As it is now, nature is thriving in much of the Bay Area. Endangered waterfowl like the Least Tern and the Ridgeway's Rail enjoy living in the Bay. Important fisheries rely on the bay, as it is a spawning ground and nursery for ecologically important (and delicious) sea creatures like Pacific salmon and Dungeness crab.
For human residents of the Bay Area, the Bay offers not just economic opportunity in terms of seaports and fisheries but also an opportunity for recreation. Sailors, windsurfers, and kitesurfers love the strong thermal winds that blow around the bay. Bicyclists and pedestrians can enjoy lovely views of the water from terra firma on the San Francisco Bay Trail. Kayakers, canoeists, small-boat sailors, and others who have non-motorized boats can enjoy access to the bay through the ever-expanding San Francisco Bay Area Water Trail.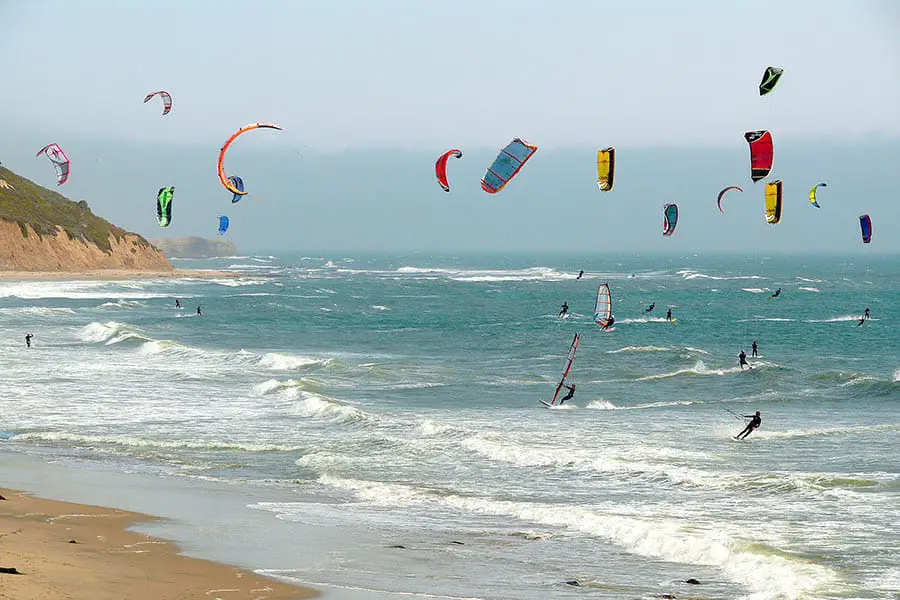 Now that we know more about the bay, we can move on to the Bay Area. What exactly would be considered the "Bay Area?" The simplest definition might be that the Bay Area is the region surrounding San Francisco and the San Francisco Bay. A more specific definition comes from the Association of Bay Area Governments, which considers the nine counties that border the San Francisco, San Pablo, and Suisun Bay estuaries to be the Bay Area. The nine counties included in this definition, listed alphabetically, are:
Alameda
Contra Costa
Marin
Napa
San Mateo
Santa Clara
Solano
Sonoma
San Francisco
So there are nine counties surrounding three bay estuaries in the Bay Area. That certainly sounds like a lot of land – and it is. The combined area of the nine counties of the Bay Area is a massive 6,966 square miles. That's just slightly smaller than New Jersey! However, if we consider the surface area of the bay itself, the size of the Bay Area expands to 8,500 square miles: that's bigger than Massachusetts, but without the snowy winters.
The nine counties around the bay are home to somewhere around 7.75 million people. The U.S. Census places the Bay Area into the larger San Jose-San Francisco-Oakland, CA Combined Statistical Area, which includes the nine Bay Area counties plus five extras. This larger combined area has a population closer to 9.7 million people. This fact means that the Bay Area is one of the most populous regions in the nation: it is the fifth-largest urban metro in the U.S. and the 41st largest on earth.
Alameda County
Alameda was established in 1856, when lands from Contra Costa County and Santa Clara County were merged together into a new entity. Now home to about 1.6 million Bay Area residents, the County of Alameda consists of 14 separate incorporated cities, six unincorporated areas, and large sections of unincorporated rural space. Famous cities in Alameda County include Berkeley, Alameda, and Oakland.
The biggest city in Alameda County is the city of Oakland. Boasting 433,000 residents, Oakland makes up a little more than a fourth of Alameda County's population. Oakland is also the fifth-busiest port city in the United States; many of the things you own likely passed through Oakland at some point in their lives. Indeed, marine freight operations employ about 200,000 Oaklanders, and the area handles more than $41 billion in trade annually.
Despite her reputation as a city of mariners and longshoremen, Oakland is a rapidly growing hub for the arts. Neighborhoods like Jack London Square are home to countless local art galleries; in fact, Oakland claims more artists per capita than any other city in the United States! And for those of us who enjoy eating, Oakland is home to some of the best culinary artists across a diverse range of cuisines.
Alameda County is also home to Berkeley, a famous hub for intellectuals and academics. The University of California at Berkeley is a renowned educational institution, and the Lawrence Berkeley National Laboratory houses some of the finest scientific minds in America.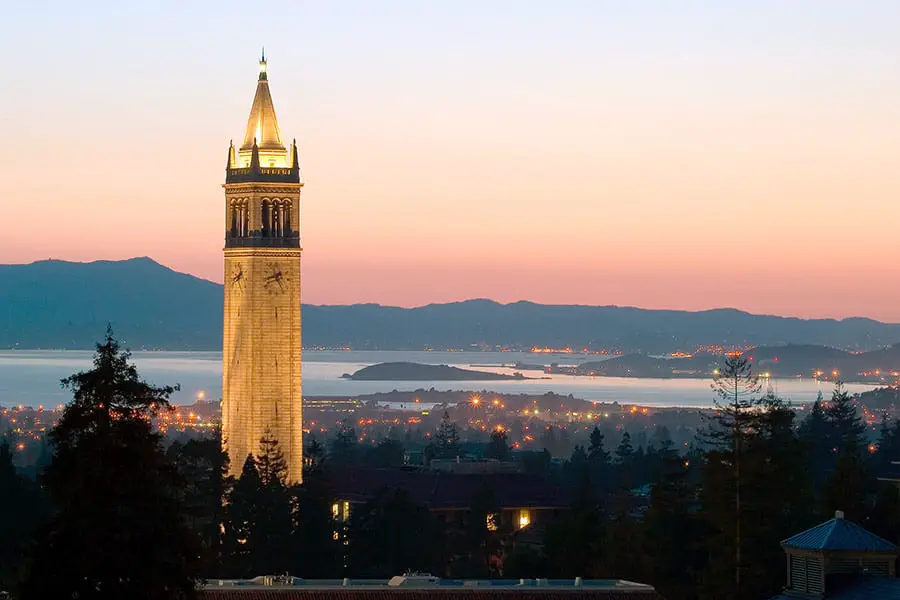 Due to unique zoning laws, Berkeley has almost no chain stores, which gives the city a very homespun and original feel.
Berkeley isn't all studies and highfalutin philosophy: it is also home to some of the best cuisine in the world. The famous restaurant Chez Panisse has been considered the best restaurant in the United States and was Michelin starred for a number of years. Other notable places to indulge in fine dining in Berkeley include Chocolatier Blue and Julia's Restaurant.
Contra Costa County
The next county on our journey is Costa Contra County. This county's unique name is Spanish for opposite coast, an appropriate name since Costa Contra is across the bay to the northeast of the city. The county is about 804 square miles in size and is home to 1.1 million Californians. Major cities in the county include Antioch, Richmond, and Concord. Other notable features of the county include splendid Mt. Diablo.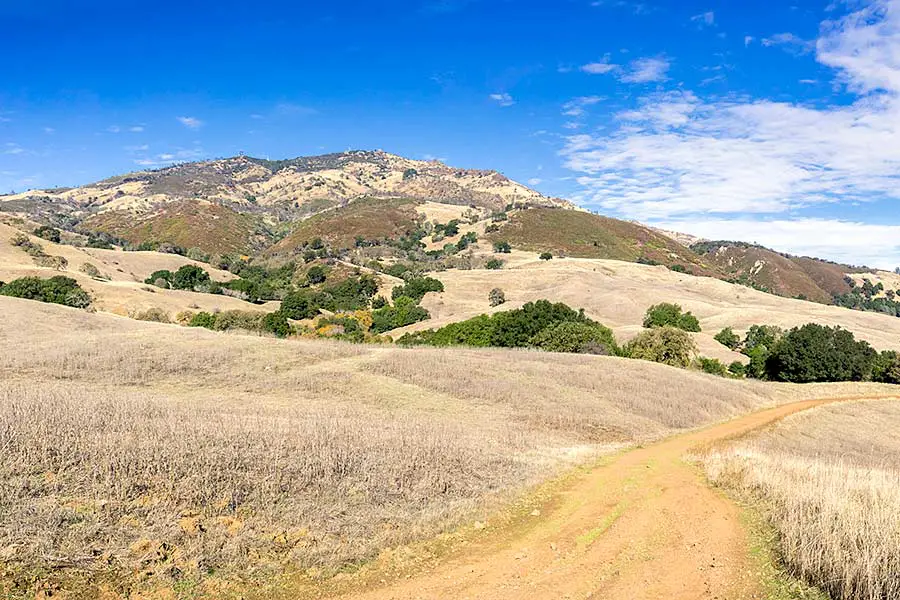 Contra Costa County's major economic activities are maritime and port operations and heavy industry. During World War II, shipyards operated by Kaiser in Port Richmond produced 747 ships for the Navy – the most of any shipyard in America. Nowadays, Port Richmond handles millions of tons of oil, petrochemicals, and other products annually. Taking advantage of this large port, Chevron operates a large refinery and tank farm in Richmond. Interestingly, the city also used to house a dynamite factory.
The largest city in Costa Contra County is Concord, with an estimated population of about 129,295. The area has long been known as a bedroom community for San Francisco, but Concord is beginning to develop an independent economy. Major companies like Bank of America and Chevron have established business centers in Concord.
Recently, the U.S. Navy closed the nearby Concord Naval Weapons Station; the land is now being transferred to the City of Concord, which is planning to make good use of their new land.
Antioch, a city of about 111,000, is another major point of interest in Contra Costa County. Artsy people, lovers of the theater, and history buffs alike will find Antioch much to their liking. The Arts & Cultural Foundation of Antioch offers workshops, classes, and groups for artists and actors. The Antioch Historical Museum houses artifacts from times past and hosts events and parties as well.
If you prefer the outdoors, Antioch has more than 310 acres of parkland, including coastal trails, a public marina, and a public fishing pier.
Marin County
Just across the Golden Gate Bridge from San Francisco sits rugged and beautiful Marin County. About 259,000 people call Marin County home. The county is also home to six state parks and six national protected areas, including famous destinations like the Golden Gate National Recreation Area and the Gulf of the Farallones National Marine Sanctuary.
Marin County is a great place to get outside and enjoy nature. Mount Tamalpais is a short drive from the city of San Francisco and offers splendid views of the area. The Point Reyes National Seashore is another outdoor destination that is worth a visit: one can enjoy the beautiful coastline and hike pleasant trails through the woods. Speaking of woods, be sure to visit the Muir Woods when you're in Marin County.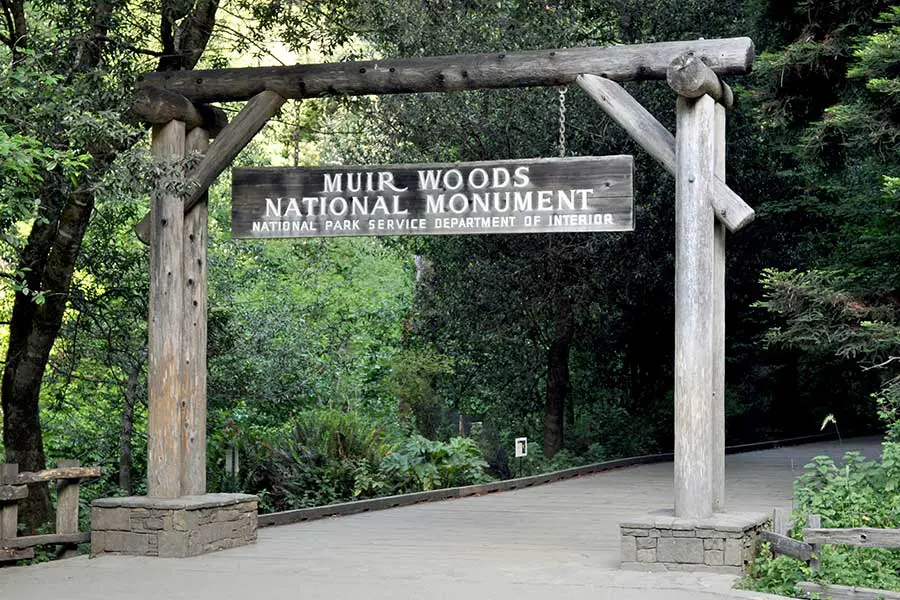 If you're feeling more indoorsy, Marin County has some great museums. The Marin Museum of the American Indian, built on a former Coast Miwok village, preserves locally discovered artifacts from first nations people in the region. The Marin Museum of Contemporary Art has a rotating series of exhibitions that are changed out every few weeks, so you'll never get bored of the displays. And for a truly unusual and interesting experience, visit the Marin Museum of Bicycling, where you can see historical bicycling artifacts and learn more about this fun hobby.
While you're in Marin County, swing through Sausalito and check out the houseboats. There are more than 400 floating homes in Sausalito, and you can even go down to the water and stroll the docks to admire them. The floating homes range from World War II-era relics to modern architectural masterpieces. While you're there, get a snack at one of the fun restaurants in the houseboat district, like the Bayside Cafe.
Other Posts of Interest
Napa County
Napa County is arguably the finest region for wine in the United States. Grapes have grown wild in Napa for hundreds of years, but the grape was first tamed and domesticated as an agricultural crop by George Calvert Young in 1839. A few decades later, in 1861, the first commercial winemaking operation in Napa County was established by Charles Krug. Today, winemaking has an estimated $9.5 billion economic impact on Napa County, making it a hugely significant industry.
The county has been able to retain the winemaking industry by keeping developers at bay. While neighboring counties have primarily developed their arable land into housing, Napa County voters have repeatedly voted to keep the agricultural character of the land intact and restrict the development of housing. This restriction has helped keep vineyards growing strong in Napa Valley and contributes to the distinctive character of the county. It has also kept the population of the county relatively low, at around 138,000 people.
Since wine is such a big part of the economy in Napa County, it follows that many of the activities and attractions here are wine-related. Indeed, there are 375 wineries to visit in Napa County: you could visit a new one each day for a year and not see them all! In addition, many wineries offer cheese and charcuterie boards and food pairings. Some even have picnic experiences, horseback riding, trail biking, and other activities mixed in with their wine-related activities.
Enjoying wine at the winery is grand, but in Napa County, one can also enjoy wine on the go. Nautically inclined oenophiles can reserve a spot on a 50-foot catamaran and enjoy the scenery as a private chef prepares a gourmet meal specifically paired with local Napa County wines. Or, indulge in a classic Napa County adventure and hop on the Wine Train to chug your way through wine country in style.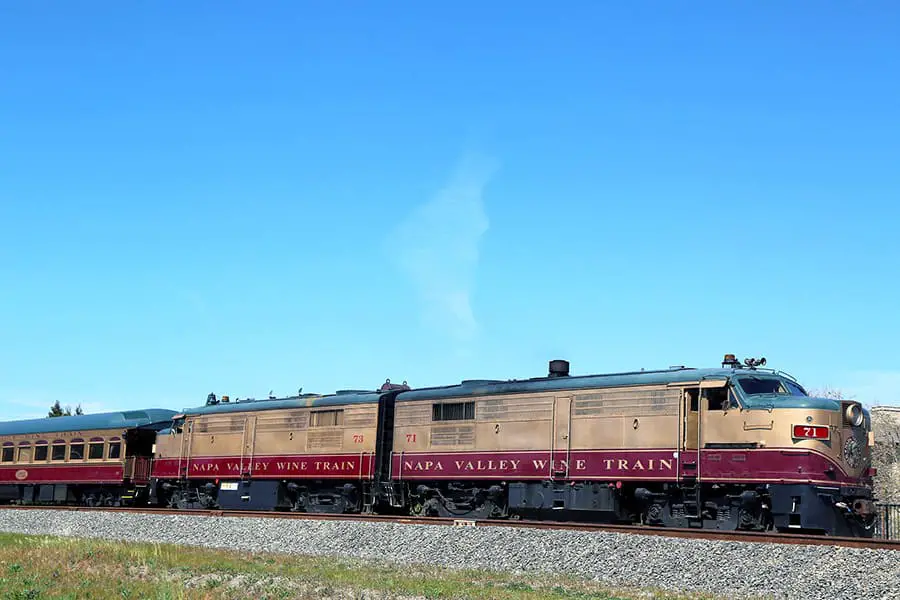 Of course, Napa County has more than just wine culture; outdoorsy visitors may want to recuperate between winery tours by hiking or biking in the Robert Louis Stevenson State Park or check out the wildflowers in the Missimer Snell Valley Preserve.
The biggest city in Napa County is the city of Napa, which is home to about 78,000 of the county's residents. Like the county of Napa, the city of Napa offers wine-lovers an endless assortment of wine-related activities to participate in.
For those who are less fond of the Dionysian pleasures, Napa has plenty of other ways to enjoy oneself. The Oxbow Market is a 40,000-square-foot warehouse space that contains a coffee shop, gift stores, a brewery, and a number of bakeries, restaurants, food shops, and more. Other local shopping can be found on Main Street and 1st Street, where a wide assortment of local clothiers and boutiques can be found. Chocolate enthusiasts might want to head to Anette's Chocolates, where you can buy or sample gourmet chocolate truffles and candies. There are endless bounties to enjoy in Napa!
San Mateo County
Just south of the city of San Francisco is the County of San Mateo. The county came into existence in 1856, when the State of California cleaved off San Francisco into its own county, leaving everything south of the San Bruno Mountain in the newly declared San Mateo County.
The county spent many years embroiled in local politics as residents waged a bitter political contest to determine where the county seat would be located. Finally, after a series of votes and court battles, the county seat was placed in Redwood City in 1875, where it has remained since.
San Mateo County is mostly located on the San Francisco Peninsula. The county fills an area of about 744 square miles and faces the Pacific Ocean along its western edge and the San Francisco Bay to the east.
The Santa Cruz Mountains run south-to-north through the middle of San Mateo County. This geographical arrangement means that the outer edges of the county are where people live, and the inner portion of the county is primarily made up of mountains, parkland, and conservation areas.
While a full discussion of San Mateo County's parkland could fill an entire post of its own, suffice it to say that there are many nature preserves, state parks, and state beaches in the county.
Nature lovers who want to enjoy California's gorgeous climate and beautiful redwoods should head for the Portola Redwoods State Park. There they will find 2,800 acres of beautiful forest offering deep shade, waterfalls, ferns, huckleberries, and a sense of tranquility from being in the woods. Dogs are welcome, and so are RVs and trailers up to 24 feet, so bring Fido and the Winnebago!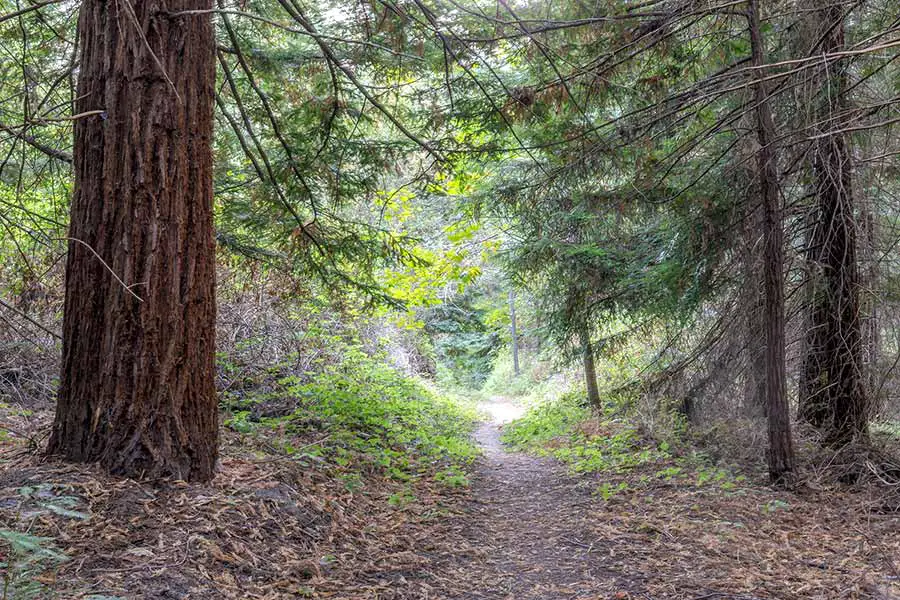 San Mateo County isn't all rugged mountain splendor. Indeed, about 766,000 Californians have made San Mateo County their home. The county has a long and storied history of welcoming Japanese immigrants from as far back as the 1870s, meaning that San Mateo County is a great place to find Japanese cuisine and to explore Japanese-style gardens and tea houses. Interestingly, the county is also home to many immigrants from Tonga, and you can find Tongan food and other cultural experiences throughout the county.
San Mateo County is home to a number of massive companies, including advertising giant Facebook, Sony Interactive Entertainment, and YouTube, among others. It is also home to the San Francisco International Airport, which is physically located in San Mateo County. San Mateans who want to travel over water can catch ferries to Jack London Square in Oakland or the Alameda terminal in Alameda.
Santa Clara County
Speaking of tech companies, Santa Clara County is the official home of Silicon Valley, America's technology hub. In fact, the high-tech industry in Santa Clara County dates all the way back to the founding of Hewlett-Packard in 1939 in Palo Alto; IBM moved to the county in 1943, followed by companies like Fairchild Semiconductor. These companies grew through contract work with the Navy and have inarguably changed the course of history with their innovations.
The presence of the high-tech industry in Santa Clara County has made it one of the most affluent places in the United States, as many techno-wizards and business tycoons call the area home. Census data bears this out: the median household income in Santa Clara County is $124,055, compared to the national median household income of $62,843. Moreover, Santa Clarans enjoy high home values to go with the high incomes; median home values in this county are a whopping $984,000 compared to a national median of $217,500.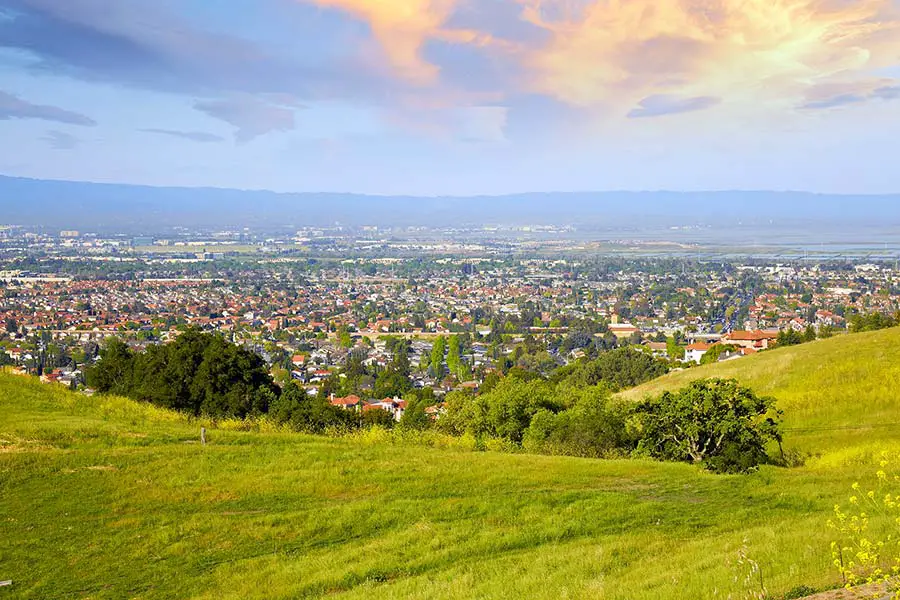 Continuing our tour of impressive numbers, we should mention here that Santa Clara County is also one of the biggest counties in California. The county headcount of about 1.9 million people is the sixth-largest in the state! However, even with a sizable 1,304 square mile area, the county is only the 37th-largest by land area in the state.
Santa Clara County's biggest city is the City of San Jose. This city contains just over a million residents, more than half the population of the county. These million souls make San Jose the third-biggest city in California, after Los Angeles and San Diego. In addition, San Jose is widely considered to be the hub city for Silicon Valley and sits on about 180 square miles of land.
San Jose residents can enjoy access to almost 16,000 acres of parkland, including a National Wildlife Refuge, a children's museum with a huge outdoor Monopoly game, an Egyptian-themed Rosicrucian park, the famous Winchester Mystery House, and a 5.5-acre rose garden. The city also has a thriving arts scene, including visual arts displays, art museums, and a collection of symphonies, ballet companies, dance troupes, and choirs.
Other than San Jose, famous cities in Santa Clara County include Palo Alto (home of Google) and Cupertino (home of Apple).
Solano County
Created when the State of California was established in 1850, Solano County is east of Napa County and sits in the northeast section of the Bay Area. Comprised of 822 square miles of land and 84 square miles of water, Solano County is home to about 448,000 people who live in cities like Fairfield and Vallejo.
While it is relatively unknown, Solano County is up-and-coming. As Napa becomes a better-known tourist destination, Solano County has decided to borrow surplus travelers and bring them to their lesser-known but just as charming section of the land. As a result, Solano County's wine industry is thriving, with plenty of local vintners offering tours and tastings. Other fun destinations include the Six Flags theme park in Vallejo and the Jelly Belly factory in Fairfield.
The county is home to Travis Air Force Base, where thousands of U.S. Air Force Military and Reserve personnel and their families make their home. The base hosts the extremely popular "Thunder Over the Bay Air Show," performing aerial acrobatics to entertain the crowd. In addition, aircraft displays allow you to get close to the air power that helps protect our country.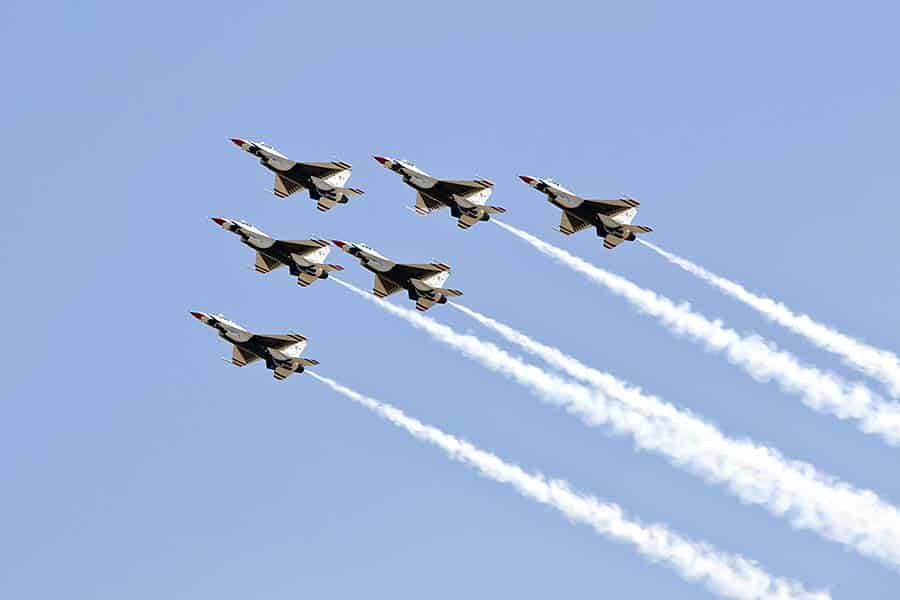 Vallejo is the most populous city in Solano County, home to about 121,000 people. For a brief period of time, in 1852 and 1853, Vallejo was the capital of California; that honor has since been ceded to Sacramento. In recent years, Vallejo has seen many artists flocking to the city to set up studio spaces. This industry has helped revitalize downtown Vallejo and turn the community into a thriving arts scene, with monthly Art Walks giving artists and community members a chance to mingle.
Suisun City, a smaller Solano County town of about 29,000 people, boasts a beautiful waterfront community that houses rows of gorgeous yachts and beautiful boats. The Suisun Valley is another gathering place for lovers of the fermented grape, and indeed one can find some of the finest wine grapes in America in the area. Adventurous drinkers can try unique vintages like Malvasia Bianca or Verdelho – not an experience one can get just anywhere!
Sonoma County
If you thought we were done with wine, you're not because Sonoma County is another Bay Area county known for producing fine wines. More than 1,100 grape growers in Sonoma County harvest hundreds of thousands of pounds of grapes every year! In addition, more than 58,000 acres of land in Sonoma County is dedicated to viniculture. Some of the more famous wines hailing from Sonoma include renowned zinfandels and the ever-popular pinot noir.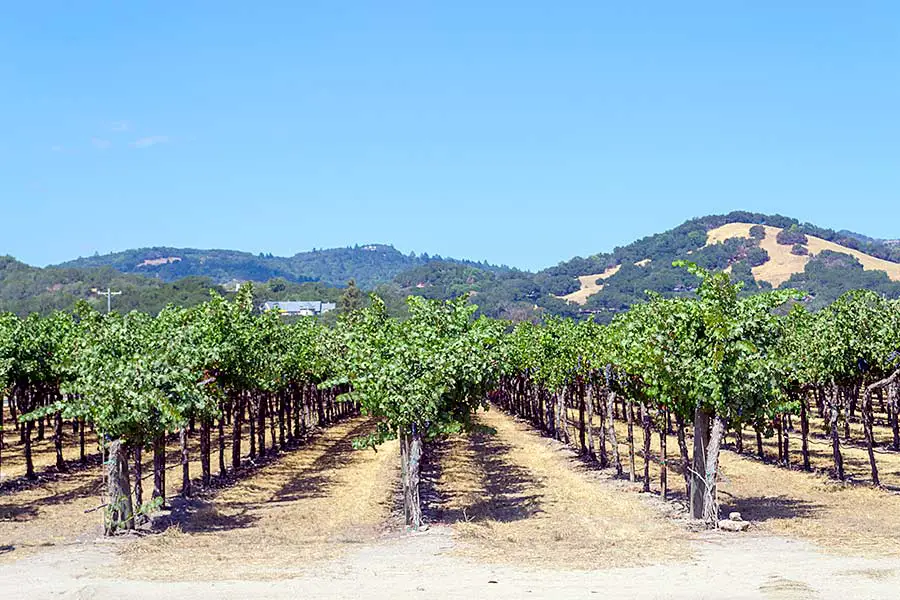 Sonoma County isn't all wine and winemaking, though. Indeed, the region is also known for its spectacular natural beauty. You may remember the iconic Windows XP wallpaper known as Bliss; this photo was taken in Sonoma County and has now been seen by countless people across the globe. Sonoma County has also hosted many film productions over the years: classics such as It's a Mad, Mad, Mad, Mad World, Scream, and American Graffiti have shot scenes in Sonoma County.
The largest city in Sonoma County is the city of Santa Rosa, which is home to about 177,000 residents. Santa Rosa is the fifth-biggest city in the Bay Area, following Fremont, Oakland, San Francisco, and San Jose. Santa Rosa saw significant growth in the years following World War II, as the area was used for Army Air Corps fighter training and Naval Aviation training. History buffs and gastronomes will enjoy the Railroad Square section of town, which has many interesting historical buildings and a large number of places to enjoy dining, coffee, and local craft beers.
Bay Area Answers Fun Fact: The Sonoma County Airport (KSTS) is formally known as the Charles M. Schulz-Sonoma County Airport. It is, in fact, named for the famous cartoonist and creator of Charlie Brown! The airport's logo features Snoopy flying his legendary doghouse / Sopwith Camel in full aviator regalia. Passengers at the airport are allowed to check a 12-bottle case of wine for free on all Alaska Airlines flights out of Sonoma.
San Francisco County
Last on our list – but certainly not least – is San Francisco County. San Francisco County consists of San Francisco, the city, which is on the San Francisco peninsula, near San Francisco Bay. Clear as mud? Just know that whatever level of governmental or geographical division you're referring to, the words San Francisco to most people will bring to mind the City of San Francisco. The County of San Francisco is technically a Consolidated City-County, so for the purposes of the average Joe, it's really all the same thing.
Of course, one of the biggest attractions to San Francisco County is the Golden Gate Bridge. This beautiful landmark spans the Golden Gate, the one-mile opening that connects the mighty Pacific Ocean with the tender waters of the San Francisco Bay. The Golden Gate Bridge is an absolutely iconic American landmark, the gateway to the West, a triumph of engineering, and a marvel of design. Bridge appreciators, scenery enjoyers, and exercise lovers will enjoy a chance to walk across the bridge!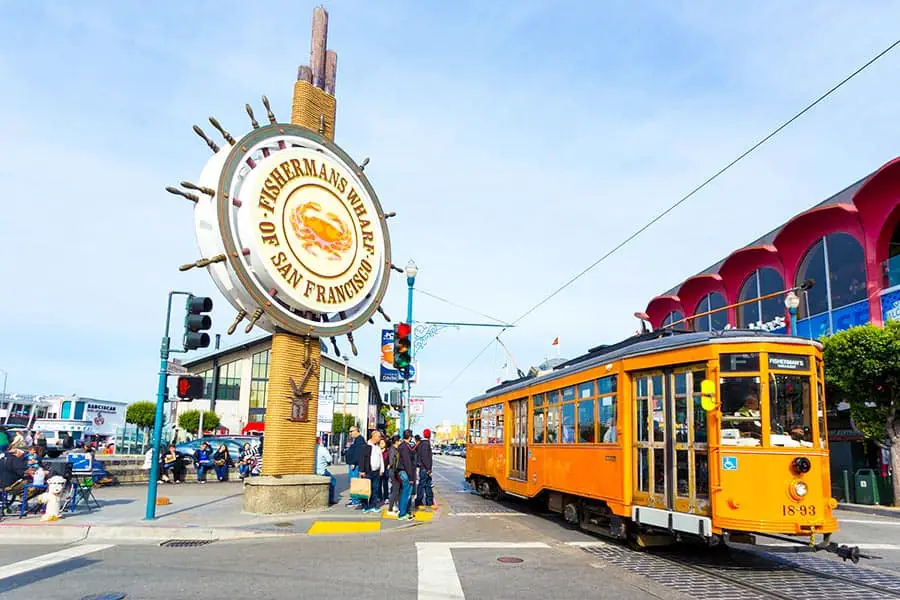 Once in San Francisco, there is a ton to see and do. Fisherman's Wharf is a must-see when you're in San Francisco. There are shops, restaurants, cafes, museums, and it is a perennial favorite for tourists: about 24,000 people a day visit Fisherman's Wharf. There aren't even 24,000 people in the county I grew up in!
That said, attractions like the Ghirardelli store make the Fisherman's Wharf area a must-see. Other essential stops in San Francisco include Lombard Street, the Painted Ladies, and of course, Alcatraz. With all these superb amenities, San Francisco County is a tremendously popular place to live and visit, and so it can be a little pricey – but we'd argue it's worth the money.
San Francisco County has 881,549 residents in about 47 square miles of land. It's the fourth-largest city in California and the 17th-largest in the United States. If you prefer walking to driving, you'll find San Francisco highly walkable: it is the second most walkable city in the United States. You don't even really need to own a car in San Francisco.
The Bay Area: Counting the Counties
The Bay Area is one of the best places in the United States to visit. San Francisco and the other cities and counties around the San Francisco Bay have something for everyone. The parklands, mountains, and scenic vistas are breathtakingly beautiful. The cities are rich, diverse, and often playful. The food and wine are expertly prepared and indulgent.
Whether you decide to take a hike in the beautiful wildlands of Marin County, ride a cable car in San Francisco, or sip some delightful wine and watch the sun set in Solano County, you'll find a trip to the Bay Area to be a wonderful experience.