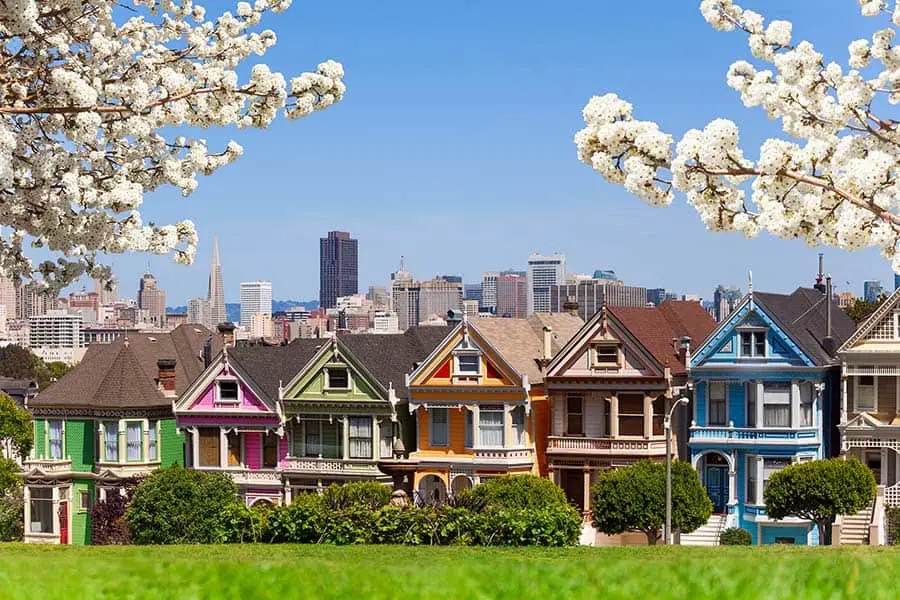 Among San Francisco's most famous sights to see are the Painted Ladies. When we hear the words "Painted Ladies," we might imagine some kind of body-art festival, or perhaps classical portraits of women by the old masters. But what actually are the Painted Ladies?
The Painted Ladies are a row of Queen Anne-style Victorian homes, each with its own characteristics and colors. The houses are located between 710-722 Steiner Street near San Francisco's Alamo Square. Matthew Kavanaugh constructed these distinctive homes between 1892 and 1896.
These singularly beautiful homes are a huge tourist attraction, drawing visitors from all over to snap photos as the sun sets over the Painted Ladies' gables. They have even been featured in television shows, notably appearing in the introduction sequence of the sitcom Full House. Read on to get to know these famous ladies better.
The Painted Ladies Of San Francisco
Beginning in the mid-1800s, San Franciscans developed an admiration for the architectural style of the British and began to build Edwardian and Victorian-style homes all over the city. These homes were frequently painted in bright color schemes, often featuring loud colors such as orange and red. Legend has it that this was a way for miners, bankers, and other nouveau-riche locals to conspicuously display their material success.
Unfortunately, as the homes aged and America proceeded through the world wars, many of these homes were demolished or scrapped. As paint aged and peeled, homeowners painted many of the surviving Victorians gray, as extra gray paint was readily available from the nearby naval shipyards.
As time went on, many of these homes vanished into the cityscape, blending into the background, unadorned with the cheerful colors of yore. This state of affairs persisted until the 1960s. In 1963, San Francisco artist Butch Kardum repainted his Victorian home with bright blue and green colors. Despite a few snubs from grouchy neighbors, most people found Kardum's brilliant and playful color scheme to be delightful. Before long, other owners of Victorian homes decided to mimic Kardum's colors.
Then Kardum partnered with other local artists to consult with homeowners on good color design. The Painted Ladies shed their drab grays and blossomed into colors reminiscent of their original glory. This transition from surplus naval paints to artfully designed colors continued from the 1960s into the '70s and became known as the Colourist movement.
San Francisco's famed Painted Ladies are located across from Alamo Square, on the corner of Hayes and Steiner Streets.
Colloquially known as Postcard Row, these beautiful homes were featured in the opening sequence of the famous sitcom Full House and have been featured in many other television shows and movies.
Why are the Painted Ladies Famous?
The Painted Ladies are quite a famous tourist attraction. But why exactly are they famous? Much like other well-known Californians, the Painted Ladies are primarily famous for — being famous. Their architecture is beautiful, their colors are striking, and the scenery behind them is quite compelling. These facts alone make them whimsical, appealing, almost like something from a fictional land.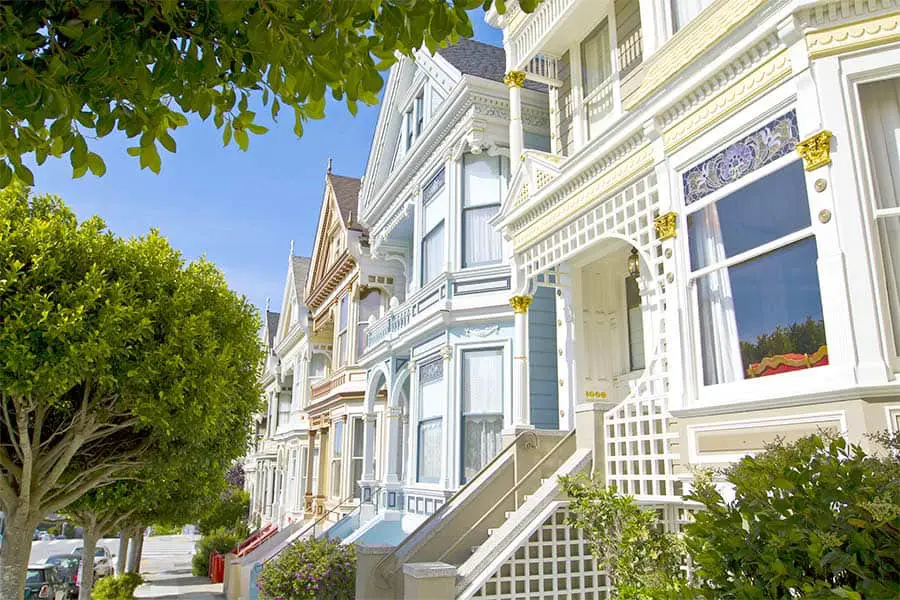 Why are the Painted Ladies called the Painted Ladies?
The term "Painted Lady" originates from a 1978 book, entitled Painted Ladies: San Francisco's Resplendent Victorians, published by Elizabeth Pomada and Michael Larson. The authors coined the term to represent the vibrant, artistic beauty of these ornate homes and the bright colors which were applied during the Colourist movement. The name has stuck and indeed is used across the nation to describe brightly colored Victorian homes.
Are There Any Other Names for the Painted Ladies?
While your average San Franciscan will almost certainly know what you mean when you talk about the Painted Ladies, these distinctive homes do have other monikers. Because these homes feature so prominently in so many tourist photos, this cluster of Victorians at Hayes and Steiner are sometimes called Postcard Row. The houses sometimes are called the Seven Sisters, as there are seven of them.
Other Posts of Interest
Bay Area Answers Fun Fact: Despite their fame, none of the seven homes making up the San Francisco Painted Ladies are listed on the city's register of historic places. Despite this, they are part of the Alamo Square Historic District.
How Much are the Painted Ladies Worth?
San Francisco is widely known for high real estate prices. Indeed, the median sale price for a single-family home in the Golden City as of December 2020 was more than $1.5 million. Based on this, what kind of price would one of the famous Seven Sisters fetch?
In January 2020, the Painted Lady located at 714 Steiner went on the market for $2.75 million – a steep price, especially considering that the home was described as a "fixer-upper." The home was eventually snapped up for $3.55 million, a whopping $800k over list price.
If you would like to acquire a Painted Lady to call your own, you will likely have some time to save your money. Despite the competitive and lucrative San Francisco real estate market, you may have to wait – only two of these historical beauties have been listed in the last decade.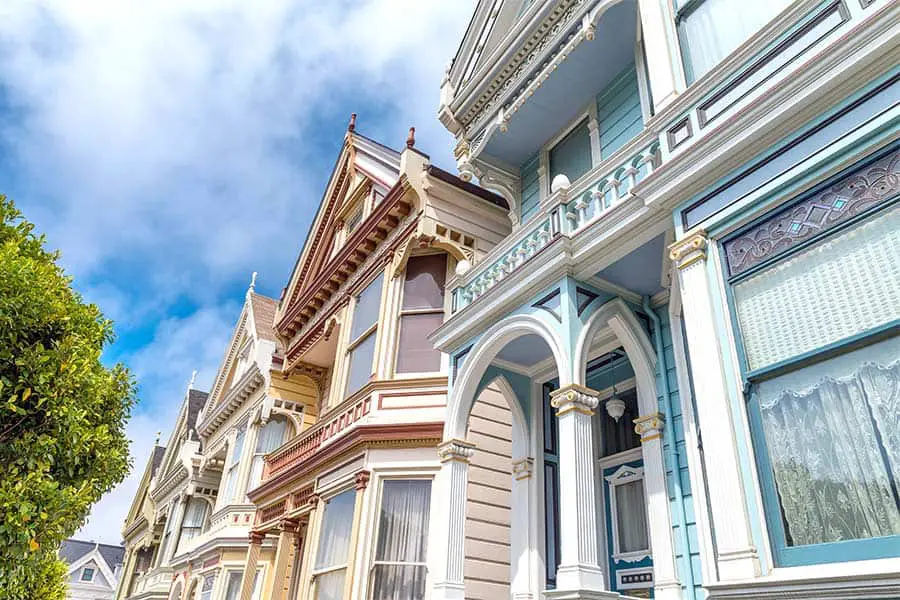 Does Anyone Live in the Painted Ladies?
Yes. These homes, while magnificent and splendid landmarks of the City by the Bay, are privately owned residences. Those who live in these homes are regular people who must find ways to live with the tourists flocking to snap selfies in front of their distinctive homes.
Some homeowners do humor tourists and the curious, but none of these homes are open to the public. When you visit these lovely landmarks, please do be respectful of the privacy of those who are fortunate enough to reside inside them.
Can You Go Inside the Painted Ladies?
Those who wish to get an inside look at the Painted Ladies are out of luck: the Painted Ladies are private residences. While these homes are very famous, their residents are not going to offer a tour or inside look to those who come knocking. Your best bet is to enjoy these homes from the outside.
That said, you can enjoy a walking tour of the Painted Ladies that includes access to a Victorian-style home. Take Walks offers guided walking tours that pass through Alamo Square and other local landmarks, culminating in a tour of a magnificent, well-kept Victorian mansion. While this is not the same as being inside the Painted Ladies, it might be enough to sate one's curiosity.
When is the Best Time of Day to Photograph the Painted Ladies?
We all love a good selfie, and no San Francisco trip would be complete without a portrait in front of these icons. Tourists and photography enthusiasts hoping to catch the perfect snapshot of these homes might think that sunrise or sunset would be an ideal time. However, the orientation of the Painted Ladies casts much of their detail into shadow during these times. Those who wish to capture the perfect shot should plan to shoot between 1 and 2 P.M., as this timing generally offers the best lighting for the homes.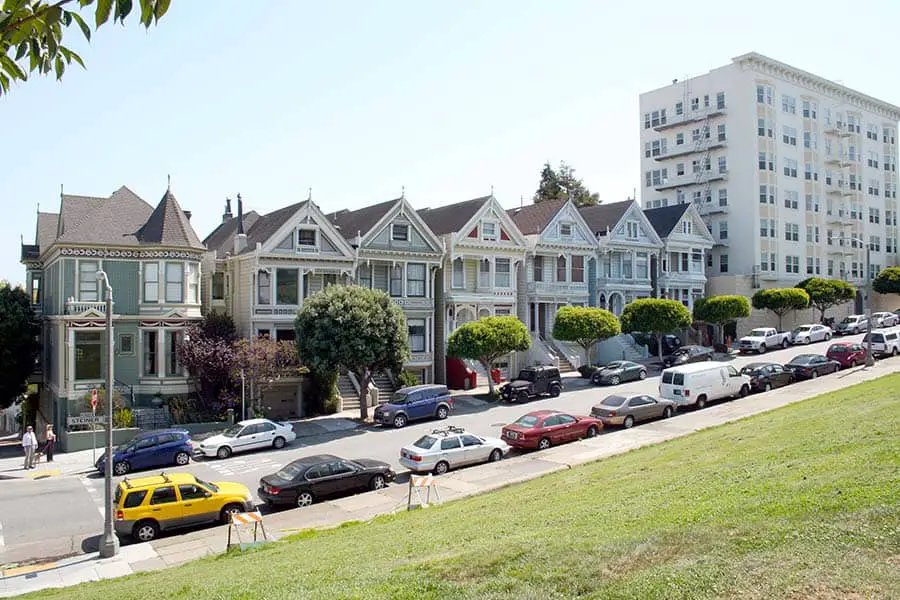 Is There Parking Near the Painted Ladies?
There is street parking available near the Painted Ladies, but it is hit-or-miss. The Fillmore Heritage Center, located at 1464 Eddy St., has $2/hour parking available and is only a 5- to 10-minute walk from the Painted Ladies. For those who wish to ride transit, Muni Line #21 runs from downtown to the corner of Hayes and Steiner. Uber and Lyft rides are readily available throughout San Francisco as well.
How to Get to Painted Ladies from Fisherman's Wharf
If your journey to San Francisco begins at Fisherman's Wharf, you can get to the Painted Ladies using the city's transit system. Walk to North Point St. & Jones St., then take the #49 bus to Van Ness & McAllister. From there, catch the #5 bus to McAllister & Pierce. Get off, take a left onto Pierce Street, and then turn onto Steiner Street.
Drivers may find local traffic to be a bit challenging. Based on variations in traffic, it is probably best to either ride transit, utilize a navigation app like Waze, or simply hail an Uber or Lyft.
Victorian Manners with San Fran Glamour
The Painted Ladies are a fine example of Victorian architecture that can be found throughout San Francisco. While many of us may think of the Victorian times as rather stuffy and uptight, the original builders and owners of these homes in the 1800s were pioneers of San Francisco glamour. Indeed, these homes were commonly painted with vivacious colors before the post-war era turned many of them gray.
As with so many things, the '60s brought a new perspective to bear on these fine homes, and their character has remained to this day.
Like so many other attractions in San Francisco, these homes have a modern appeal that is deeply rooted in local history and tradition. And their combination of historical charm and offbeat coloring makes them a perfect emblem for San Francisco: elegant, beautiful, and unique.