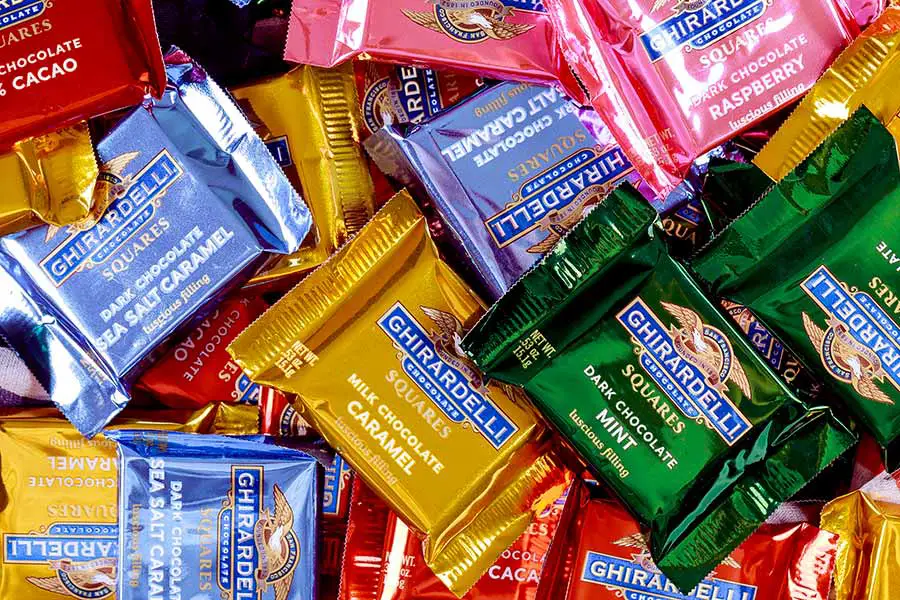 Amongst its many allures, San Francisco has a well-deserved reputation as a foodies' paradise. The city even has its signature foods, culinary delights like Cioppino, Irish coffee, Dungeness crab, and the world-famous clam chowder in a sourdough bowl. While visitors might not be familiar with some of these "only in San Francisco" dishes, if there's one food word that everyone probably recognizes, it's Ghirardelli, as in chocolate.
The name Ghirardelli (pronounced "geer-ar-delly") might be synonymous with San Francisco, but its famous chocolate is actually manufactured at the company's national headquarters in the nearby Bay Area city of San Leandro. The company moved its operations out of San Francisco in 1967.
But its original headquarters and factory at Ghirardelli Square in Fisherman's Wharf live on as one of the city's most popular tourist destinations.
Tourists who flock to Ghirardelli Square might not care where the chocolates are made as long as they can get their hands on those luscious little squares. While there, visitors also get a glimpse into the company's long and colorful gold rush history. Continue reading to learn more about the deep historical ties that forever bind Ghirardelli chocolates and the city of San Francisco.
Ghirardelli Chocolate and Its San Francisco Roots
Chocolatier Domenico Ghirardelli founded the company in San Francisco in 1852, but he came to the city by way of South America, where he had moved from his native Italy to establish himself in the coffee and chocolate business. 1849 brought word of a massive gold rush in California, so he moved to the NorCal city of Stockton and opened a business catering to miners who considered his house-made chocolates a delicacy.
A few months later, he opened his first San Francisco storefront in what is now the city's Italian North Beach neighborhood. Tragically, both locations burned down within a few days of each other in 1851. Undeterred, he moved his chocolate company to four different locations before settling on North Point Street, at what is now known as Ghirardelli Square.
Domenico Ghirardelli retired in 1892, leaving the operations of the business to his three sons. He died on January 17, 1894, at the age of 77, in Rapallo, Italy. According to the San Francisco Chronicle, he remains San Francisco's most successful chocolatier to this day.
Historically and culturally, the time of the gold rush is the most exciting period in San Francisco history, and a shared gold rush connection forever binds company and city.
As San Francisco grew and prospered, so did the company, thanks in part from the money brought into the city by "forty-niners" who struck it rich in the gold fields. While most of the company's historical gold rush-era buildings are long gone, their spirit lives on in Ghirardelli Square.
All About Ghirardelli Square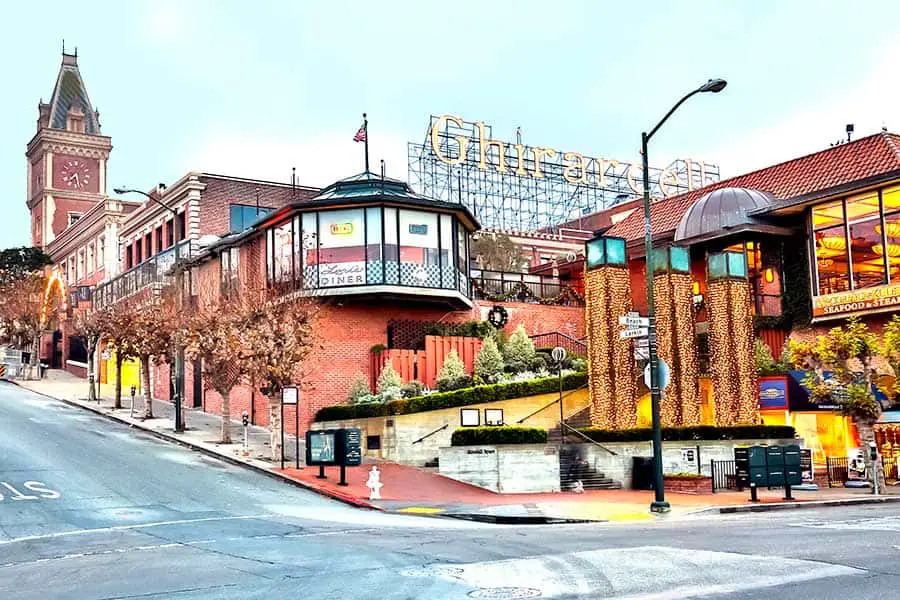 After the company moved its headquarters to San Leandro in 1967, a group of San Franciscans, eager to preserve the historic factory at 900 North Point Street, bought the property and transformed the square into a collection of tourist-friendly restaurants and shops. The area's rich history is never far from mind, as placards around the square tell the factory's story, how the company came to be, and its importance in San Francisco history.
Of course, Ghirardelli Square is best known as ground zero for chocoholics from around the world. Chocolate lovers won't be disappointed with the vast selection of choices at both the gift shops and the ice cream parlors, where the sundaes are BIG. Then, head into the lower level of the Clock Tower building for a lesson on how the chocolate is made. Just look for the giant vat of liquid chocolate.
Bay Area Answers Fun Fact: Ghirardelli Square was named a San Francisco Historic Landmark in 1965 and later added to the National Historic Register.
Are There Any Sites Near Ghirardelli Square?
After overindulging at the ice cream parlor or any of the neighboring restaurants, strolling the area around Ghirardelli Square is a great way to burn calories and prepare for round two. San Francisco Maritime National Historical Park, the beautiful Aquatic Park, the exhibits at Maritime Museum, and the Hyde Street Pier, with its collection of vintage sailing ships, offer deep-dive glimpses into San Francisco's maritime history.
Head a block up, and at Beach and Hyde Streets, you'll find the Hyde/Powell line cable car station and the Buena Vista Cafe, where legend says the Irish coffee was born. Or you can simply stroll along the nearby beach and take in the incredible views of Alcatraz, the Golden Gate Bridge, and the Marin Headlands. Sunsets here are amazing.
While there, be sure to take a few selfies in front of the giant Ghirardelli sign, a prominent San Francisco landmark. At 15-foot high and illuminated with bright white lights, you really can't miss it, especially at night. The sign, erected in 1915, has been greeting sailors returning home from the sea before the Golden Gate Bridge was even built.
Of course, the touristy allures of Fisherman's Wharf and Pier 39 are literally just down Jefferson Street. The popular North Beach neighborhood and its Italian restaurants and shops are a 5-minute walk away. A word of advice to those visiting the Ghirardelli Square/Fisherman's Wharf area: arrive early, stay late, and be prepared to eat a lot of chocolate.
Other Posts of Interest
What Makes the Chocolates So Special?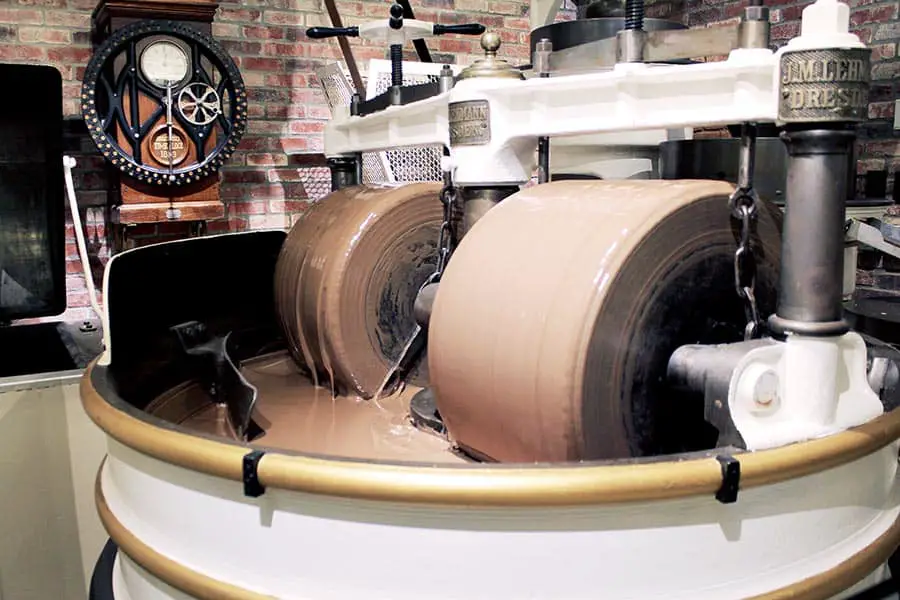 According to its website, the company oversees every part of the chocolate-making process, and they start by using only the highest-quality cocoa beans from around the world.
The company roasts only the heart of the cacao bean called the nib, rather than the whole bean, which produces a deeper, more consistent chocolate flavor. The chocolate is then refined even further to ensure the rich, velvety texture and flavor that chocolate lovers have come to expect.
The company is also proud of the fact that they are constantly evolving, consistently introducing new flavors and textures along with their tried-and-true favorites. True to the times, the company now produces gluten-free chocolates.
As well, Ghirardelli was one of the first American chocolate companies to use creative advertising and marketing to promote the brand. Now, just one look at the colorful square packaging, and you know it's a Ghirardelli!
Why Are the Chocolates Expensive?
Ghirardelli Chocolate is the only U.S. chocolate company that controls every single aspect of its chocolate manufacturing process, from bean selection to manufacturing to marketing. The company also invests heavily in the latest technology and resources, priding itself on embracing the latest industry innovations. While this strategy has helped the company grow and remain competitive, it doesn't come cheap, and those costs are passed along to consumers, who don't seem to mind.
Ghirardelli makes a wide selection of delicious choices to choose from, including milk chocolate, dark chocolate chips, for making your favorite cookies, and even a hot cocoa mix to warm up with on a cold winter day. If you love chocolate, you'll love the fine selection from Ghirardelli.
Can I Tour Their Present-Day Factory?
The company does not offer tours of their San Leandro factory or headquarters, although there is a factory outlet store on site. However, San Leandro is a 30-minute drive from downtown San Francisco. The city itself is a bedroom community that offers very few attractions, so visitors are better off staying in San Francisco to experience everything the Ghirardelli Square area provides.
Summing It Up
As you can see, there's a lot of good reasons Ghirardelli Square is one of the city's most popular visitor destinations. Whether you're a history buff, a chocoholic, or a first-time visitor eager to explore some of San Francisco's iconic attractions, touristy or not, Ghirardelli Square is one spot not to be missed.