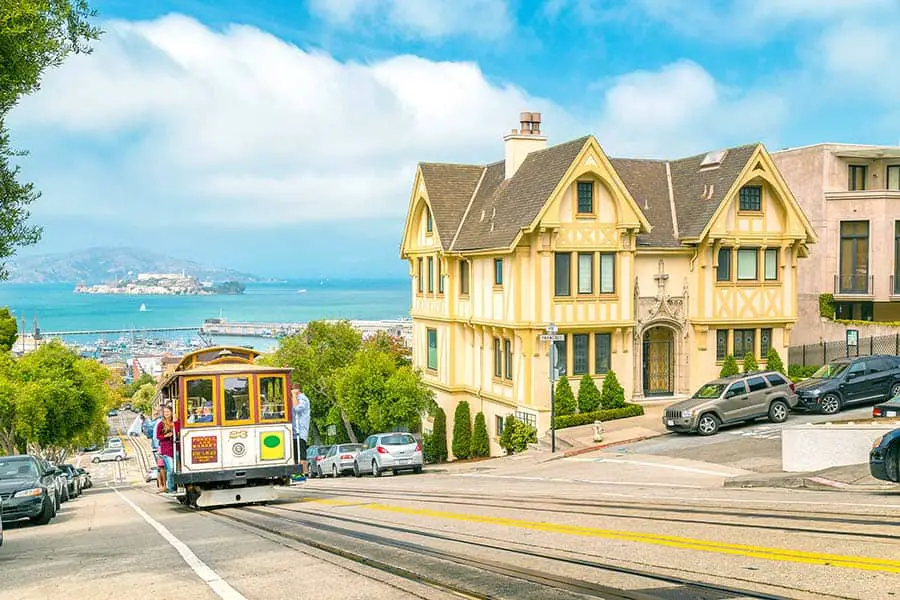 For a city that's known for its rich history, it's no wonder those ties to the past extend to the ways San Franciscans move around the city. But when researching their trip to the city, visitors often wonder about the difference between San Francisco's world-famous cable cars and the lesser-known but no less interesting historic streetcars.
Streetcars and cable cars differ in design, but the key contrast between them is how they are powered. Streetcars are run by an electric motor attached to an overhead cable, whereas cable cars are pulled along by a cable underneath the tracks. Cable cars climb hills, while streetcars run on a flat path.
Both options will take visitors to popular tourist destinations like Fisherman's Wharf, Union Square, and the Ferry Building, albeit by different routes. While the two can be slow, lumbering, and noisy, that's also part of their charm. Let's take a more in-depth look at San Francisco's vintage streetcars and cable cars and the place they play in San Francisco's rich and colorful history.
Breaking Down the Differences
First-time visitors to San Francisco are often under the mistaken impression that streetcars and cable cars are one and the same, but in reality, the two could not be more different.
Structurally, streetcars are long, solid metal "trolley-style" cars that are entirely enclosed. Cable cars are instantly recognizable by their partial open-air design, wood, brass, canvas, and steel construction, with running boards. The running boards let riders have the thrilling experience of standing outside the car while holding on to vertical metal poles as the car takes on San Francisco's challenging hills.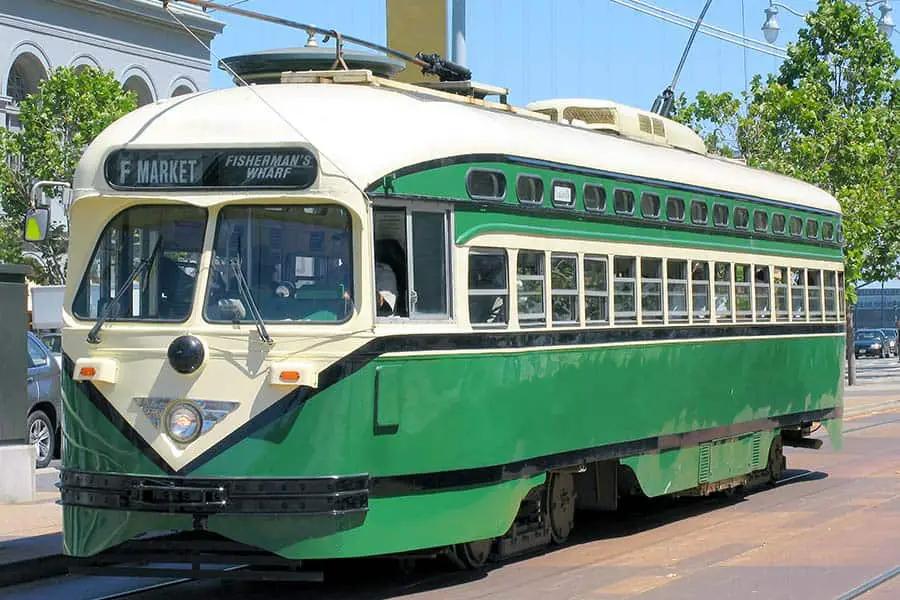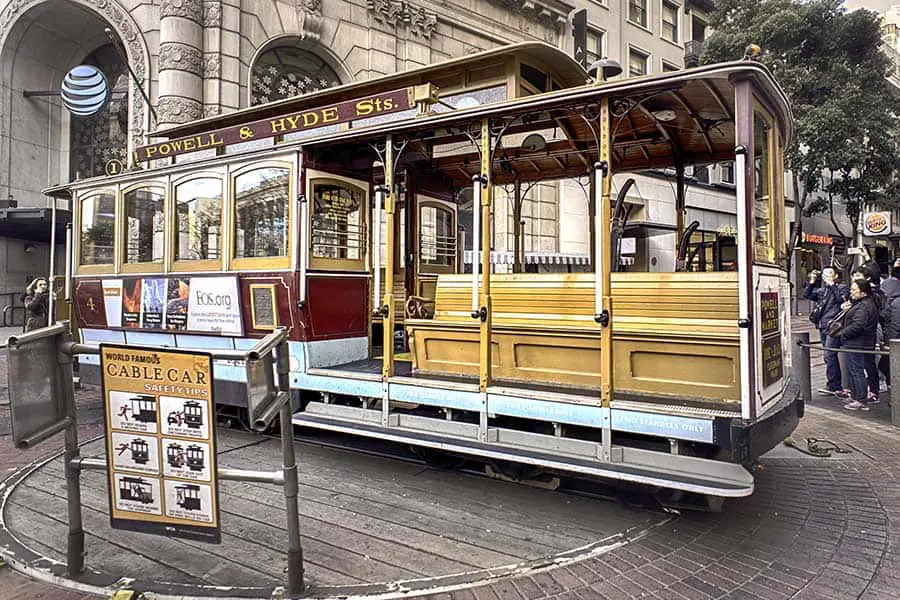 Bay Area Answers Fun Fact: Before the Great Earthquake of 1906, there were more than 600 cable cars in San Francisco. By 1912, there were less than 100. Today, there are 44.
Cable cars are also known for the metallic ring-a-ding-ding of their lively bells. Each car has two bells, a smaller one that's used by the conductor to communicate with the grip person or driver. The driver uses a larger bell to alert upcoming pedestrians and other traffic to their presence and to signal an upcoming stop.
The bells are so popular that a bell ringing competition is held each year in Union Square. While streetcars have their own bells, they're not quite as iconic as the cable car bells.
About the Historic Streetcars
If you're from the East Coast, most likely you call them trolleys or trams, but here in San Francisco, they're known as the historic streetcar line. While not quite as steeped in colorful history as the cable cars, San Francisco's streetcars have their own stories to tell. They were born as part of a citywide beautification effort when proposals for a historic streetcar line on Market Street were first made in 1971, followed by a proposal to extend the line along the Embarcadero in 1974, both of which were approved by San Francisco voters.
In 1982, the city held the Historic Streetcar Festival, where cities from around the world donated their own historic streetcars to Muni's existing fleet of streetcars, most of which still roll down Market Street. It gives passengers an international feel by riding classic streetcars from London, Toronto, Mexico City, Melbourne, and 1928 Milan. Plus, riders can enjoy a real nostalgia trip as well by riding vintage cars from U.S. cities like Philadelphia, Los Angeles, Chicago, St. Louis, New York City, and many more. Click here to see all of San Francisco's historic streetcars.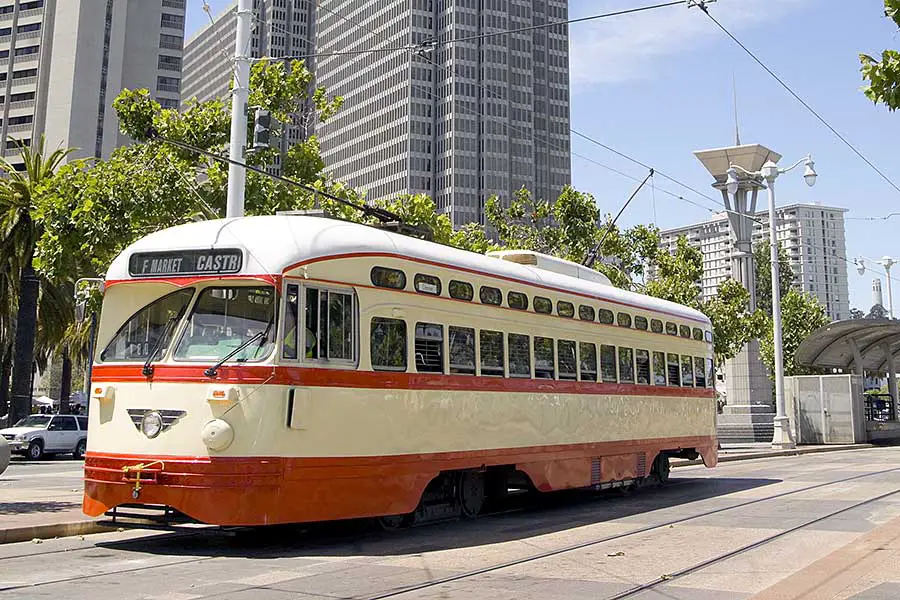 Also called the F-Market Line, it starts at 17th and Castro Streets in the Castro District, running along Market Street past the Civic Center, through the Union Square shopping and entertainment district to the Ferry Building just past the Financial District. From there, it turns north along the Embarcadero into the heart of Fisherman's Wharf. Some streetcar lines head south on the Embarcadero to deliver baseball fans to Oracle Park and the South of Market (SOMA) tech centers.
If you desire to learn more about the story of the streetcars, the San Francisco Railway Museum is a deep dive into the history of these rolling throwbacks to San Francisco history and well worth a visit. Click here to learn more about making use of the streetcars and for maps and schedules.
Bay Area Answers Fun Fact: Mining engineer Andrew Smith Hallidie is credited with being the "father of the San Francisco cable cars." The son of an inventor, he helped form the Clay Street Hill Railroad, and construction of a cable line on hilly Clay Street began in May 1873. Cable cars were a rousing success from the time they began public service on September 1, 1873, and at their peak, San Francisco had over 70 miles of cable car tracks throughout the city.
Other Posts of Interest
Are Streetcars Free in San Francisco?
In a perfect world, it would be wonderful if transportation and other great things in life were free, but that isn't usually the case.
Unfortunately, streetcars aren't free to ride. The fare is $3, and you can pay with cash or with the MuniMobile app, Clipper Card, or the 1, 3, or 7-day SFMTA Visitor Passport. If paying with cash, you'll get a transfer that's good for 90 minutes of continuing rides on all Muni buses and subway lines.
How Do Cable Cars Work?
Cable cars have no engines and are pulled along by large, below-street cables, which in turn are pulled by massive wheels that are powered by engines inside the Cable Car Museum and Barn at 1201 Mason Street.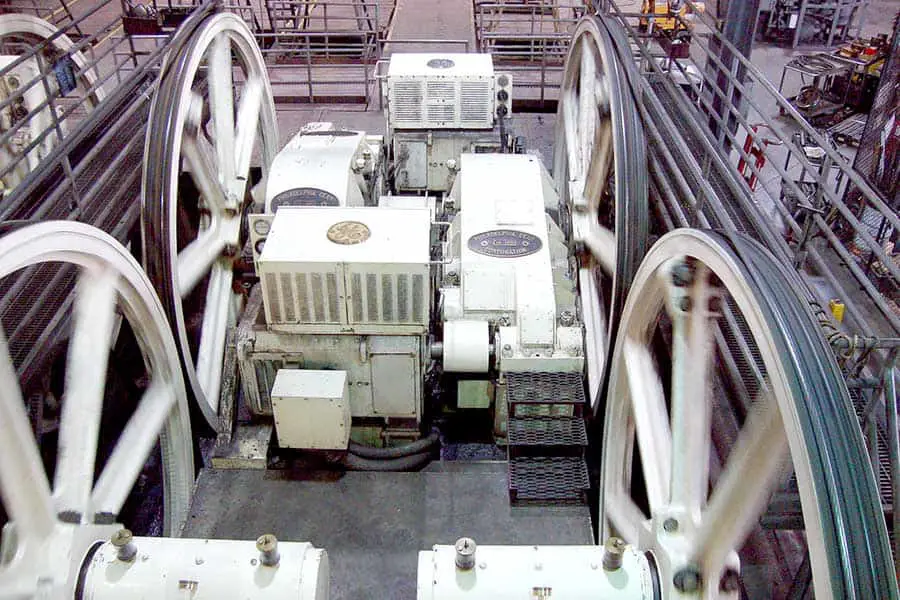 A "grip person" drives the car by using levers and handles to grab or release a moving cable that runs in an endless loop beneath the street. To make the car stop, the grip leverages the brake, which is a simple piece of wood that drags along the ground. The grip also rings the iconic bell that signals the cable car's approach.
How Many Cable Car Lines Are There?
Of the 23 cable car lines established between 1873 and 1890, only three remain. Each has its charms as they take passengers through many of the city's cooler neighborhoods and tourist destinations. Running an average of every 8 to 12 minutes at an average speed of 9.5 MPH, you won't have to wait long between cars, although getting on the lines that run to Fisherman's Wharf can be a challenge.
Here are the three lines and their routes.
Powell/Mason Line:
Grab the Powell/Mason line at the turnaround at Markets and Powell Streets in Union Square; you'll know it by the mile-long line, which you can avoid by walking a few blocks up on Powell and get on at a less-crowded stop.
After running through Union Square, it passes through Chinatown and the fun Italian enclave of North Beach before ending at Bay and Taylor Streets in Ghirardelli Square, near Fisherman's Wharf. The ride down the Taylor Street hill offers its own Instagram-worthy views. Running from 6:30 AM to 12:20 PM daily, passengers can expect a 17-minute ride.
Powell/Hyde Line:
Because of its stunning views, the Powell/Hyde is arguably the most popular of the three lines. It starts at the Market Street and Powell turnaround and runs through Union Square and along hilly Hyde Street in Russian Hill.
From there, it runs near "the crookedest street in the world" at Lombard Street before a descent down the north side of Russian Hill that features spectacular views of Alcatraz and the Bay. Its final stop is at Hyde and Beach Streets in Fisherman's Wharf, a few blocks from Pier 39. The Powell/Hyde line runs daily from 6 AM to 12:20 PM and takes about 20 minutes.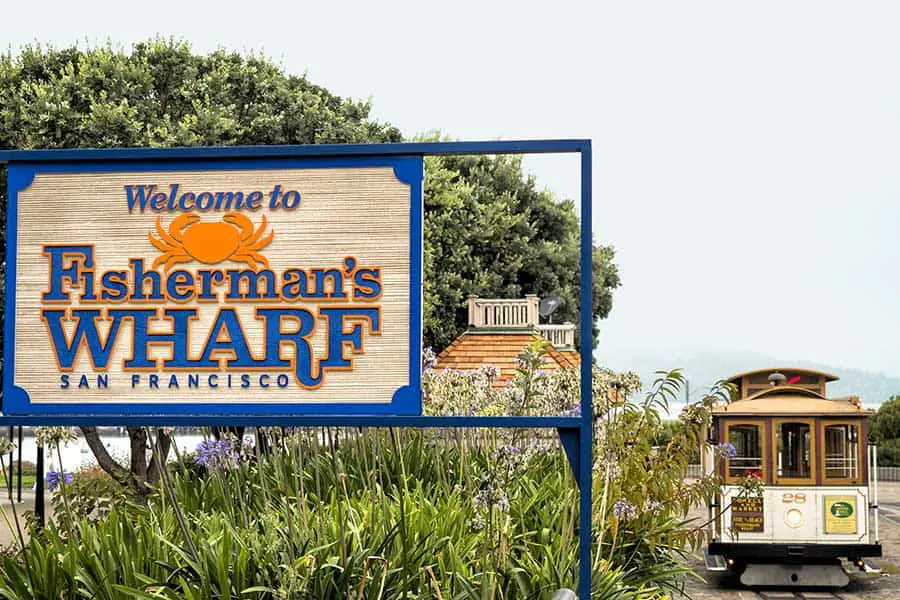 California Street Line:
The oldest of the three cable car lines and the only line to run east to west, it starts in the Financial District at Market and California Streets and runs straight up California before ending at Van Ness Street. It climbs one of the city's steepest hills, Nob Hill, passing beautiful Grace Cathedral, swanky hotels, and hip Polk Street. From start to finish, it's about a 16-minute ride.
The California Line doesn't have a ticket booth at either end, so unless you bought tickets elsewhere, you'll need cash or passes. It runs from 6:20 AM to 11:30 PM every day.
Are Cable Cars Free In San Francisco?
There are various free activities that you can enjoy in San Francisco, like walking across the Golden Gate Bridge and exploring Fisherman's Wharf, but riding cable cars regrettably doesn't fall into that group.
Cable cars aren't free to ride, and you must pay a fee. A single, one-way ride is $8 per ride with no exceptions, and passengers pay after boarding the car.
Visitors should be aware that cash is not accepted at any of the cable car turnarounds, and you'll need to have a ticket or pass in hand if boarding between 8 AM and 5 PM. You can also pay fares with the MuniMobile app, Clipper Card, or the 1, 3, or 7-day SFMTA Visitor Passport.
Wrapping It Up
In a 21st century world that's constantly changing and moving faster than ever, the simple pleasures of riding historic cable cars and streetcars can be like a soothing balm as they hearken to simpler, less complicated times.
While there may be faster and more contemporary ways of getting around town, none have the history, charm, and "cool factor" of San Francisco's moving museums. So when in San Francisco, skip the more modern ways of getting around, for a day at least, and ride a piece of history.