The City of San Francisco is one of the top tourist destinations in the United States. First-time visitors typically like to stay in the middle of the action. If this sounds like what you are looking for, Union Square is the place to be. So, what is Union Square?
Union Square is one of the most popular places to visit in the heart of San Francisco. The area, which is named for the public plaza at its center, is full of shopping, restaurants, and access to some of the most iconic tourist attractions in the city.
Before you start planning your trip, you will want to pick where you want to stay. I'll show you why Union Square should be high on your list. Continue reading to learn about the history of Union Square, how to get around the city and activities within walking distance.
What is San Francisco's Union Square?
Union Square is a public plaza in the heart of San Francisco located about 1.5 miles south of Fisherman's Wharf. The Square is popular with first-time visitors because of its central locale and easy access to the entire Bay Area. Union Square officially consists of a 2.6-acre plaza. However, most locals refer to the surrounding city blocks as part of Union Square. So, if you hear a local mention Union Square, they might be referring to the area in general.
There are lots of activities, shopping, dining, and entertainment for visitors who are staying in and around Union Square. The Square itself is a great place to take a walk, people watch and check out the Dewey Monument situated at the center of the plaza.
Visitors to Union Square will have access to some of the best restaurants in the city. Bartlett Hall is a popular gastropub located less than a block from Union Square. For a fun adult evening out, visit the Starlite Room on the top floor of the iconic Beacon Grand, formerly known as the Sir Francis Drake Hotel. The Starlite Room has sweeping views of the City of San Francisco while visitors enjoy the dance floor or grab a drink at the bar.
Union Square boasts some of the best shopping in the city with high-end brands and upscale boutiques, including luxury retailers such as Neiman Marcus, Saks Fifth Avenue, Louis Vuitton, Gucci, and Tiffany & Co.
Union Square is the third-largest shopping district in the United States and home to the 2nd largest Macy's Department Store (after the flagship store in New York City)
History of Union Square
The Square was originally a large sand dune in the middle of the city that was set aside to become a public park. The park came into fruition in 1850 when the first mayor of San Francisco dedicated it.
The park was used by Thomas Starr King, a Unitarian minister, and activist, to host rallies to drum up support for the Union Army during the American Civil War. Because of this, the park became known as Union Square and earned it the designation as a California Historical Landmark.
Since its original construction, Union Square has undergone several rounds of renovations, including adding a monument at the center, redesigning the layout, and building an underground parking structure to accommodate a growing population and more visitors coming to the area.
About the Dewey Monument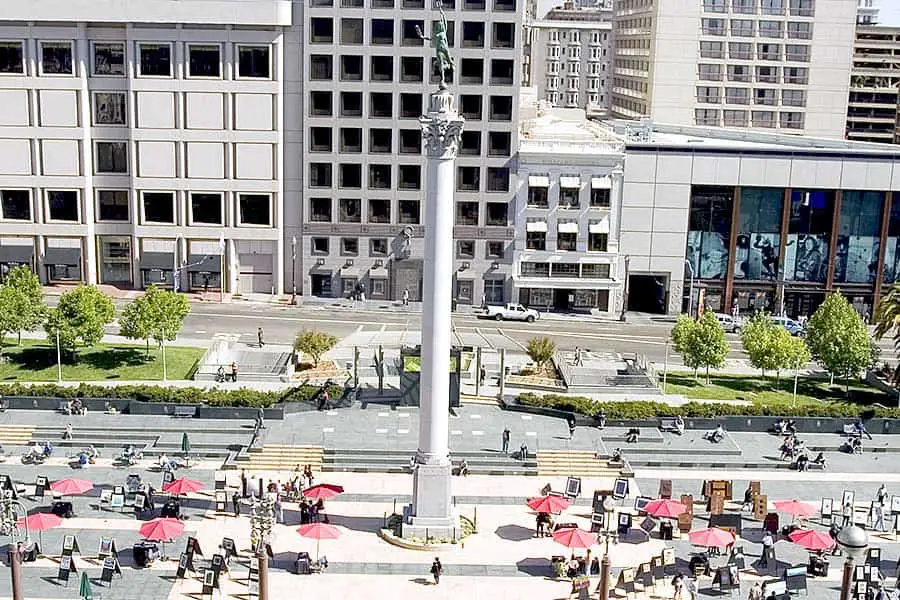 The Dewey Monument, located at the center of Union Square, was completed in 1903 and commemorated Admiral George Dewey's victory at the Battle of Manila during the Spanish-American War.
The main column stands 85 feet tall and is topped with a 9-foot tall statue. The statue, designed by sculptor Robert Ingersoll Aitken, depicts Nike, the ancient Greek goddess of victory. The goddess holds a trident in one hand representing Admiral Dewey and a wreath in the other to honor US President William McKinley. The base of the monument is encrypted with details and information about the Battle of Manila and Admiral Dewey.
Bay Area Answers Fun Fact: President William McKinley was assassinated six months after attending the monument's groundbreaking ceremony and didn't see its completion. The monument was dedicated by his successor, Theodore Roosevelt.
Can You Walk from Union Square to Fisherman's Wharf?
The walk between Union Square and Fisherman's Wharf is about 1.5 miles and takes 35 to 45 minutes, depending on your physical fitness. Since San Francisco is a very walkable city, taking this route on foot is a great way to see the city. There are lots of great sites to see along the way, including Chinatown, Lombard Street, and views of Coit Tower.
Don't worry if the walk is too far. You can always take a taxi which takes about 12-15 minutes. Or you can walk in one direction and take a cab back.
Other Posts of Interest
Things to Do Around Union Square
The thing that most people love about staying near Union Square is the accessibility to popular sites in the surrounding area.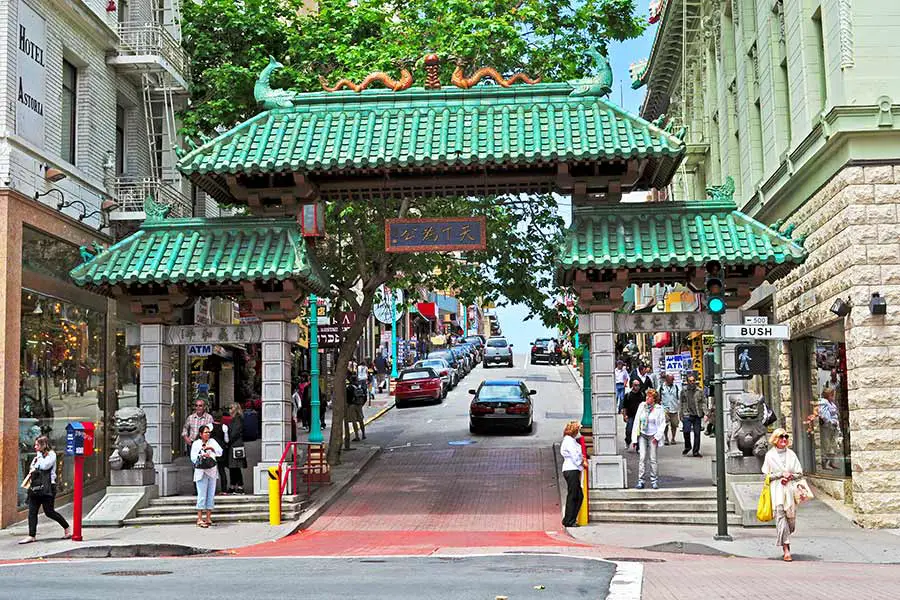 Dragon's Gate – A short 8-minute walk from Union Square, visitors can check out the iconic Dragon's Gate, which designates the entrance to Chinatown.
San Francisco Museum of Modern Art – For art lovers, the San Francisco Museum of Modern Art is a great place to engage your creative side. The museum is a short 10-minute walk from Union Square.
Yerba Buena Gardens – Located across the street from the San Francisco Museum of Modern Art, the Yerba Buena Gardens are the perfect place to get outdoors for a picnic lunch or take a break from the urban landscape.
Transamerica Pyramid Building – The Transamerica Pyramid Building located at 600 Montgomery Street is the most recognizable building in the San Francisco skyline. The unique pyramid structure can't be missed and is only a 15-minute walk from Union Square.
Where to Stay Near Union Square
For visitors to Union Square, there are lots of hotel options within walking distance of the Square. It all depends on where you desire to stay and your budget. Because of its central location, people tend to stay as close to the plaza as possible. However, some people prefer to stay in the Fisherman's Wharf area. Choosing where to stay is a personal preference, but the area has everything you need to enjoy and access the entire city thoroughly.
Getting to Union Square
Because of its location, you can easily visit the areas around Union Square without having to rent a car. Visitors coming from San Francisco International Airport (SFO) can arrive via BART (Bay Area Rapid Transport). This route takes about 35 to 40 minutes. You can also reach Union Square from Oakland International Airport (OAK) by BART. This route takes a little longer at an hour and 15 minutes to an hour and a half.
From Union Square, you can reach most of the city using either BART or the Muni light rail. The closest station to Union Square is the Powell Street Station and is connected to both BART and Muni.
If you are looking for a different type of activity, don't forget about the classic San Francisco cable cars. There are two separate lines that connect to Union Square. You can also use the various trolley busses, including the historic F Market heritage streetcar.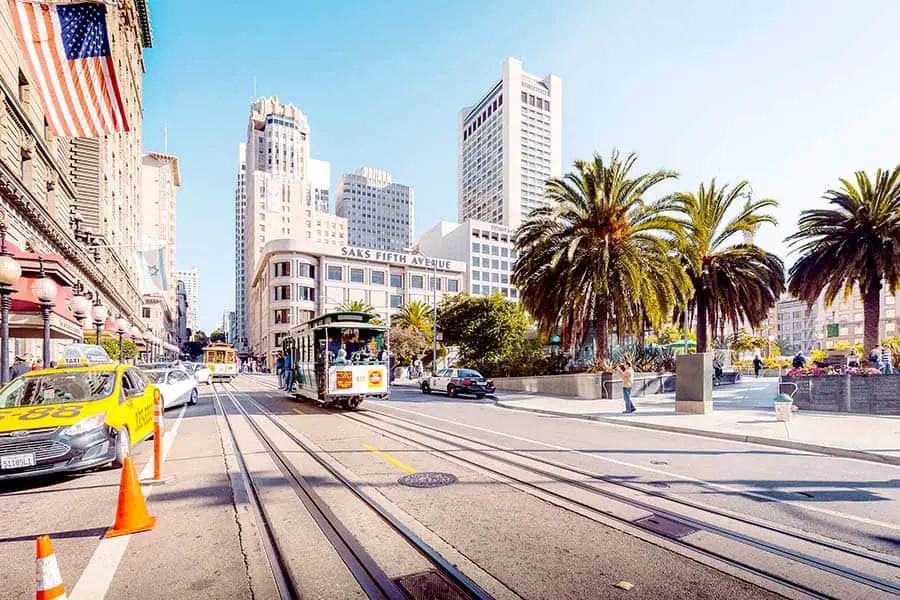 Is There Free Parking at Union Square?
Parking in the City of San Francisco is challenging to find and can be very expensive. Most public lots charge $3 to $5 per hour (with no overnight parking). Even hotels typically charge their guests for parking. You might find shops or restaurants that validate, but this won't be common and will be limited to just a couple of hours. For this reason, visitors should try to avoid driving a car.
Is Union Square Safe for Tourists?
The area around Union Square has gone through a lot of renovations and revitalization in recent decades. The area is popular and commercialized, making it safe for tourists. However, due to the high volume of pedestrian traffic, pickpockets are common. It's recommended that visitors remain vigilant and secure their belongings. Other than that, you shouldn't expect to see much crime.
Stay Central at Union Square
When visiting a new place, where you stay sometimes makes all the difference. By selecting a central location like Union Square, you will get so much more out of your experience in San Francisco.
Spending time trying to get around the City of San Francisco can quickly eat up a lot of your vacation. If you lack the time or are looking for convenience, Union Square is the perfect place to utilize as a launching point for your trip. Not only will you have quick access to the best sights via public transportation, but you'll also be in one of the most walkable parts of the city.