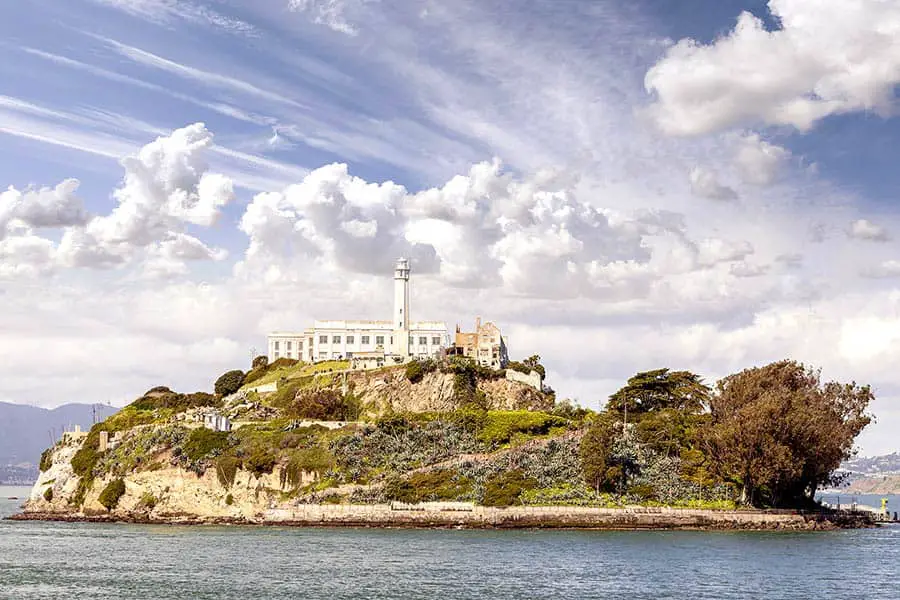 Alcatraz Island is a must-visit destination for those who want a deep-dive into San Francisco's dark and notorious past. Once a fort, a Civil War military prison, and starting in 1934, a maximum-security federal penitentiary. "The Rock" was home to some of the most dangerous criminals in U.S. history. A grim and unforgiving place, the penitentiary was closed in 1963, only to be reopened ten years later in a completely different capacity.
Alcatraz now is a property of the U.S. National Park Service, and instead of housing hardened criminals, it welcomes people from around the world to explore its historic grounds. Opened to the public in 1973, Alcatraz is toured by more than 1.4 million people every year.
Visitors find a place of desolate beauty that's dripping with history and a stunning, 360-degree view of everything around.
Located 1.5 miles offshore from San Francisco, Alcatraz Island takes up 22 acres in the center of San Francisco Bay. However, the island is accessible only by water, and once you get there, it's easy to spend two to three hours touring the prison and island. Read on to learn more about what to do on Alcatraz Island and the stories behind its fascinating past.
How Do I Get to Alcatraz?
The only way to get to Alcaraz is by ferries operated by Alcatraz Cruises. Boats depart San Francisco from Alcatraz Landing at Pier 33, located on the Embarcadero near Bay Street, just southeast of Fisherman's Wharf. Pier 33 does not have parking, but there are many lots in the immediate area.
Ferries depart every 30 minutes, so you may have a short wait. Fortunately, Alcatraz Landing is a lively place where visitors will find a ticket booth, restrooms, and food and drink, all of which are accessible to strollers and wheelchairs. Here you'll also see tactile, small-scale models of both Alcatraz and Pier 33, while other outdoor interpretive exhibits give visitors a preview of the island's rich history. Assisted Listening Devices (ALD's) are available for the tactile models and interpretive displays and can be requested at the Pier 33 ticket booth.
The ferry ride to the island lasts about 15 minutes and is almost as much fun as visiting the island itself. Being on the bay is exhilarating, and visitors can expect to see breathtaking views of the city. A fun sense of anticipation grows as you watch the island get closer and closer before docking at the Alcatraz Wharf on the island's southeast side.
Day tours depart Pier 33 daily from 8:45 AM to 3:50 PM, 1:35 PM during the winter, and returns every 30 minutes. The last boat leaves the island at 6:30 PM in summer, 4:25 PM in winter. You can find the departure times for the return boats posted at Pier 33 and at the dock on Alcatraz. Click here for ferry ticket availability, prices, departure times, and tour options, and here for details on accessibility.
Bay Area Answers Fun Fact: "Alcatraz" is the Spanish word for "pelican" for the large flocks of brown pelicans who once nested there. It was given the name in 1775 by Spanish Lieutenant Juan Manuel de Ayala, the first European to sail through the Golden Gate. He called it "La Isla de los Alcatraes" or "Island of the Pelicans."
What Is There to Do on Alcatraz Island?
The answer to that question is plenty. Visitors are free to go wherever they want on the island at any pace they like. Once you arrive, National Park Service rangers give a brief orientation, including details of the day's special activities. Staff and volunteers also offer free interpretive programs throughout the day.
While some people will make a beeline for the island's famous buildings (mainly to get out of the relentless wind), others will want first to explore outdoor tide pools and nesting areas for native seabirds. Some visitors will want to hike the Agave Trail or visit the Alcatraz Lighthouse, which is the U.S. West Coast's first and oldest operating lighthouse.
Other popular outdoor sites include the Power House, the Water Tower, the Recreation Yard, the Watchtower, and the ruins of the Social Hall.
But it's the imposing main cellhouse and its series of cells, corridors, and iron bars that is Alcatraz's main attraction. There are 336 inmate cells and 42 solitary confinement cells in the Cellhouse. The cellblocks are three-tiered, but visitors stay on the lower levels.
Standing there in any part of the cold, desolate Cellhouse or peering into closet-sized 5'x9' cells give visitors an idea of the brutal conditions facing those incarcerated there. Other popular indoor attractions include the cavernous mess hall, the library, shower rooms, and the medical/hospital facilities are especially fascinating.
Other Posts of Interest
You'll find many videos and exhibits on the island, and the cellhouse audio tour that comes with the price of a ferry ticket is especially recommended. This hour and fifteen-minute audio tour goes deep into prison history and gives informative details on what you're seeing. Parts of the audio tour are narrated by former guards and prisoners, which explores the Alcatraz experience from a personal perspective. A schedule board at the ferry dock gives the times for guided audio tours, and tour books are also available.
What Should I Know Before Visiting Alcatraz?
There are a few things first-time visitors to Alcatraz should be aware of:
Arrive at Pier 33 early, especially if you're picking up tickets at the ticket booth. The ferries leave precisely on time, and if you miss one, you'll wait thirty minutes for the next one.
Dress warm. Even on sunny days, the constant winds can make for a chilly experience. As well, the Cellhouse and other buildings can be cold, so think layers.
Prepare to Climb A Steep Hill. The hill that leads from the dock to the Cellhouse is steep with three switchbacks, which can be difficult for people with mobility concerns. Fortunately, a free tram takes people from the dock to the Cellhouse.
Leaving Alcatraz Can Be Challenging. The departure queues at the main dock can get quite long, and even if your departure is scheduled, the ferries have capacity limits, and they fill up fast. Arrive at the departure site at least 30 minutes before your scheduled time, and you should be OK. Also, be sure to check for departure times right after arriving on the island.
Bring Your Own Food. There is no food service on the ferry or on the island, so bring your own refreshments if you plan on staying a while.
Why Did Alcatraz Close as a Prison?
Alcatraz eventually proved to be too expensive to operate and maintain, especially since all water, food, and supplies had to be shipped in. As well, a half a century of seawater saturation has taken a severe toll on the island's infrastructure, and Alcatraz was finally shut down as a federal penitentiary in 1963.
Since then, the prison has reinvented itself as a major tourist site and a place of historical significance. Alcatraz became part of the Golden Gate Recreation Area in 1972, and in 1976 was listed on the National Register of Historic Places; in 1986, it was declared a National Historic Landmark.
How Many Prisoners Were Incarcerated at Alcatraz?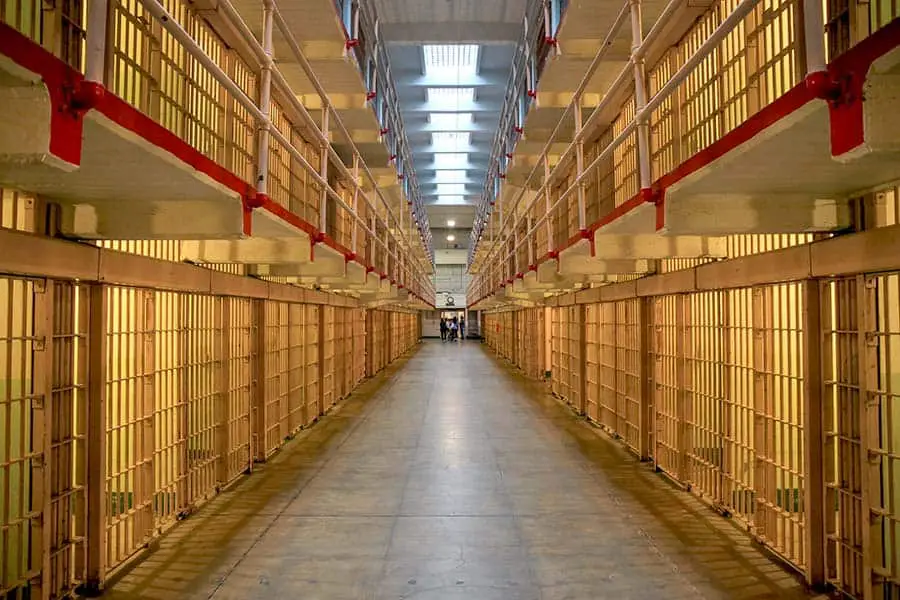 An inmate register from the time reveals approximately 1,576 individuals were incarcerated at Alcatraz during its time as a Federal Penitentiary. Yet, during its heyday, the prison was never full, and at any given time, only 255 prisoners were held on the island.
Some of the more notorious American criminals who called Alcatraz home include mob boss Al Capone, George "Machine Gun" Kelly, Robert "The Birdman of Alcatraz" Strode, Alvin "Creepy" Karpis, and many more.
Has Anyone Ever Escaped from Alcatraz?
The frigid temperatures, rough surf, and strong currents of the San Francisco Bay made Alcatraz virtually inescapable. In 29 years, no one successfully escaped, but that doesn't mean some prisoners didn't try. From 1934 to 1963, 14 escape attempts were made by 36 prisoners. Two men actually tried twice! Of those, 23 were caught alive, six were shot and killed during their attempt, two drowned, and five others are listed as "missing and presumed drowned."
The most famous escape attempt was carried out in 1962 by convicted bank robbers Frank Lee Morris, Clarence Anglin, and John Anglin. After months of planning, including leaving life-like papier-mache heads in their beds to fool guards, the three drifted away on a raft made of 50 raincoats, never to be seen again.
It's believed they drowned during the course of their nighttime attempt, and the case was closed by the FBI in 1979. You can see those original dummy heads in cells B-150 and B-152. This infamous moment in Alcatraz history is the plot of the 1979 Clint Eastwood film "Escape From Alcatraz."
Summing It Up
Despite its dark history, Alcatraz is one of San Francisco's top attractions for a reason. After all, where else can you tour a notorious federal prison while taking in some of the most magnificent and iconic views in the Bay Area? Even locals never tire of visiting this historic site, so be sure to put a visit to Alcatraz near the top of your San Francisco "to do" list.