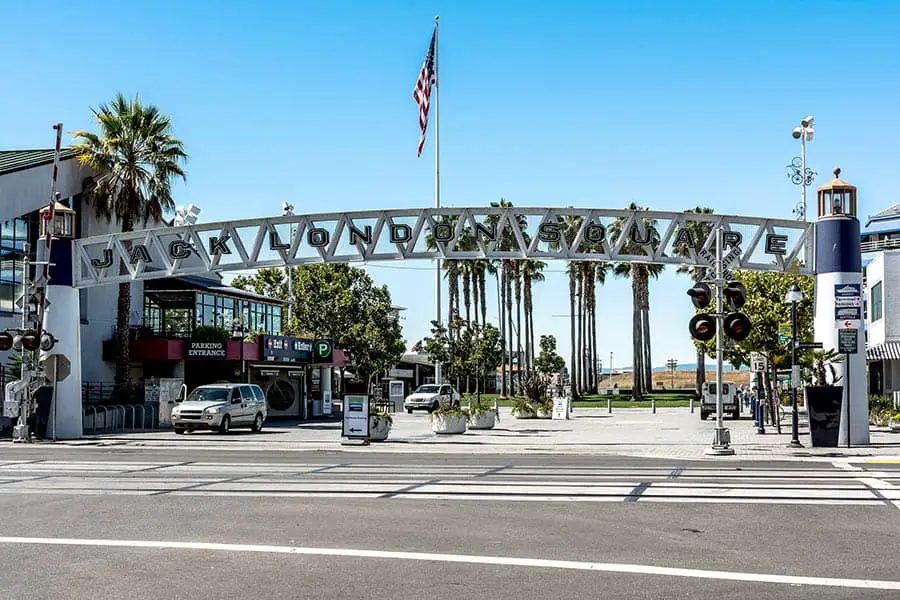 If you are visiting the Bay Area and looking for a place that is the center of the action, Jack London Square is the place to be. Steeped in a long history as a seaport and shipping hub for Oakland, California, Jack London Square is now a place where locals and tourists shop, dine, and hang out. So, what is Jack London Square, and where is it located?
Jack London Square is a waterfront development located just south of the city center of Oakland, California. What started as a seaport in the 1800s is now a destination full of historic landmarks, restaurants, and entertainment enjoyed year-round by the local community and visitors.
There are lots of excellent activities and sights that Jack London Square has to offer. To make the most of your visit to Oakland, Jack London Square is a must-add to your itinerary. Please continue reading for more information about Jack London Square, the legend himself, and how to get to this iconic part of Oakland.
Discover Jack London Square
Jack London Square is located near downtown Oakland, CA, across the estuary from Alameda, and is an entertainment and business destination. The Square is the only publicly accessible, mixed-use waterfront area in the city and is a hub for great restaurants, hotels, stores, and nightlife.
Jack London Square hosts lots of casual and fine-dining restaurants and bars. There's something for everyone. For seafood lovers, check out the selection of seafood restaurants located just steps from the water. If you need a place to grab a drink, take your pick between a 19th-century saloon or trendy wine cellar. On the weekends, visitors can try out various local goods as they peruse the weekly farmers market.
You'll never get bored here. For outdoor activities, visitors can spend time walking or biking along the marina or explore the water by kayak. You can spend some time during the day at Plank bowling alley (which features a restaurant and beer garden). In the evenings, Yoshi's Japanese restaurant is a hot music venue hosting various jazz musicians and artists from other genres.
In addition to modern conveniences and amenities, Jack London Square has a rich history with several historic landmarks, buildings, and maritime museums. Check out Jack London Square's website for special events scheduled during your visit.
You can easily spend days in Jack London Square, but it's also the perfect launching point to explore the rest of Oakland or the Bay Area with easy access to the San Francisco Ferry and BART.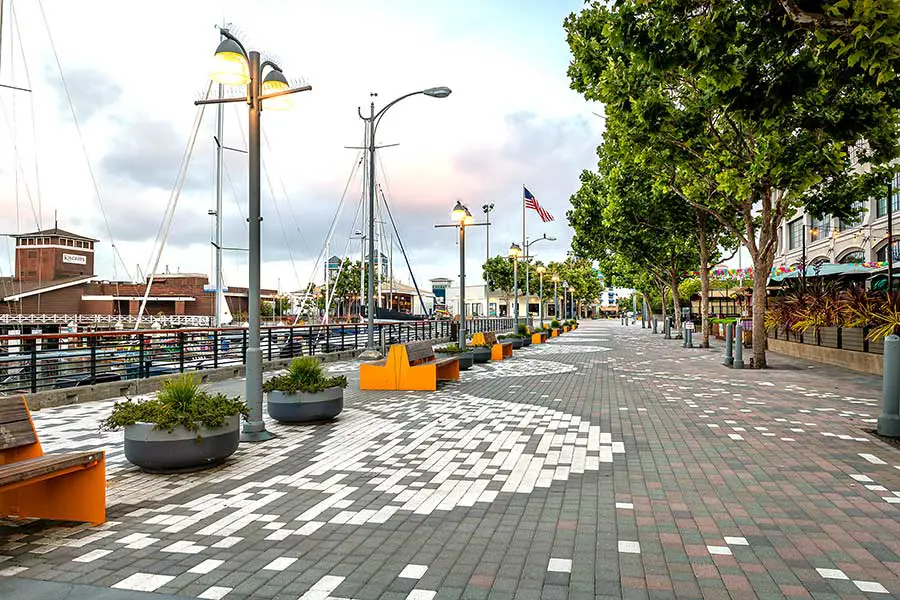 How Safe is Jack London Square?
Unfortunately, Oakland gets a bad reputation when it comes to crime and safety. However, the Jack London Square area is very safe for tourists. The area has seen its share of gentrification and development. Most businesses and restaurants are open late into the evening, so there are always quite a few people around. When visiting any major city, still it's best to be mindful of your surroundings and use common sense.
Is It Free to Visit Jack London Square?
Visiting Jack London Square is free for visitors who want to walk around and check out the area. Enjoy a stroll along the waterfront or follow the Jack London history walk. You will have to pay for all the activities, shopping, and restaurants.
Who Was Jack London Square Named After?
The Square is named after Jack London, an American novelist, journalist, and social activist. He was born in 1876 in the City of San Francisco and spent much of his childhood in the neighborhood where Jack London Square stands today. By his early 20s, Jack and his sister joined nearly 100,000 prospectors looking for opportunities during the Klondike Gold Rush. This experience would later become the inspiration for several of his famous novels, including The Call of the Wild, White Fang, and Sea Wolf. Jack London died at the young age of 40 in 1916.
Bay Area Answers Fun Fact: Jack London became the first author in the world to become a millionaire from his writing.
Other Posts of Interest
History of Jack London Square
Jack London Square is one of the oldest neighborhoods in Oakland and has several historic buildings and landmarks to commemorate a rich history dating back to the 1800s.
The location of Jack London Square was once a bustling seaport in the 1800s and was the center of the City of Oakland's port operations. The area was a popular place for sailors and merchants to pack their goods and agricultural products on boats to be shipped up and down the Western Coast of the United States.
The oldest building still standing today is Heinold's First and Last Chance Saloon which opened in 1883. As a child, Jack London would hang out at the bar and study after school. Many of the bars described in his novels are suspiciously similar and thought to be a result of his time spent here.
Jack London Square has a history walk marked by bronze wolf tracks on the sidewalk. The walk starts at Heinold's and stops at several notable landmarks and historical points.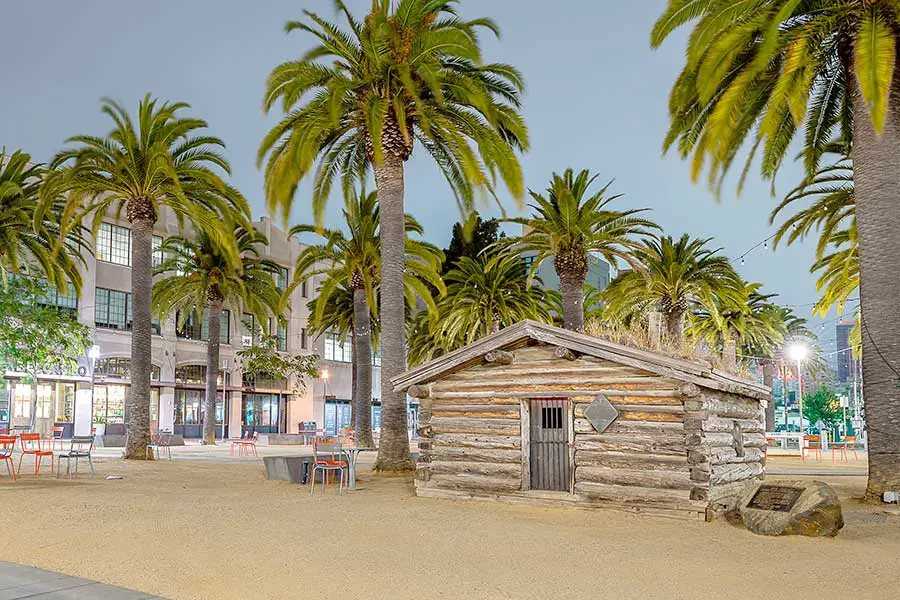 Historic Landmarks and Places in Jack London Square
For the history buff, you'll want to check out a few of the famous landmarks and historical buildings that are still standing today.
Heinold's First and Last Chance Saloon is probably the most iconic building. The Saloon got its name from the fact that many sailors went there to get their first and last drink before arriving or leaving from the port. One notable feature is the clock at the bar. The powerful 1906 San Francisco earthquake shook the building so hard that the clock stopped working. Today, the clock still shows the time of that fateful moment.
You can also see the cabin that Jack London lived in during the Gold Rush in Canada. The cabin was disassembled and rebuilt at Jack London square for tourists to visit.
Adjacent to Jack London Square, you can also find the USS Potomac, which served as the presidential yacht for President Franklin D. Roosevelt. The vessel was lovingly referred to as the "Floating White House." It was one of four presidential yachts that were used by sitting US Presidents from 1906 to 1977.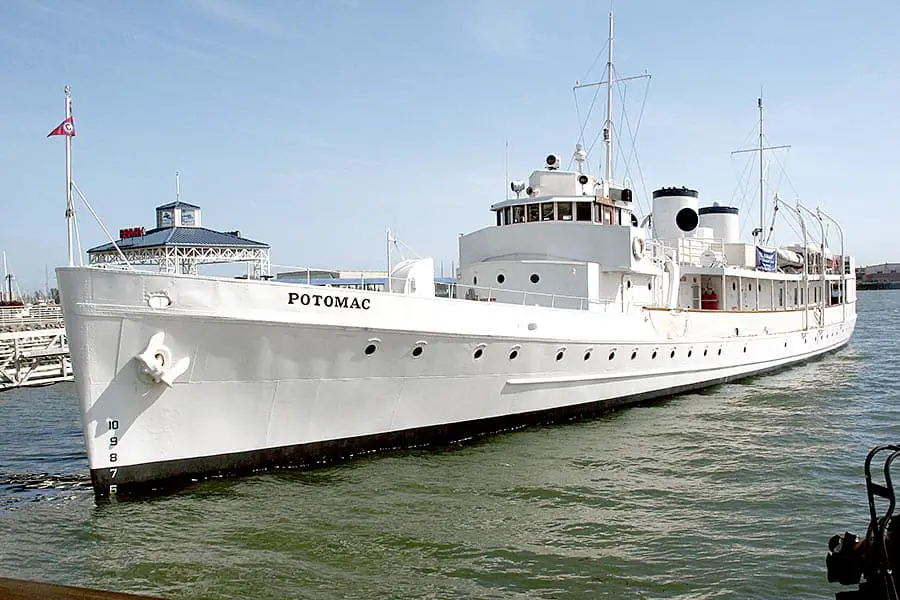 Getting To and From Jack London Square
Jack London Square is one of the hubs of the city of Oakland, so there are many options for transportation.
Airport – Jack London Square is located a short 15-minute drive from Oakland International Airport. If you are a guest at one of the hotels near the Square or downtown, you can quickly reach your destination by Uber or renting a car.
Rail – The BART (Bay Area Rapid Transportation) rail lines connect the City of San Francisco with the rest of the Bay Area. The closest station to Jack London Square is Lake Merritt station (a 5-minute walk). There is also an Amtrak line that stops at Jack London Square for visitors arriving by train.
Ferry – You can also catch the San Francisco Bay Ferry, which transports visitors to several stops across the San Francisco Bay, including Fisherman's Wharf and the Financial District.
Bay Area Answers Fun Fact: Jack London was born John Griffith Chaney. His mother remarried John London, who adopted Jack. He didn't start going by "Jack" until later in life.
What Are Other Fun Activities Near Jack London Square?
Once you have had the chance to explore Jack London Square, you might want to branch out to the surrounding areas. Not only are there lots of fun activities, but it's an excellent opportunity to experience the diversity of California.
A short walk from Jack London Square, you will find Chinatown Oakland. The community is mostly of Chinese American descent. Depending on the time of year you pick to visit, you might be lucky enough to catch one of the Chinese street festivals.
The Oakland Asian Cultural Center is a great way to learn about Asian culture, and visitors can participate in Tai Chi practice and learn how to play Mahjong. You can also tour a small fortune cookie factory that has operated in Oakland since 1957. Don't forget to grab an authentic Chinese lunch or dinner.
If you are looking to escape the summer heat, head on over to the Oakland Ice Center for some ice skating. This facility has certain hours available to the public and can get really busy. Be sure to obtain your tickets ahead of time to ensure your spot.
Get out onto the water by renting a stand-up paddleboard or kayak and explore the waterfront and estuary. Some rental places also offer moonlight tours that allow you to paddle out at sunset and watch the moon rise.
Making the Most of Your Oakland Trip
For tourists looking to spend time on the eastern shore of San Francisco Bay, Jack London Square is the perfect place to stay. Not only are there plenty of things to do, but you can also quickly and easily access Oakland, San Francisco, and the greater Bay Area. If you are going to be in the area, don't forget to add Jack London Square to your itinerary.