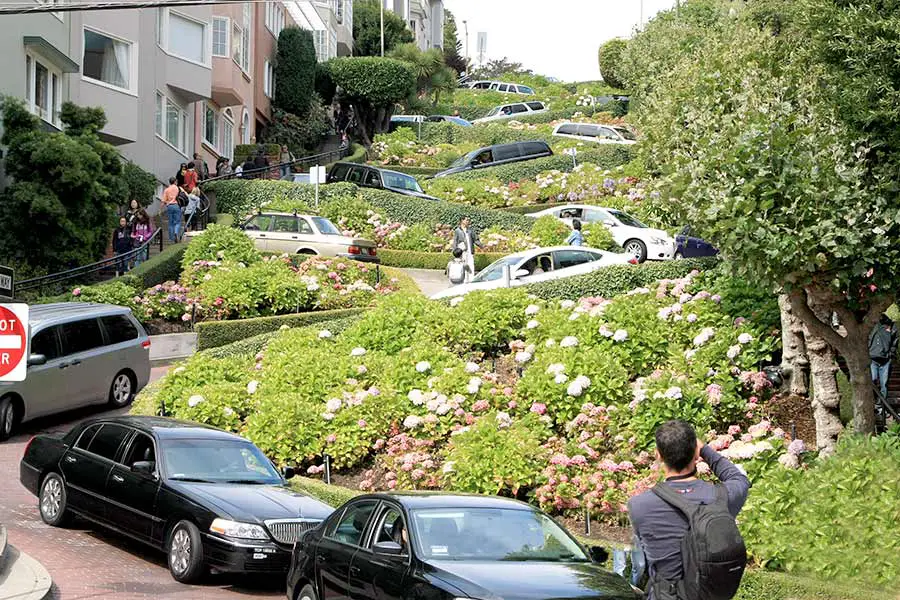 San Francisco is known for embracing the odd, the unusual, and the just plain weird. How else do you explain the massive appeal of a single street that is one of the city's biggest tourist attractions? Granted, with its super-steep grade, eight hairpin turns, and spectacular city views, Lombard Street is unlike any other street in the world and an authentic "only in San Francisco" experience, but can you walk it?
Yes, you can walk up and down Lombard Street. Internationally known as "the crookedest street in the world" for its notorious curves, Lombard Street annually attracts two million visitors who often wait in lines for hours for the thrill of walking or driving its twisting turns.
Up to 17,000 tourists, a day visit Lombard Street during peak tourist season. All of those people in one space make for an often-chaotic scene that makes tourist destinations like Fisherman's Wharf look tame in comparison, but a visit to Lombard Street is not without its charms. As you read on, you will find out more about this iconic street, how it got its curves, and the nearby attractions tourists can't get enough of.
Welcome to Lombard Street
Found in the city's Russian Hill neighborhood between Hyde and Leavenworth Streets, Lombard Street's famous one-block stretch features a challenging 27% grade and tight hairpin turns that give the street its iconic look.
The crooked section is only a small 600-foot part of Lombard Street, which stretches in an east-west direction from the waterfront at the Embarcadero, through the Telegraph and Russian Hill neighborhoods up to Van Ness Avenue. At this point, it becomes part of U.S. Highway 101. Continue west on Lombard and you'll be on a direct route to the Golden Gate Bridge.
With amazing views from the top and bottom of the curvy part of Lombard, taking pictures is a must. Looking up from the bottom of Leavenworth Street gives a great look at the twisty street and the cars and people traversing it. Or stand at the top at Hyde and take in the magnificent Bay views and Coit Tower, the Bay Bridge, and the surrounding hills and neighborhoods. Either way, the photo ops are outstanding.
With its stately mansions and expansive houses, some of the city's most exclusive real estate is found in the Lombard Street area. Residents are well aware of where they live, and while they might gripe about the constant onslaught of tourists, they keep their homes Instagram-worthy with well-appointed exteriors, impeccable landscaping, and beautiful gardens.
Walking Lombard Street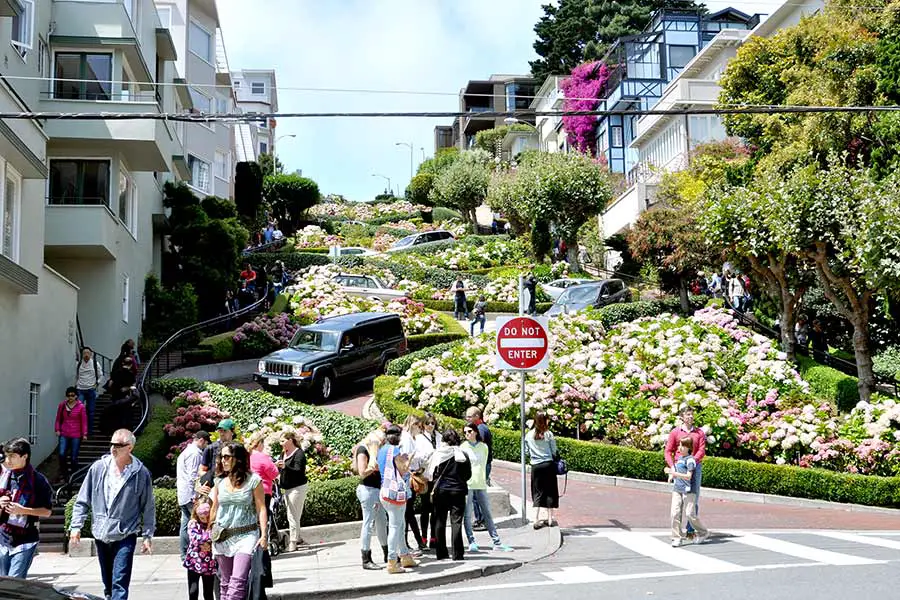 Walking lets you enjoy everything Lombard Street has to offer at your own pace. Not only do you get to appreciate all of the magnificent views and beautiful architecture in an iconic San Francisco setting, but walking the steps found on either side of the street can be quite a workout! Walking will also give you a great idea of just how active Lombard Street can be. Stop to enjoy the never-ending show, and you'll notice a passing car every ten seconds, up to 350 vehicles every hour. With so many cars crushing the street at all hours, walking up and down Lombard Street is by far the safer and saner option.
Driving on Lombard Street
Driving down Lombard Street is usually more fun for passengers than drivers. The steep downhill grade requires a constant pumping of brakes while wrenching the steering wheel as far as it can go to the left and right, all while trying to avoid scraping the low cement walls and shrubs on either side of the street. Drivers find there are only a few inches between cars, and keeping to the street's 5 mile-per-hour speed limit can be a challenge.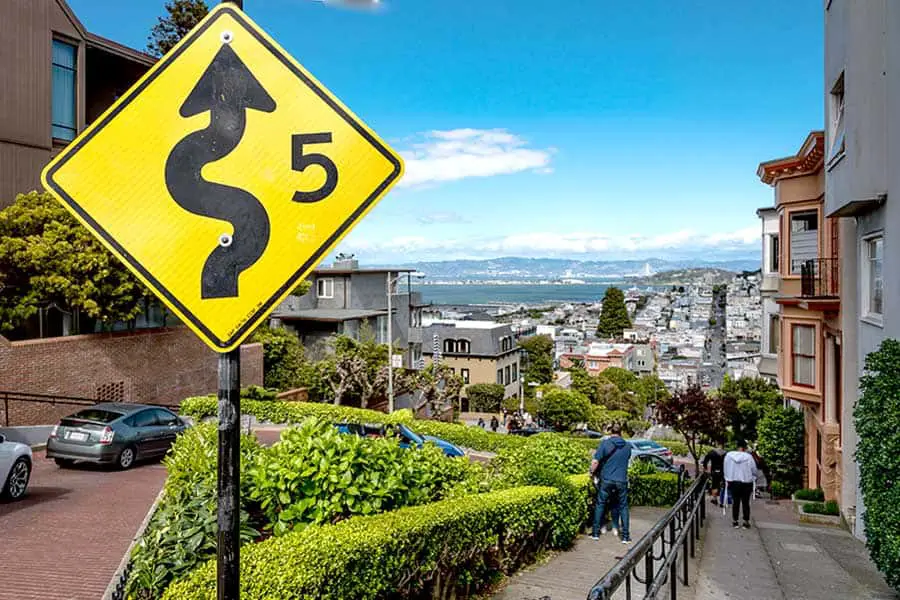 Drivers should also be aware that waiting in the long lines of cars waiting to descend Lombard Street can take more time than the actual drive itself, which is usually two minutes at the most. Expect to spend at least thirty minutes or more in a queue of cars that inches along Lombard Street at a snail's pace and this is before you even get to the Hyde Street entrance at the top.
Other Posts of Interest
Bay Area Answers Fun Fact: It might be known as the "Crookedest Street in the World," but Lombard Street is not even the crookedest street in the city of San Francisco. That distinction belongs to Vermont Street between 20th and 22nd Street in the city's Potrero Hill neighborhood. Set on a tight, tree-lined alley with seven switchbacks and a 17% natural grade, it's much less touristy than Lombard Street, and there's never a line.
What Other Attractions Are Near Lombard Street?
Unlike other major tourist attractions, visiting Lombard Street doesn't take a lot of time. Fortunately, the street is in an excellent centralized location that's within walking distance of many other places of interest.
Walk west on Lombard, and you'll cross hip Polk Street with its boutique shops, restaurants, pubs, and coffee shops. Popular with the Russian Hill locals, Polk Street can be a fun and lively place to see and be seen, especially during weekend brunch.
Head north on Hyde or Leavenworth Streets, and you'll eventually find yourself in Ghirardelli Square (learn about the famous Ghirardelli chocolate here) and Fisherman's Wharf. Or just continue east on Lombard until you hit Columbus Street and the heart of the city's historic North Beach neighborhood. From there, you're minutes from Chinatown and the Union Square shopping district.
Best Ways to Get to Lombard Street
Parking in the immediate Lombard Street area can be next to impossible, so visitors are advised to use rideshares, cabs, or public transportation to get there. Here are some options:
Public Transportation: Several Muni buses run through the city's North Beach area, but those looking to get to Lombard Street should take the 30 Stockton bus and get off at Columbus Street near Lombard. You'll then walk uphill a few blocks to Jones Street, which is a block from the bottom of Lombard at Leavenworth Street.
Cable Car: The Powell-Mason cable car line will stop at Lombard and Columbus Streets, near the bottom of Lombard Street. The Hyde Street cable car will let you off at the top of Lombard Street's curvy part before continuing into Ghirardelli Square and Fisherman's Wharf. Click here for a map of both cable car lines.
Tour Bus: Many of the city's tourist buses, including the popular Hop-On, Hop-Off buses, pass by Lombard Street either via Hyde or Columbus Streets. For logistical reasons, tour buses aren't permitted to drive down Lombard Street, but some stop long enough at the top or bottom so visitors can walk around while others only pause long enough for a brief photo-op.
Car: If you simply must drive, take Van Ness Avenue, turn east at Lombard, and go three blocks until you see the throngs of tourists. The queue of cars waiting in line for Lombard Street usually starts about a block up at Larkin Street, and at peak times, the line can start at Van Ness. Set your GPS to 1099 Lombard Street, which is at the top of the curvy section. If your goal is to find parking and then walk, be sure to store all valuables in the trunk of your car before heading off on foot, as the Lombard Street area is notorious for car break-ins and thefts.
Why Is Lombard Street So Curvy?
Lombard Street was built in 1922 at a time when car ownership was all the rage. The street's intense grade made driving the hill a near impossibility and posed a safety hazard for pedestrians. One homeowner suggested reducing the hill's natural grade by creating a series of sloping turns in the road, which gave birth to the now-familiar eight-turn switchback design. As well as increasing pedestrian safety, the curvy design and brick pavement added much to the street's aesthetic appeal.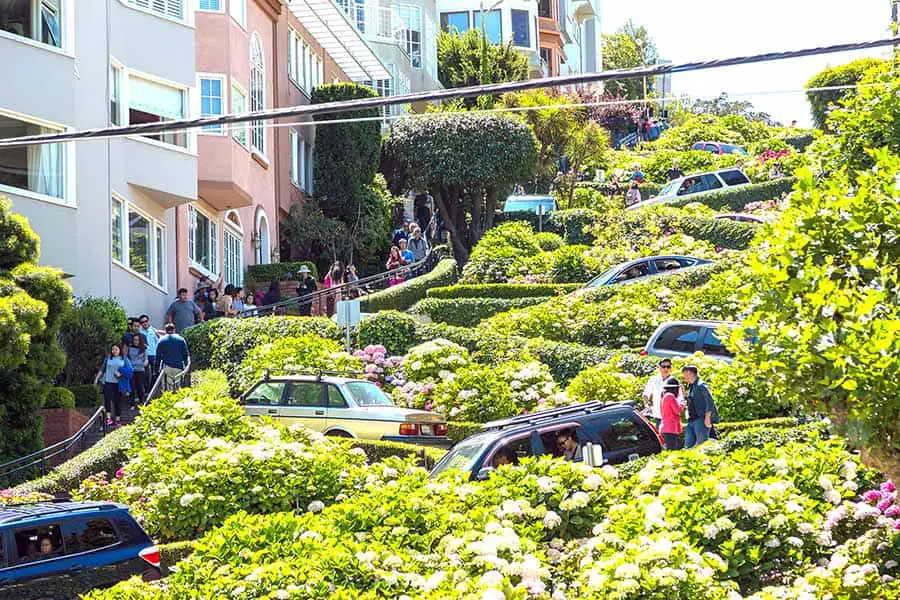 A Local Controversy
As we mentioned earlier, residents on Lombard Street's curvy section barely tolerate the endless chaos and constant streams of tourists parading past their homes. As such, visitors are not exactly welcomed with open arms. However, whenever Lombard Street residents get vocal about the constant activity (which happens often), they are quickly reminded that they knew what they were getting into when they moved there.
The city of San Francisco is sympathetic to their plight, and citing the deterioration of residents' safety and quality of life, recently passed a bill that will impose a 24/7 $5 per car fee with a weekend and holiday rate of $10. Visitors will be required to register in advance for a date and a 30-minute time slot.
Tourists can do their part by being respectful and courteous. While walking the sidewalk is OK, do not venture onto any of the homes' property, no matter how tempting the selfie opportunity. Be nice to the locals, and they might be nice to you.
Summing It Up
While locals dislike it, millions of tourists a year find walking or driving Lombard Street to be a quintessential San Francisco experience. Plus, it's free, and since a visit doesn't take very long, its close proximity to many other city destinations can make visiting "the crookedest street in the world" just one part of a jam-packed day of exciting activities that you can only experience in San Francisco.