Most people who plan a trip to Southern California make their way to one of Los Angeles' iconic beach destinations. There are many great beaches to choose from. Most are connected up the coast, so they are often confused with one another. You might be wondering if Santa Monica Beach and Venice Beach are the same?
Santa Monica Beach and Venice Beach are two different beaches that have waterfronts on Santa Monica Bay. Despite being connected, both beaches are located in separate cities and offer unique experiences to visitors.
If you are planning a trip to California, you probably want more information to decide which beach destination is right for you and your family. Continue reading for a description of each beach, the activities that are available, and how to get the best experience.
Santa Monica Beach and Venice Beach – A Tale of Two Beaches
Santa Monica Beach and Venice Beach are often confused because they are so close to each other. They both share a waterfront on Santa Monica Bay. Combined, they cover a beachfront of about 6 miles on the Pacific Ocean. However, there are a few key differences between the two beaches that set them apart.
Santa Monica Beach
Santa Monica Beach, located directly east of Downtown Los Angeles is nestled between Malibu and Venice, California. The beach is within the boundaries of the City of Santa Monica. The coastline stretches 3.5 miles making it a great place to enjoy the beach.
The crown jewel of Santa Monica is the Santa Monica Pier at the center of the beach. This pier features a miniature amusement park that is open to the public. The park has a 55-foot roller coaster, the world's only solar-powered Ferris wheel, carnival games, shops, and restaurants.
Bay Area Answers Fun Fact: Constructed in 1909, Santa Monica Pier was the first storied concrete pier built on the West Coast. Despite being used for recreational purposes today, the pier was originally designed to carry sewage past the breakers into the ocean.
Santa Monica also has a boardwalk with access to high-quality hotels, restaurants, and shopping. However, most visitors opt for the boardwalk at Venice Beach.
Santa Monica Beach doesn't have an official closing time, although the state beach parking lot closes at sunset, which limits access to those who aren't staying within walking distance.
Venice Beach 
Venice Beach is located just south of Santa Monica Beach. Located in the City of Venice, the beach sits between the cities Santa Monica and Marina Del Rey. The beach itself is 3 miles long. While Venice Beach doesn't have an impressive pier like Santa Monica, the 2-mile-long boardwalk offers lots of shopping, restaurants, and street performers. You can also stop to watch the bodybuilders working out at Muscle Beach.
Visitors should be aware that Venice Beach can be a little seedy, but it has a more traditional Californian vibe. The boardwalk is open every day but closes from midnight to 5 AM.
What Town is Muscle Beach in California?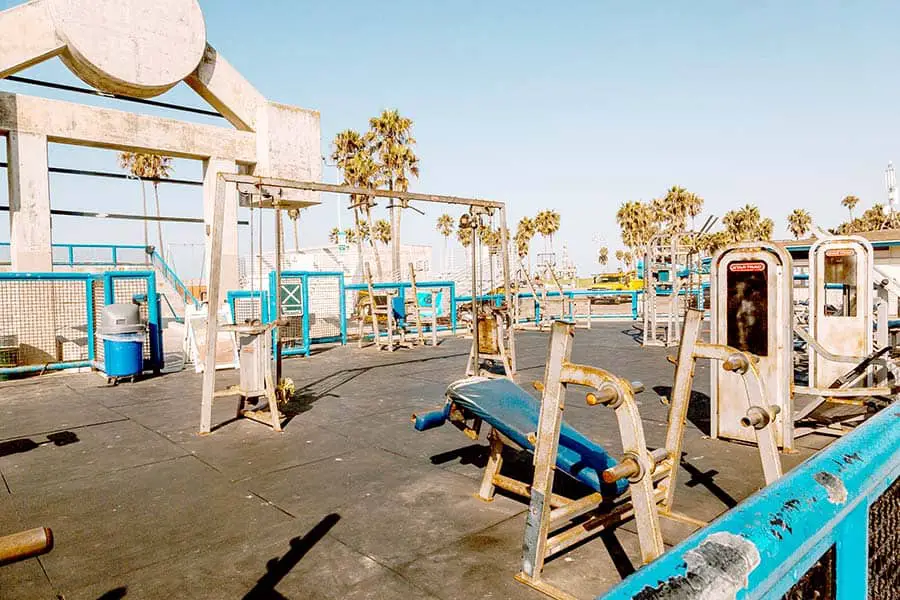 For years, Hollywood has portrayed fitness as synonymous with California beaches. Fitness routines and exercise along the stunning coastline go back nearly 100 years. In 1934, the City of Santa Monica built fitness and gymnastics equipment near the pier's south side. This area became known as Muscle Beach. It wasn't until the late 1980s that the popularity of Muscle Beach caught on.
In 1987, the City of Los Angeles built the more recognizable Muscle Beach Venice. This more modernized outdoor facility is often portrayed in movies and has been visited by famous weightlifters like Arnold Schwarzenegger. To stay competitive, the City of Santa Monica responded by rededicating its version as the Original Muscle Beach in 1989.
Both of these Muscle Beach locations are open 24 hours a day (except during major holidays, rainy days, or during special events).
Other Posts of Interest
Can You Swim at Santa Monica Beach?
Santa Monica Beach offers excellent water for swimming and other water activities. However, the water can be pretty cold even during the summer months. That's because the water at California beaches comes south from the cold waters of Alaska.
You'll find plenty of lifeguards on duty at the beach year-round if you're worried about safety while in the water.
The most common complaint and concern about swimming at Santa Monica Beach is pollution and contamination of the water. This problem is especially troublesome near storm outlets and the pier.
The beach has a long reputation for being one of the most polluted beaches in Los Angeles. However, the water quality is significantly better the further you are from the pier. Since the beach is about 3.5 miles long, you can still head into the water without being near the pier.
Are There Sharks at Santa Monica Beach? 
Both Santa Monica and Venice Beach share waters on Santa Monica Bay. This area is often known to be a popular nursery spot for the infamous white shark.
However, shark attacks are extremely rare. In fact, there has only been one recorded shark attack at Santa Monica Beach. Yet, the number of encounters does increase in correlation with the number of visitors during the peak summer months.
Is Santa Monica Beach Safer Than Venice Beach?
When it comes to safety, Santa Monica tends to be safer than Venice Beach. Despite being Los Angeles' most iconic beach, Venice Beach has earned the reputation for being the most dangerous due to rising crime.
Over the summer, the City of Venice Beach records 500-600 crimes on the beach and boardwalk. Fortunately, most are petty crimes such as pickpocketing.
Both beaches have a police presence, but more officers patrol Santa Monica. Santa Monica also is a little more upscale. However, this presence doesn't mean that Santa Monica is free from crime.
You should use common sense and watch your belongings in both locations. If you are traveling with children, Santa Monica is the better option.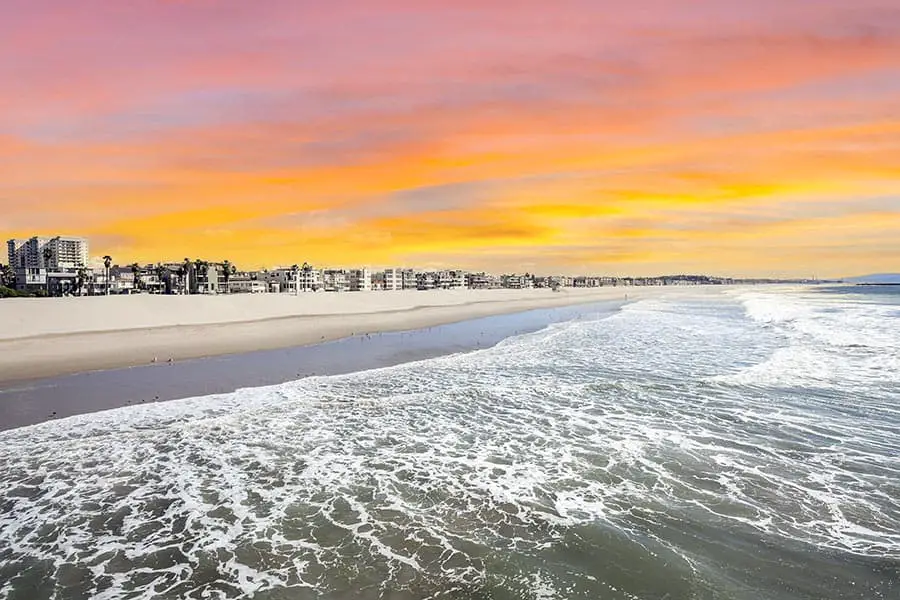 Can You Swim at Venice Beach, California? 
Swimming at Venice Beach is great. The beach offers soft, golden sands and isn't known for strong currents. There are lifeguards on duty year-round; however, some lifeguard stations may not be manned. Therefore, if you are traveling with children or want to be extra cautious, always enter the water near a manned lifeguard station.
The city does a great job of hanging flags to indicate the safety of entering the water (red – beach closed, yellow – caution, potential danger, green – water is safe for swimming).
The one complaint that people have is the temperature of the water. California beaches are known for cold water. Cold water is usually refreshing during the peak summer months but may be unbearable during the offseason.
Is Surfing Better at Venice Beach or Santa Monica?
Venice Beach is often ranked as one of the best surfing spots in Los Angeles. However, the surfing at Santa Monica Beach can be just as good. The most popular place for surfing is located just between the Venice Breakwater and the Santa Monica Pier.
For those who have never surfed before, visitors will be able to find surfboard rentals and instructors in both locations. A one-on-one surfing lesson will cost approximately $100 to $150 (participation in a group setting is usually cheaper).
Are There Sharks at Venice Beach, California? 
There have only been four recorded shark attacks on Venice Beach in history. Four is extremely small, considering the beach receives over 10 million visitors each year. While there are a number of shark species that live along the California coast, white sharks are the most common.
Shark attacks can happen at any time of the year, but the most have been recorded during the months of August and September (which aligns with the highest number of beach visitors).
Experience the Difference Between Santa Monica Beach and Venice Beach Yourself
Between the two locations, Venice Beach is a vibrant beach locale that's perfect during the day, while Santa Monica offers a wider range of things to do and a better nightlife. The good news is that you don't have to pick between the two locations because you can easily visit them in the same trip.