Alameda is one of San Francisco's nearest neighbors. You can hop on a ferry in Alameda, enjoy a 20-minute ride across the water with some snacks, and debark near Fisherman's Wharf in the city. Alameda is a lovely city set on an island in San Francisco Bay. Was Alameda always an island? Or was it once part of the mainland?
Alameda is indeed a manmade island. Up until 1902, the island of Alameda was actually the Alameda Peninsula. The peninsula was separated from the mainland by a canal to promote drainage of the northern estuaries to facilitate shipping. Landfill was used to extend the island into the bay.
We know now that Alameda was once a peninsula and is now an island in San Francisco Bay. And we know the island was created to improve marine conditions for shipping in and out of the bay. What else could there be to learn about Alameda Island?
How Alameda Became a Manmade Island
Much like San Francisco, Alameda is not just a city. Alameda, the city, sits on Alameda, the island. Both reside in Alameda County, California. Early Spanish settlers named the area Alameda in honor of the local foliage. The location was originally renowned for beautiful poplar trees; the translation of Alameda from Spanish means "grove of trees."
Long ago, before the West was won, Alameda was a 2,200-acre peninsula that connected to the mainland at what we now call Oakland. For centuries, the area was inhabited by the Miwok and Ohlone people. These people are thought to have migrated to California by crossing the Bering Strait land bridge and gradually expanding along the Pacific coast; the area has been continuously inhabited for thousands of years.
In the late 18th century, the Spanish arrived in the area and annexed it into the kingdom of Spain. In 1848, after a turbulent few decades of various wars between Spain, Mexico, and the United States, California was acquired by the United States. The city of Alameda was founded on June 6, 1853, and began to experience rapid growth. This growth was highlighted when, in 1869, Alameda became the last stop on the First Transcontinental Railroad, effectively becoming the Western terminus of American civilization.
The railroad and the proximity to nearby cities brought the peninsula (and city) of Alameda prosperity. The town developed schools, stores, a post office, and other amenities; people were working on the rails, the seas, and the land, then flocked to Alameda. Then, as now, Alameda was very conveniently located and an excellent place to set up shop.
Why was Alameda Made into an Island?
In 1873, the upper portion of the Alameda peninsula was mostly marshy estuaries. When the tides went out, the estuaries became a vast, reeking mudflat. Locals found this unappealing, but more importantly, the city of Oakland viewed the estuary as an obstacle to shipping. This fact, plus the growing need for a way to dispose of Alameda's sewage, led the two cities to discuss building a tidal canal.
How Much Did It Cost to Make Alameda an Island?
Engineers planned to dig a canal beginning at the San Leandro Bay and terminating at Oakland Harbor. This canal would allow the cities to direct tidal flow out through Oakland Harbor and resolve their various issues. Even today, digging a canal is a significant undertaking; back in 1873, it was even more so with less advanced technology. The project was estimated to cost $1.3 million, about $28 million in today's dollars.
Other Posts of Interest
Bay Area Answers Fun Fact: Mr. Charles Froling inherited a nice parcel of land in Alameda and intended to build a lovely home – until city officials used eminent domain to seize most of his land to build a street. Enraged, Froling built Alameda's famed Spite House. 20 feet high, 54 feet long, and 10 feet wide, the home was constructed to fit precisely in what remained of Froling's parcel — and to annoy city officials.
Why Did it Take 29 Years to Dig a Canal?
In 1873, like now, any sizeable municipal project attracted the attention of numerous stakeholders. Local governments, industry associations, citizen groups, companies, landowners, and the federal government all waded into the fracas, bringing competing demands and conflicting interests. A notable work slowdown occurred when landowners sued the government in 1877 over a dispute, halting work for years; in 1881, a settlement resumed construction.
In 1896, the chief engineer on the project was replaced by one Colonel Suter. Colonel Suter examined the canal and declared to Congress that the whole thing was bunkum, a waste of taxpayer dollars. Locals – by now fed up with the fragrance of the estuaries and the growing problems of industrial pollution and sewage – lobbied the government to reverse this decision. Wharf owners, who were competing for the necessary funding to improve their own facilities, tried to reverse this decision but did not prevail.
Eventually, in 1902, the canal was completed, and the water was routed through, severing Alameda from the mainland and making it into the island we now know and love.
How Big is Alameda Island?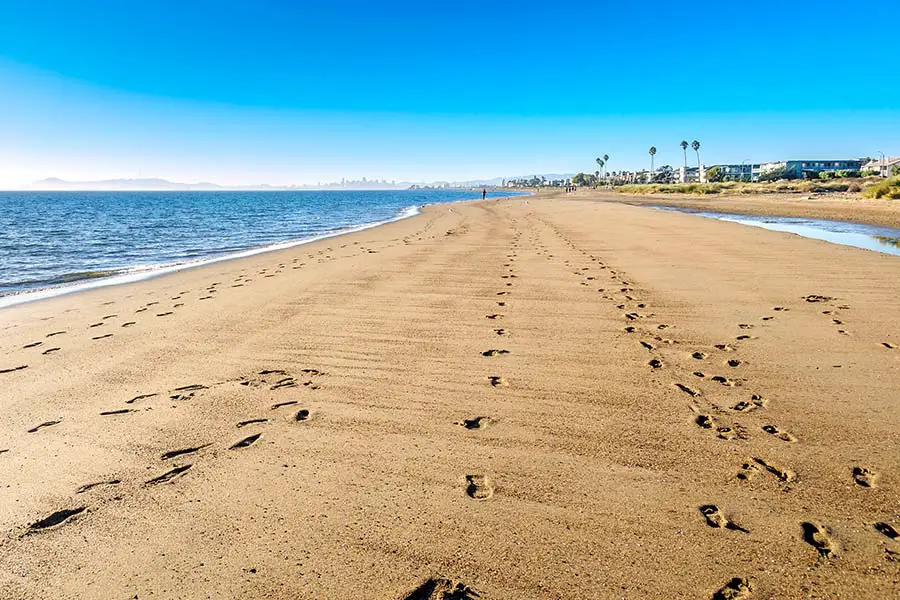 Alameda Island is about 23 square miles in size. The island spans 6.5 miles on its longest side and is about a mile across. The island is slightly larger now than it was as a peninsula, as fill was dumped into the bay to expand the island. The neighborhoods of Alameda Point and Southshore are built on filled land.
Al-a-Meda You There
Convenient to Oakland and San Francisco, Alameda is lovely in its own right. A thriving local gastronomy scene includes a vodka distillery that makes spirits out of Karl the Fog (really), a local wine company overlooking the abandoned naval air station, tiki bars, bakeries, coffee shops, and tea houses.
What is the Population of Alameda Island?
Alameda currently hosts about 78,000 residents. The community is relatively diverse, with the majority of the population identifying as white, Asian, or Hispanic ethnicity. Your average worker makes about $83k a year, although this average may be weighted by a high number of people working in technology, biotech, and other high-dollar industries.
Is Alameda Expensive?
The cost of living in Alameda is about 57% higher than the national average. That said, it is also about 29% cheaper than living in San Francisco. Housing and energy prices are well above the national average here, but that is consistent with the Bay Area more broadly.
What are the Other Two Islands that Make Up Alameda?
Alameda Island is the bulk of Alameda's land mass. The city is also composed of Bay Farm Island, which is arguably part of the mainland, and Coast Guard Island, which houses a U.S. Coast Guard facility.
How Far Away is Alameda from San Francisco?
From the tip of Alameda Island to San Francisco is only about two miles, but from central Alameda to the Fisherman's Wharf area is closer to seven miles as the crow flies – fifteen by car. Traffic in the Bay Area being what it is, you may wish to consider riding the ferry.
How Long is the Ferry Ride from Alameda to San Francisco?
The San Francisco Bay Ferry can take you from Alameda to San Francisco in about 22 minutes. The ferry boats are comfortable, and passengers can buy snacks and beverages to pass the time between ports. If you want to spend your ferry ride in the brisk sea air, you can go to the deck and keep an eye open for harbor seals or other fascinating marine life. Fares are inexpensive, and there's no traffic to worry about – the ferry is an excellent transportation option to get to the city.
How Else Can You Get to San Francisco from Alameda?
For those seeking a different way to navigate between San Francisco and Alameda, there are several options available. If you have money to burn, helicopter charter services are available that can take you between the cities in true Tycoon style.
If a helicopter ride is a little over budget, you can take the BART from Oakland to San Francisco in about 20 minutes. Ride-sharing services are easy to hail in this area if you prefer car service but don't want to deal with driving and parking.
Is it True that Part of Alameda is in San Francisco?
Yes. Alameda hosts a now-abandoned Naval Air Station, which was constructed mainly on fill that was dumped into the bay. However, as the Navy filled in the bay to expand their base, they inadvertently crossed the border with the City and County of San Francisco – meaning that a small portion of the air station, and a small portion of Alameda, is actually in San Francisco.
More Than Just a Good Neighbor
Alameda might not be as famous as the city across the water is, but it is a splendid place to be in itself. Indeed, this island city is a perfect place to sip wine or enjoy locally crafted beers while taking in marvelous city views.
Once a peninsula and now a manmade island, Alameda boasts a rich and colorful local history, a host of amenities, and the lovely weather that make the Bay Area such a great place to be.