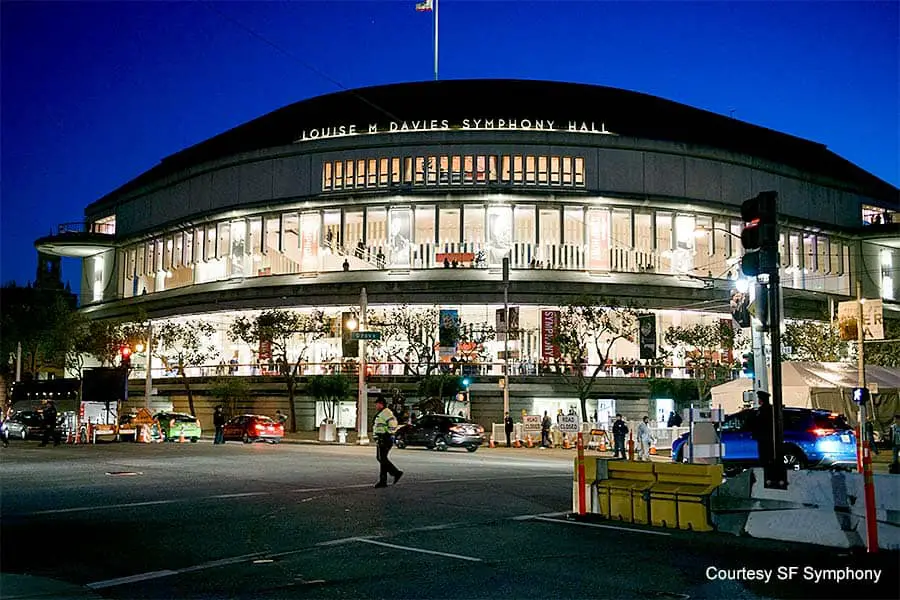 The San Francisco Symphony is one of the most famous symphony orchestras in the world. Their concerts are a highly recommended activity for people who enjoy classical music and the performing arts. It's an excellent opportunity to dress up and have a fun night out downtown. But, where does the San Francisco Symphony play?
The San Francisco Symphony performs at the centrally located Louise M. Davies Symphony Hall. The Symphony Hall is in the heart of downtown San Francisco almost directly across the street from City Hall. This location is perfect for visitors staying near downtown or arriving via public transportation.
They perform over 200 concerts throughout the year, and because of its popularity, tickets sell out quickly, so you will need to plan ahead if you want to see the San Francisco Symphony. Continue reading to learn more about the history of the San Francisco Symphony, proper attire, how to book tickets, and how to get the most from your experience.
The Home of the San Francisco Symphony
The San Francisco Symphony plays at the Louise M. Davies Symphony Hall. This outstanding concert hall is a part of the San Francisco War Memorial and Performing Arts Center (SFWMPAC) in the heart of downtown San Francisco. This development includes various performing arts venues, including the War Memorial Opera House and Zellerbach Rehearsal Hall. In total, the SFWMPAC seats 7,500 people across its venues.
Constructed in 1980, the Davies Symphony Hall has a seating capacity of 2,743 people. The total construction cost was $18 million (and later received a $10 million renovation in 1992). The Symphony Hall was designed by the award-winning architecture firm Skidmore, Owings, and Merrill (SOM). Their other notable works include the Burj Khalifa in Dubai (the tallest building in the world) and Willis Tower (formerly the Sears Tower) in Chicago.
The most impressive feature of the Symphony Hall's construction is the focus placed on creating an acoustically pleasing venue. The architects designed a unique acoustic "cloud" that can be adjusted to match the size of the orchestra. This feature ensures that the sound quality is excellent no matter the type of performance. The hall is also constructed as a building within a building. The interior walkways help buffer the sounds so you can't hear them from outside.
Before the construction of the Davies Symphony Hall, the San Francisco Symphony shared the War Memorial Opera House with the San Francisco Opera and San Francisco Ballet. The Opera House was constructed in 1932 as a performing arts center and a memorial to the soldiers who died in World War I.
Bay Area Answers Fun Fact: The San Francisco Symphony donates approximately 6,000 tickets each season to encourage attendance from underserved communities. They also donate tickets to charities and non-profit organizations to help with fundraising efforts.
History of the San Francisco Symphony
The San Francisco Symphony was founded in 1911, and they started out with about 60 members led by conductor-composer Henry Hadley. In their early years, they played at various venues around the Bay Area. During this time, their music became popular as they were featured in weekly radio broadcasts. By 1932, they found a permanent home at the War Memorial Opera House. They continued to play there until 1980, when their own dedicated facility (Louise M. Davies Symphony Hall) was constructed across the street from the Opera House.
The San Francisco Symphony Orchestra is one of the best in the world. They have won an Emmy Award and 15 Grammy Awards over the last couple of decades.
Other Posts of Interest
What Types of Instruments are in a Symphony Orchestra?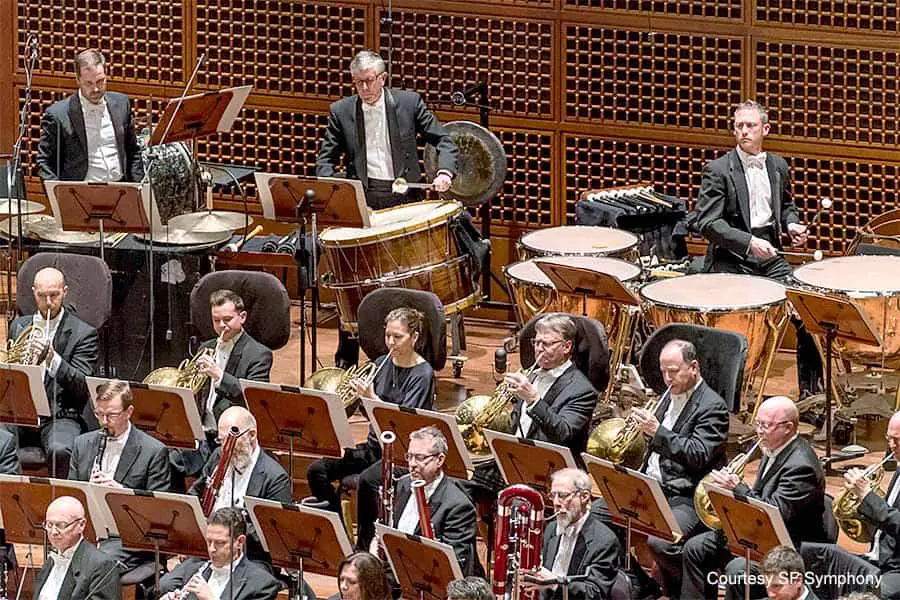 A symphony orchestra is a collection of instruments specifically organized to play classical music. Instruments can be grouped into four primary categories – wind, string, brass, and percussion.
Wind instruments include flute, oboe, and clarinet. String instruments are any instrument that has strings like a violin, harp, or cello. Brass instruments include trumpet, trombone, and tuba. Percussion instruments include drums, cymbals, and piano.
What is the Difference Between an Orchestra and Symphony?
One of the most commonly asked questions relates to the difference between an orchestra and a symphony. This question is difficult to answer because an orchestra can be a symphony, but a symphony can't be an orchestra. Confused? Let's explain. Typically, you can narrow the differences down to three major traits – number of members, types of instruments, and type of music.
Orchestras usually consist of 50 or fewer members, while symphonies are more than 100 members.
As for the types of instruments, orchestras don't normally have all four instrument types (wind, string, brass, and percussion). They are usually heavy on strings. On the other hand, a symphony has all four groups (usually 20 to 25 different instruments).
Orchestras typically play simpler musical pieces known as "chamber music." Symphonies play more complex, sweeping pieces by famous composers like Beethoven and Brahms.
What Do You Wear to a Symphony?
Going to a symphony is a special occasion. It's recommended that you wear a nice outfit. Contrary to popular belief, you don't have to wear a tux or evening gown (those are reserved for special events and will be clearly noted when you purchase tickets). You should wear something that is business casual or cocktail attire. For men, this typically includes slacks and a nice shirt (possibly a blazer). Women can also wear a cocktail dress or slacks and a nice blouse. Casual wear such as jeans, t-shirts, and tennis shoes are frowned upon.
Can You Bring Kids to a Symphony?
This answer will depend on your child. Symphony performances can be long and boring for kids. There are strict rules around the audience being silent during the performance (except, of course, applause between pieces). Typically, children under the age of 12 won't be able to sit for this long listening to classical music.
The San Francisco Symphony hosts family-friendly concerts and events that are more appropriate for families with children, including the Music for Family series, Concerts for Kids, and some holiday programs. Check out the San Francisco Symphony website for a schedule of these events.
How Long is the San Francisco Symphony?
Depending on the concert, a symphony performance can last between 90 minutes to 2 hours. There is typically an intermission in the middle for you to get a drink or use the restroom.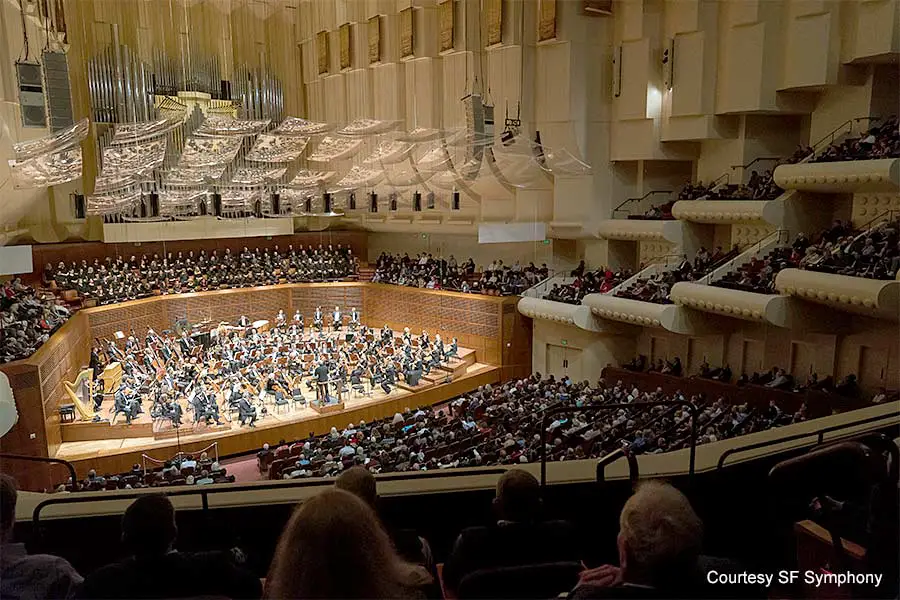 How Often Does the San Francisco Symphony Play?
The San Francisco Symphony plays approximately 220 performances throughout the year. Their music selection and special guests vary, so be sure to check out their event calendar to find the right concert for you.
Do They Serve Food and Drinks at the San Francisco Symphony?
There is a selection of gourmet food and beverages sold at concessions at Davies Symphony Hall. One thing to note is that while you can typically take your drink into the concert hall, food is never permitted. You will need to eat before the concert or during intermission. It's recommended that you grab dinner before heading to the concert.
Are Tickets for the San Francisco Symphony Expensive?
No matter the budget for your trip, everyone can enjoy a San Francisco Symphony. Ticket prices can range from $15 to $400, depending on which seats you select. Obviously, seats on the lower levels will be more expensive than those in the upper levels. The good news is that you will hear the same quality of music throughout the concert hall. Special events also tend to be more expensive.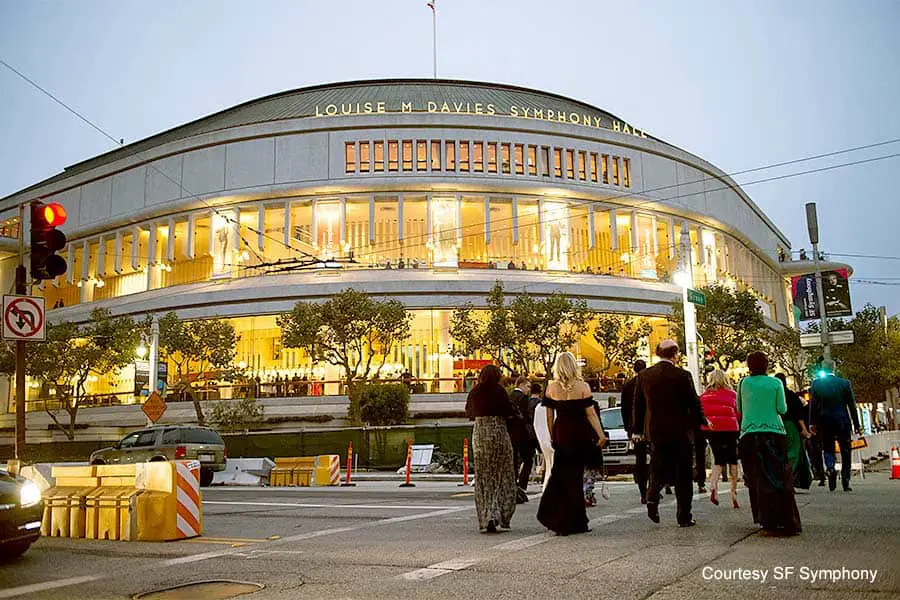 Getting to Louise M. Davies Symphony Hall
Depending on where you are staying, there are many options to reach the Louise M. Davies Symphony Hall.
San Francisco is very walkable, so you can likely walk if you are staying downtown near City Hall. If you are arriving at the hall by car, you can use one of the many parking garages and lots around the venue.
Public transportation is also available from Muni Metro (Van Ness or Civic Center stations) and BART (Civic Center station). The walk from these stations takes about 10 minutes to the Symphony Hall.
The doors of the Symphony Hall open approximately 45 minutes before the start of the concert. It would be better if you planned to arrive early. That way, you will have enough time to grab a drink, use the restroom, and find your assigned seat. You won't be able to come and go freely from the Symphony Hall during the performance (except during intermission).
Who Was Louise M. Davies?
Louise M. Davies was a San Francisco resident and philanthropist who donated millions of dollars to Bay Area charities. Her wealth came from her husband's business in the oil industry. Louise M. Davies donated a total of $5 million for the construction of the Symphony Hall, which was named in her honor.
Getting the Most of Your Symphony Experience
No trip to San Francisco is complete for music lovers without attending a concert at the Louise M. Davies Symphony Hall to see the San Francisco Symphony.
There are several things that you should do before your trip, to get the best experience. Most importantly, make sure that you book your tickets early. Concerts tend to sell out quickly. Also, don't forget to pack a nice outfit for the evening. The last thing that you want is to have to run out for a last-minute shopping trip.
Finally, if the concert features music from a specific composer, listen to their most popular music leading up to the concert. This preparation will help you become more familiar with their work and make the concert even more enjoyable.