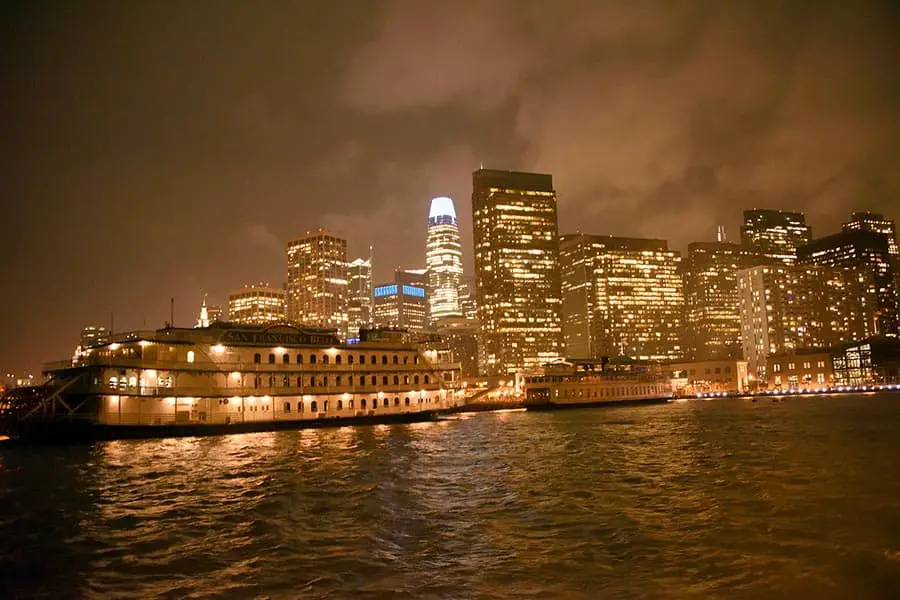 Perhaps the biggest assumption made by first-time visitors to San Francisco is that it shares the same warm winter climates as Southern California cities like Los Angeles and San Diego. Unfortunately, these misguided assumptions often determine how people prepare and pack for their trip, which is a big mistake. Don't be one of those people. Let's take a look at what winter is like in San Francisco.
San Francisco's winter can be wet, chilly, and windy. Temperatures usually peak in the low-to-mid-50s, and days can either be brilliantly sunny or relentlessly gloomy. Nighttime temperatures can dip into the low 40s but seldom drop below freezing. While winter storms can bring heavy rains, it rarely gets cold enough to snow.
Compared to other winter-intensive cities like Denver, Chicago, and Montreal that endure months of harsh, snowy conditions, San Francisco's relatively mild weather offers travelers a much more pleasant winter travel experience. Let's take an in-depth look into San Francisco winter's nuances and how travelers can prepare for and even enjoy it.
Breaking Down San Francisco's Winter Months
Winter weather in San Francisco can be highly fickle. Long periods of dry, sunny weather and light winds can be followed by weeks of tempestuous weather with short breaks between storms.
Although the strongest winds occur during the winter months, there are often long periods of tranquil weather when storms shift to the north, often for weeks on end. During these periods, high pressure dominates, and the atmosphere becomes stable and dry. While similar, each winter month has its own nuances. Let's check out a month by month breakdown:
December: Here's when San Francisco winter conditions gradually kick in. Average highs are a mild 57 degrees, while nighttime lows can dip into the mid-40s. On average, rain falls for 11 days in December with 3.8 inches of accumulation. December also has the area's shortest days and the least amount of sunshine, with an average of 9 hours of sunlight per day and 5.2 hours of sunshine.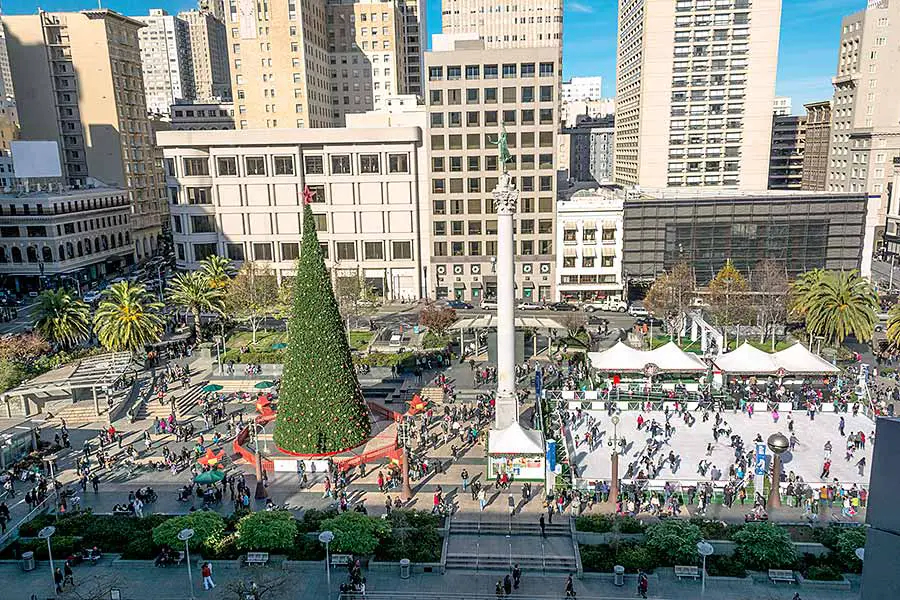 January: San Francisco's wettest month, January, sees an average of 11 days of rain that delivers 4.9 inches of rainfall. With average daytime temps of 53 degrees and 42 degrees at night, it's also the city's coldest month. The length of the average day in January is 9.9 hours with 6 hours of sunshine, slightly better than December.
February: Weather begins to improve in February, where average daytime highs are 60.3 degrees, with nighttime lows in the high 40s. Like January, it rains for 11 days with average accumulations of 3.6 inches. The average length of the day is 10.8 hours, with 7.4 hours of sunshine.
March: Winter loosens its grip in March as warm weather gradually returns and rainfall lessens. Nighttime lows hover right around 50 degrees with daily high temperatures topping off in the low 60s, but strong afternoon breezes can make it feel cooler.
March gets 3.2 inches of rainfall, but intense late-season storms can add to that total. Still, the days are sunnier and longer, with the average day length of 12 hours with 8.7 hours of sunshine.
How Does Winter Weather Affect Sightseeing in San Francisco?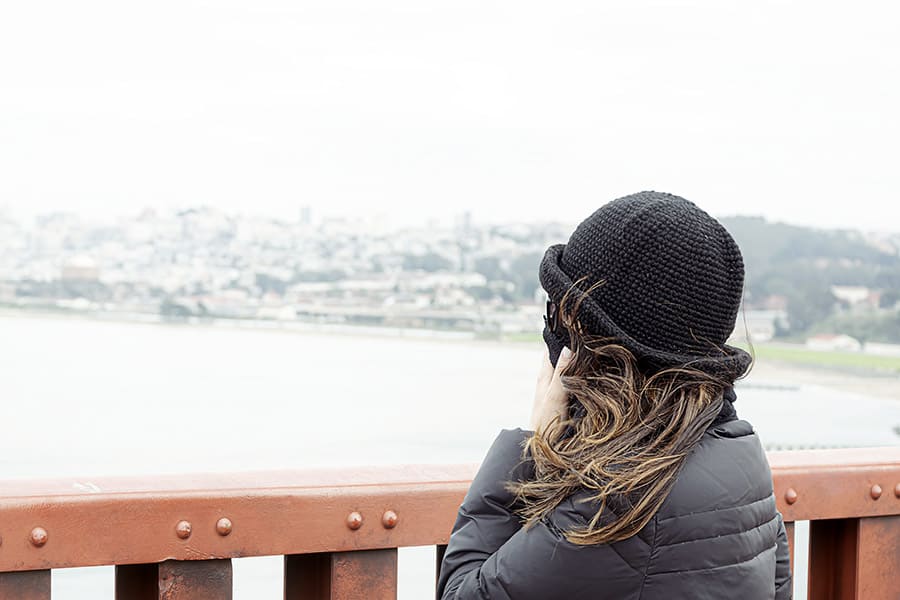 Despite the often-chilly daytime temperatures and gusty winds, you can still enjoy many of San Francisco's outdoor attractions, provided you bundle up and dress in layers. Dressing warm is particularly true if you plan to walk across the Golden Gate Bridge, visit Alcatraz or Angel Island, or explore the city's diverse and vibrant neighborhoods.
While rain could affect your enjoyment of visiting outdoor attractions, the city's many museums, shopping areas, theaters, pubs, and restaurants offer warm comfy indoor respites from the brisk outside conditions. Still, a good rule of thumb is when you get a sunny day in the San Francisco winter, take advantage of it.
Other Posts of Interest
How Much Rain Falls?
Technically, the winter months should be San Francisco's wettest time of year, and 75 percent of the Bay Area's precipitation occurs from early December through late March. On average, San Francisco gets 25 inches of rainfall each year, and the city sees some type of precipitation 72 days per year. Lightning and thunderstorms are rare.
However, in the past few years, winter rainfalls have taken an unpredictable turn. 2019 saw one of the rainiest seasons in the city's history. From January to March, the U.S. Weather Service recorded 42 days of rain with an average precipitation of 12 inches, surpassing the 2019 total for rainy Seattle.
But December to March of 2020 saw very little rainfall, and in that time, rainfall totals were 30-45 percent lower than expected. The season's most significant rains didn't arrive until March, and 2020 also saw San Francisco's first rain-free February since 1864. The few years preceding 2019 have also seen lower than expected rainfall.
Bay Area Answers Fun Fact: Thanks to the city's topography and constant marine layer, San Francisco is home to dozens of microclimates and sub-microclimates, and temperatures can vary wildly from neighborhood to neighborhood, no matter the time of year. For this reason, it's always wise to dress in layers.
What does this all mean? While some point to climate change, meteorologists are at a loss to fully explain or accurately predict the weird fluctuations in annual Bay Area rainfalls. Since the key word here is "unpredictable," tourists should still come prepared for the inevitability of rain.
How Windy Does It Get?
Let's just say that on certain days visitors are advised to hold on to their hats! The winter winds in San Francisco can vary from gentle breezes to howling gales and everything in between. In fact, there's almost always a wind blowing in San Francisco, no matter the time of year.
In the winter, winds from the Pacific whip right through the city from west to east, and when the wind howls through the downtown grid, it can feel like a wind tunnel. In fact, with average annual wind speeds of 10.6 MPH, San Francisco ranks seventh amongst 13 of the country's windiest cities, five clicks above #12 ranked Chicago.
Is It Foggy in Winter?
While fog is known to creep in during the winter months, it's mainly a summer occurrence that's most prevalent in July, August, and September. Fog occurs when cold air over the Pacific is drawn to warm inland temps. In the Bay Area winter, those inland temps are much cooler than summer, so the conditions for fog aren't ideal. Visitors looking to experience the famous San Francisco fog should either be prepared to be disappointed or plan a summertime visit.
Does It Ever Snow in San Francisco?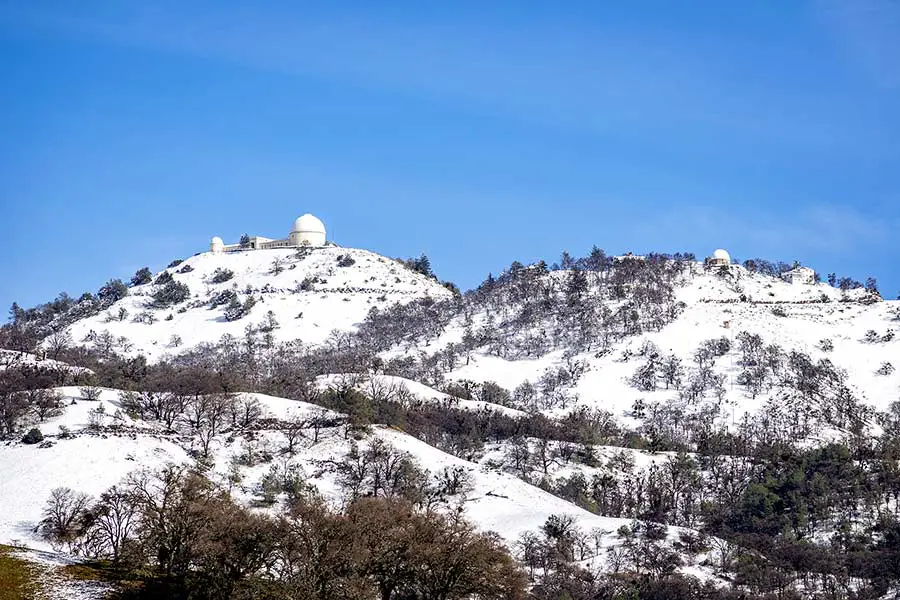 Snow is more common outside the city, and every winter, small amounts dust the peaks of nearby Bay Area mountains like Mount Tamalpais, Mount Diablo, Mount Hamilton, and the Santa Cruz Mountains in the South Bay. But snow in San Francisco is rare, as the Pacific Ocean warms moisture before it makes landfall.
But that doesn't mean it has never snowed in San Francisco. Snow has fallen and covered the ground in San Francisco 11 times, with records dating back to the gold rush era. The most significant snowfall in recent times happened on Feb. 5, 1976, when five inches of snow fell on San Francisco's Twin Peaks neighborhood, located 900 feet above the city, while an inch fell downtown.
In 2019, a late December blast of Arctic air and precipitation had San Franciscans crossing their fingers for a white Christmas, but the storm was warmer than expected and instead brought heavy rain to the region. And while every year brings wishful thinking, the only way you'll most likely see a white Christmas in San Francisco is by watching it snow somewhere else on TV.
What Causes San Francisco's Unique Winter Weather?
Given its position at the tip of a peninsula, San Francisco is surrounded by cold water on three sides, which means the city is continuously inundated with cold air driven by winds coming from the Pacific Ocean to the west and the San Francisco Bay to the north and east. However, the warmth of the surrounding waters also keeps inland temperatures temperate, which accounts for the Bay Area's Mediterranean-style climate.
The Bottom Line
Despite the chilly weather, the winter months in San Francisco offer visitors a unique chance to tour the city in off-peak months when most tourists stay home.
Christmas is one of the most energizing times to visit San Francisco, as the city likes to celebrate in high festive style. Even better, tourists will find hotel and accommodation rates to be cheaper and more available than the summer months. As long as you pack sensibly and bring appropriate rain gear, visitors will find the city loses none of its appeal in the colder months.