We've all heard of the infamous Silicon Valley in California. A place where technology giants produce the most cutting-edge products and innovations. When people hear Silicon Valley, they immediately think of the Bay Area and San Francisco. But is San Francisco synonymous with Silicon Valley?
San Francisco is NOT located in Silicon Valley. While Silicon Valley is close to the City of San Francisco, it is about 40 miles southeast of the city along the southern edge of San Francisco Bay. Silicon Valley encompasses the northwest corner of Santa Clara and the southeast portion of San Mateo counties.
The area has a unique history that helped it grow to the technology hotspot that it is today. Continue reading for more information on where Silicon Valley is located, how it got its name, Silicon Valley history, and fun things to do while visiting the area.
San Francisco – Is it in Silicon Valley?
To better answer this question, it's important first to understand a few general terms used to describe the San Francisco area.
The City of San Francisco is relatively small and covers an area of 46 square miles. It is home to a population of approximately 880,000 people. The city is located at the end of a long peninsula with the Pacific Ocean to the west and the San Francisco Bay on the east. To the north of the city lies the Golden Gate Strait, which the famous Golden Gate Bridge traverses.
It's important to note that the City of San Francisco is also the county of San Francisco, which means that the only city within the county of San Francisco is San Francisco itself. The county of San Francisco is but one of nine counties that make up the San Francisco Bay Area.
The San Francisco Bay Area (or referred to as "The Bay Area" by locals) comprises the nine counties surrounding the San Francisco Bay. This area has nearly 8 million people and covers an area of roughly 7,000 square miles. The Bay Area includes over 100 municipalities, including the City of San Francisco, Oakland, and San Jose, which are the three largest cities.
Silicon Valley is located within the Bay Area along the southern banks of San Francisco Bay. Silicon Valley spans an area of about 46 square miles and has a population of approximately 3 million people.
This area is somewhat loosely defined and doesn't have an official boundary like an ordinary city. It primarily spans the northwest corner of Santa Clara County and the southeast portion of San Mateo county. The major cities of Silicon Valley include San Jose, Sunnyvale, Santa Clara, Redwood City, Mountain View, Palo Alto, Menlo Park, and Cupertino.
Bay Area Answers Fun Fact: The City of San Jose's population is actually 17 percent larger than the City of San Francisco, making it the largest city in the Bay Area.
Other Posts of Interest
Why Do People Confuse Silicon Valley and San Francisco?
There are a few reasons why some people might get San Francisco and Silicon Valley confused.
First, most people are familiar with the famous City of San Francisco. For someone who is not from the area, it's much easier to say you are from San Francisco instead of explaining where Menlo Park is located.
Also, tourists visiting Silicon Valley are more likely to fly into San Francisco International Airport than the closer San Jose International Airport.
Cities in California are tightly packed into metropolitan areas. It's easy to drive 10 miles and pass through several cities. This closeness can give the appearance to visitors that the City of San Francisco covers a wider geographical area than it does.
What is Silicon Valley Famous For?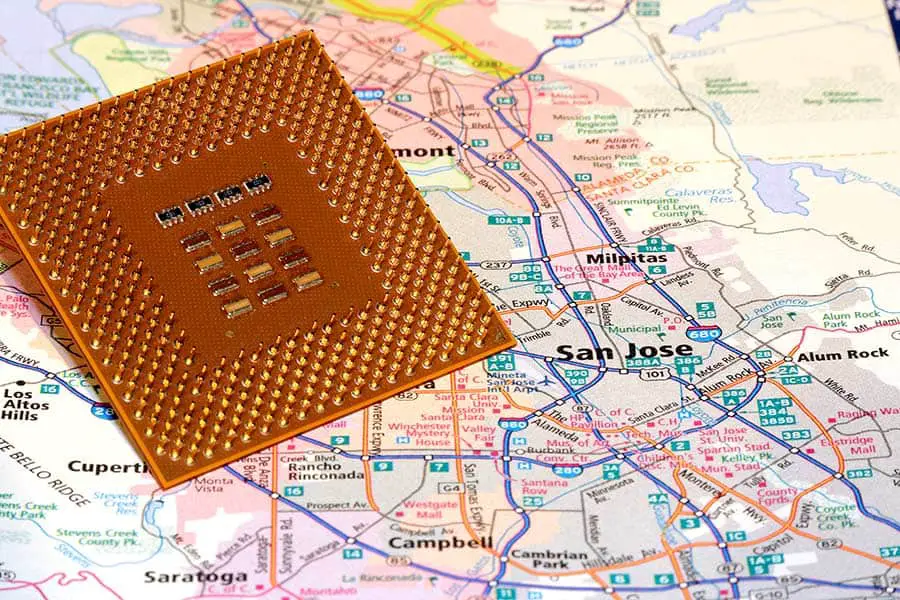 Silicon Valley is widely recognized as the global center for technology and innovation, where many of the largest tech giants are headquartered. Companies like Apple, Alphabet (parent company of Google), Netflix, Intel, Facebook, and eBay are all located in Silicon Valley.
Nearly 40 companies from the Fortune 1000 are located in Silicon Valley, making it one of the wealthiest areas in the entire world. If Silicon Valley were a country by itself, it would have an economy roughly the size of Sweden!
Bay Area Answers Fun Fact: The San Jose Metro Area has the 3rd highest GDP (gross domestic product) per capita in the world (Brookings Institute).
Why Are There So Many Tech Companies in Silicon Valley?
Similar companies tend to set up their headquarters near their competitors. While this could seem counterintuitive, there are many benefits for companies, employees, and the local community. Ultimately, the goal is to attract like-minded people together that can collaborate, share ideas, and work together for the benefit of everyone involved.
Specialization – Having tech companies close to one another encourages the local workforce to specialize in technology-related skills and education. This closeness cultivates a more robust labor pool than a tech company trying to operate away from the group.
Networking and Knowledge Sharing – Close proximity of people and companies allows for information to flow more easily. This concentration helps stimulate better, cutting-edge ideas through collaboration and even conversations outside of the workplace. It's also much more feasible to host regular seminars, tradeshows, and workshops where industry information is shared.
Resources – The companies of Silicon Valley have the advantage of having access to resources specifically equipped to support the tech industry, including employees, suppliers, and other support services (for example, law firms that specialize in technology).
Lobbying and Regulations – Tech companies all have similar needs when it comes to laws and other regulations to operate effectively. By having many similar companies in the same area, they can work together to lobby local officials to design laws and regulations in a way that benefits companies in the area.
New Startups – By setting up shop in Silicon Valley, new companies have immediate access to resources and an environment specifically designed for the tech industry. This factor gives these new businesses an advantage.
Bay Area Answers Fun Fact: Silicon Valley is located in a valley. The area roughly corresponds geographically with the Santa Clara Valley.
How Did Silicon Valley Get its Name?
Many places get their name from the local resources or specialty of the area. For example, California is known as the Golden State because of the famous gold rush in the 1800s.
Silicon is an essential material used in the production of computer microchips. Because of the number of tech companies located there, the area became known as Silicon Valley. The term "Silicon Valley" was first used in a report in the 1970s and stuck.
Despite the name, silicon itself is not mined or produced in Silicon Valley. In fact, very little silicon comes from the United States. China is the world's leading producer of silicon and provides over half of the world's supply (Statista).
Who Started Silicon Valley?
Frederick Terman is widely regarded as the father of Silicon Valley (PBS). Terman was appointed as dean of the School of Engineering at Stanford University in 1945. At that time, most technology companies were located on the East Coast. In an attempt to keep talent in California, he proposed that students begin starting their own companies locally.
In 1951, he encouraged the University to build the Stanford Industrial Park (now called Stanford Research Park). Some of the space was then leased out to up-and-coming technology firms. Some of the first tenants included Hewlett-Packard, Eastman Kodak, General Electric, and Lockheed Corporation.
Growth of Silicon Valley
As more and more companies started up in Silicon Valley, the area grew and attracted even more technology firms. Because of the technology specialization and resources available, Silicon Valley became the go-to source to create the next generation of cutting-edge technology.
This demand didn't just come from the private sector. The US government had already been investing millions toward the research and development of naval technology in the Bay Area. In 1957, NASA required special transistors to compete with Russia in the Space Race. These unique parts were only produced by Fairchild Semiconductor (PBS), founded in Sunnyvale. Lockheed Martin began producing military aircraft during World War II and has become one of the preferred contractors for advanced military aircraft design.
Since then, the emergence of new technology, including the microchip, personal computers, and the internet, has spurred massive growth that has made Silicon Valley what it is today.
What Can Visitors Do in Silicon Valley?
Visitors can find many great places to learn about the history and technology of Silicon Valley and the surrounding area.
Silicon Valley: A Different Flavor of the Bay Area
There is no doubt about it. San Francisco and Silicon Valley have influenced each other throughout their history. While San Francisco is not located in Silicon Valley, exploring the high-tech and innovative culture is a complementary addition to a San Francisco trip. With so many museums and historic sites, there is something for everyone in Silicon Valley.