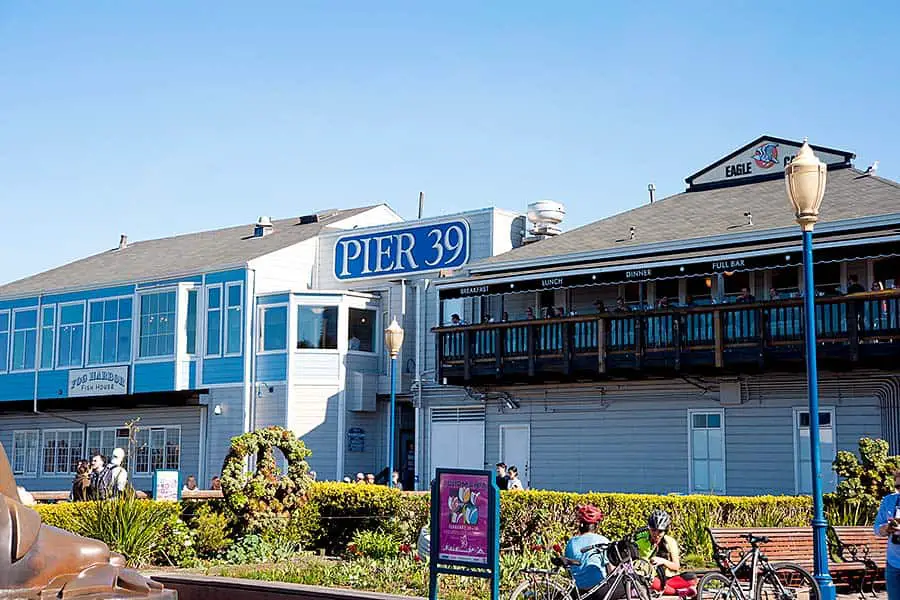 It's a common question asked by visitors planning their first-ever trip to San Francisco: what's the difference between Pier 39 and Fisherman's Wharf? Are they one and the same? If not, are they far from each other? Are they even worth visiting? So many questions! Let's find out if Pier 39 is the same as Fisherman's Wharf.
Pier 39 is simply one part of the Fisherman's Wharf complex that encompasses San Francisco's expansive northern waterfront. It helps to look at it this way: Fisherman's Wharf is San Francisco's number one destination, and Pier 39 is Fisherman's Wharf's most visited attraction.
As to whether it's worth visiting, that depends on your tolerance for high-energy, crowded tourist destinations. More than 15.2 million people visit Fisherman's Wharf and Pier 39 every year, which translates to 24,383 visitors a day!
While some locals might find that excruciating, tourists from around the world find Fisherman's Wharf and Pier 39 to be a fun and lively destination that's well worth a second visit. Read on to discover all the things to see and do at Fisherman's Wharf and Pier 39.
What Is There to Do at Fisherman's Wharf?
Maybe that question should be more like "what isn't there to do on Fisherman's Wharf?" Check out their things to do. Part of the Wharf's allure is the sheer volume of family-friendly activities the area offers. Stroll west on Jefferson Street, and you'll find no shortage of gift and curio shops, restaurants and cafes, the popular Ripley's Believe It or Not and Madame Tussauds Wax Museum, and countless other fun attractions.
At the western end of Jefferson Street is the chocolate mecca that is Ghirardelli Square, as well as San Francisco Maritime National Historical Park and the Maritime Museum with its beautiful art deco exterior. One block up at Beach and Hyde Streets, you can catch the Powell-Hyde cable car line that will take you over the hills into downtown San Francisco.
While there, grab a bite with a view at the famous Buena Vista Cafe, which lays claim as the birthplace of the Irish coffee. While that boast might get some pushback from Ireland, it's still a fine cup of coffee, no matter who invented it.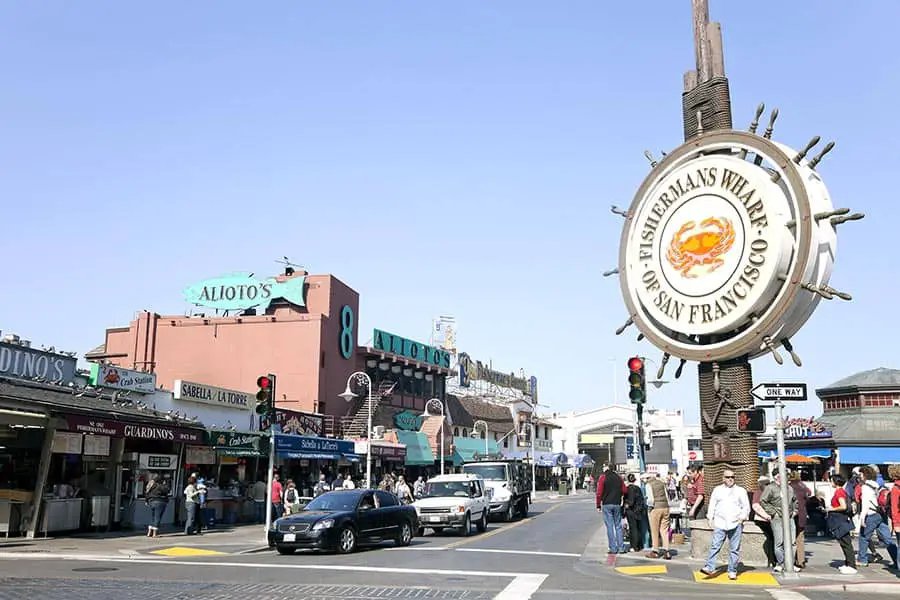 Head back down Jefferson Street in the other direction past the sidewalk artists, seafood restaurants, and souvenir shops, and you'll find yourself at the intersection at Taylor Street right underneath the iconic "Fisherman's Wharf of San Francisco" sign and its big orange crab.
This area is the epicenter of Fisherman's Wharf, and needless to say, it can often be hectic with tourists taking selfies in front of the sign. But don't let that deter you from exploring this fun little area.
Many locals never get tired of visiting the historical Musée Mécanique, a unique collection of 300 coin-operated arcade games, musical instruments, and artifacts that celebrate San Francisco's long-gone but never forgotten Playland At The Beach. Then visit the World War 2-era ships and submarine right next door at historic Pier 45.
You'll also find at least three restaurants where you can dine inside or get your fill of seafood delicacies from any of the vendors lining the sidewalks. Strolling this area is also a vivid reminder that Fisherman's Wharf is still a working dock, and from here, you can see the fishing boats heading to and from the bay, laden with fresh-caught seafood, some bound for the neighborhood restaurants.
Bay Area Answers Fun Fact: Today's Fisherman's Wharf is built on land created from the rubble of buildings destroyed in the 1906 San Francisco earthquake and fire.
What Is There to Do on Pier 39?
Like the rest of Fisherman's Wharf, Pier 39 can be a riot of movement, energy, and activity. On warm, sunny afternoons, expect to deal with a crush of tourists and locals who would never admit to being there.
Also, like the Wharf itself, there are endless options for eating, drinking, wine tasting, and shopping. Are you looking for a San Francisco snow globe? Or a hoodie to commemorate your visit? You'll find hundreds of them on Pier 39. Amazingly, there's even a store for left-handers!
Pier 39 is also the place to head if you want to be on the bay instead of just looking at it. Water lovers have many options to sail the bay with varying challenge levels, while a popular whale tour will take you out into the bay to visit with giants. You can purchase tickets on the pier but buying in advance is always recommended. Tours depart from the pier as well.
Pier 39 is ranked as the country's third-most-popular tourist attraction, following Disney World in Florida and Disneyland in Anaheim. With so much to do here, where does one start? To help, we've narrowed things down to the top four of the most popular reasons to visit Pier 39:
Other Posts of Interest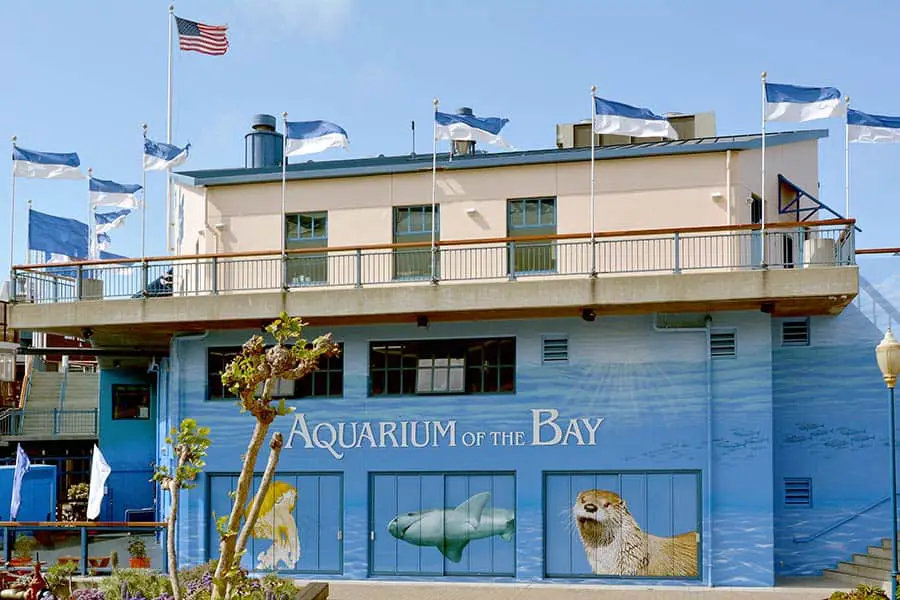 Aquarium of the Bay: With a focus on the diverse marine life and ecosystem of the San Francisco Bay, this multi-level aquarium is a hit with tourists and locals alike. The aquarium is home to over 20,000 marine animals unique to the bay, and its crystal-clear tunnels give visitors an immersive experience as sharks and rays glide overhead. After visiting with the fishes, check out the stunning views from the outside deck. You can pay a visit to the Aquarium of the Bay 364 days a year. Click here for ticket information.
The Carousel: Popular with kids and adults alike, Pier 39's two-level carousel built in Italy features over 30 animals, more than 1,800 LED lights, traditional organ music, and artistic renderings of famous San Francisco landmarks. The scene around the carousel can be quite lively during times of operation, as magicians and performers entertain the crowds waiting to ride the carousel. The Pier 39 carousel is open daily until 7 PM Sunday through Thursday, 8 PM on Friday and Saturday. Tickets are $3 per ride.
Sea Lions: Surprisingly, Pier 39's most beloved attractions are the hundreds of sea lions lolling about on floating wooden docks at Pier K near the west end of Pier 39. For reasons known only to them, the sea lions started flocking there after the 1989 Loma Prieta earthquake. Now, there can be anywhere from 100 to 600 sea lions at any given time. You'll hear them before you see them, as their constant barks raise quite a racket. When you get tired of the barking, head upstairs to the Sea Lion Center to learn more about these marine mammals.
The Spectacular Views: Stroll to the end of Pier 39 for some of the most breathtaking views of the bay and its many sites. Alcatraz is so close it looks like you could just jump over there, while both the Golden Gate Bridge and Bay Bridge loom large in the distance. Sunsets here will have you realizing why so many people leave their hearts in San Francisco.
We've just skimmed the surface here. Other popular Pier 39 attractions include the 7D Experience, the vertiginous, 40-foot tall Bay Plunge, the musical stairs, an amazing Mirror Maze, and The Flyer, where computer-generated imagery gives the illusion that you're flying over San Francisco.
Is There Parking and Lodging?
Parking in the Fisherman's Wharf area can be non-existent during peak times, and finding alternative modes of transportation is highly recommended. But if you simply must drive, click here for information on parking, public transportation, and directions. If you want to stay in the Fisherman's Wharf area, here's a complete list of Fisherman's Wharf hotels.
The Bottom Line
While Fisherman's Wharf and Pier 39 often earn their reputation as tourist traps, there's no denying the lively energy and sheer enjoyment of both attractions. In the end, there's one main reason why 15 million visitors a year make Fisherman's Wharf one of the city's most popular destinations. It's a whole lot of fun.