If you are looking to make a move to California, you might be torn between the many great cities that dot the Golden Coast. Of course, the two giants at the top of the list are usually San Francisco and Los Angeles. But which city is more expensive?
Overall, the cost of living in the City of San Francisco is about 26% more expensive than in Los Angeles. However, expenses will differ as each person or family will have different needs when it comes to living expenses and personal preferences.
Before you make your choice based solely on cost, there are some pros and cons to consider between the two cities. In this post, we'll break down the cost of each significant living expense, including housing, transportation, food, and entertainment.
Which is More Expensive – San Francisco or Los Angeles?
While overall cost is important to evaluate, there are some differences between each city when breaking down each cost category. The most significant categories will be housing, transportation, and food. We'll also look at other things like childcare, utilities, and entertainment.
As we go through these costs, think about your lifestyle and consider if the cost of each item impacts you personally. For example, while San Francisco is more expensive in general than Los Angeles, there may be reasons why it isn't for you. For instance, if you don't have children, you don't have to worry about childcare costs. Also, if you like to cook, you may not eat out as much.
Housing
The State of California is known for many things, including beaches, weather, national parks, and lifestyle. But, unfortunately, it's also well known for expensive housing. Most people cringe at the outrageous real estate prices. But, when it comes to San Francisco and Los Angeles, which is worse?
When it comes to homeownership, the median home in San Francisco costs a cool $1.42 million. For comparison, the median house in Los Angeles is about $950,000. This amount is a pretty significant difference (approximately 49% more expensive); the cost of renting shows a similar pattern, with rents costing about 55% more in San Francisco.
Bay Area Answers Fun Fact: The Abner Phelps House located at 1111 Oak Street (in the Haight Ashbury district) is considered the oldest home in San Francisco, with construction taking place from 1850 to 1851.
One of the main drivers to the cost of housing is that in Los Angeles, people have the alternative to move away from downtown into cheaper neighborhoods. In San Francisco, this can be a challenge since the city is surrounded on three sides by water. Moving across the bay to Oakland, for example, may be cheaper but requires a very long commute.
Most Affordable: Los Angeles
Transportation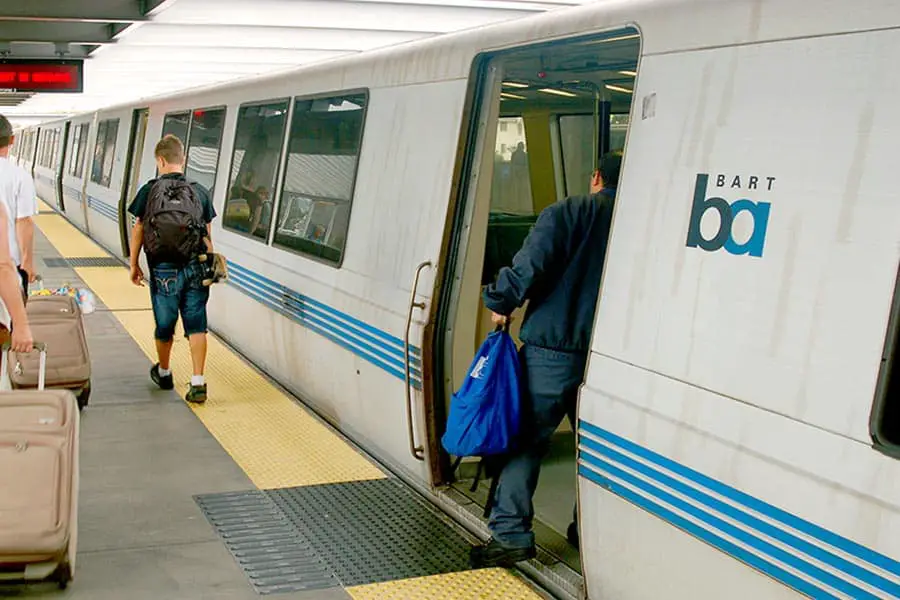 Transportation is one category where San Francisco has a slight leg up on Los Angeles. First, the City of San Francisco is much more walkable than Los Angeles. Second, it also has a more robust public transportation system. These factors help drive down the cost for San Francisco residents.
While the cost of gasoline is typically cheaper in Los Angeles than in the Bay Area, other transportation-related expenses are more expensive in SoCal. In Los Angeles, it's nearly impossible to get around without a car. If you don't own a vehicle, you will likely pay more for longer Uber or taxi rides in Los Angeles.
Public transportation is also more expensive. For example, in San Francisco, a monthly public transit pass costs 19% less than the same service in Los Angeles.
Most Affordable: San Francisco
Other Posts of Interest
Utilities
After housing and transportation, you should consider the cost of utilities such as electricity, gas, water, and internet. San Francisco and Los Angeles have remarkably similar infrastructure systems in terms of modernization. Utilities in San Francisco will cost you approximately 5% more than if you lived in Los Angeles. This amount is a negligible difference and shouldn't be a major deciding factor.
Most Affordable: Los Angeles
Groceries
Due to its location and climate, California has the advantage of being able to grow or import vast amounts of food from all over the world. When selecting a place to live, food prices will be a sizable chunk of your monthly budget.
The difference between the cost of groceries in San Francisco and Los Angeles is pretty significant. If you live in the San Francisco area, you can expect to pay about 28% more for groceries.
This variation is most likely due to better accessibility to import goods in Southern California. The City of Los Angeles has access to the two busiest shipping ports in the United States – Port of Los Angeles and Port of Long Beach. Although these ports are considered two separate entities, they sit adjacent to each other. Combined, they make up the sixth-largest port in the world.
Most Affordable: Los Angeles
Dining and Eating Out
If you are like me, you likely enjoy going out to eat at restaurants with friends and family. Depending on your budget and lifestyle, this may or may not be a significant percentage of your budget. Fortunately, no matter which city you choose, the cost of eating out is about the same. Eating out at a San Francisco restaurant will only cost about 2% more on average than eating at a Los Angeles restaurant.
Although the cost is practically the same, I'd be remiss if I didn't mention the variety of restaurant choices that Los Angeles has to offer. Compared to San Francisco, Los Angeles has nearly eight times the number of restaurants.
Most Affordable: It's a tie
Childcare
If you have younger children, then you will need to think about the cost of childcare, including babysitting, daycare, or private schools. This expense is where the cost of the living gap is off the charts. Childcare in the City of San Francisco is nearly 80% higher on average than in Los Angeles.
This expense could be a deal-breaker for families that have multiple children to pay for. Keep in mind that this could vary significantly depending on your family's individual needs. It is possible to reduce childcare costs if you have alternative options such as family who can help out.
Most Affordable: Los Angeles
Healthcare
Keeping your family healthy is critical. Fortunately, the State of California has lots of options when it comes to hospitals, medical services, and insurance providers. This factor helps keep the cost lower. Despite having an overall higher cost of living than most of the country, healthcare throughout California is typically ranked at or below the national average.
When comparing San Francisco and Los Angeles, you will find that healthcare costs about 12% more in the Bay Area.
Most Affordable: Los Angeles
Entertainment and Sports
Both San Francisco and Los Angeles offer their residents lots of fun activities such as museums, concerts, amusement parks, and sporting events. So naturally, you'll want to factor the cost of entertainment into your budget. Fortunately, there isn't a cost difference between the two cities.
The only exception to this seems to be a gym membership. Surprisingly, gym memberships in the San Francisco area will cost you almost double compared to Los Angeles. This difference could be because the weather in Los Angeles is slightly warmer year-round, giving people the ability to get their workout outside most of the year.
Most Affordable: It's a tie
Clothing
Another significant expense will be clothing from shirts to shoes to jackets; you can expect to spend about 15% more on clothing items in the Bay Area. Again, this expense might not be significant for a single person, but it could add up quickly for a family with several growing children.
Most Affordable: Los Angeles
Some Additional Things to Consider
Based on these numbers, the City of Los Angeles is the clear winner when it comes to affordability. However, there are a couple of other points that you should consider before making your decision of where to live.
First, each city has access to a sprawling metropolitan area. While the prices quoted in this post are for Los Angeles and San Francisco proper, other nearby cities may be more cost-effective. For example, the City of Glendale is 10 miles from downtown Los Angeles and is about 12% cheaper. Be sure to look outside the city limits for the best option for your family.
Also, companies tend to compensate their employees based on the local cost of living. So although San Francisco is a more expensive city, you can expect to see a higher salary in most fields. In fact, the average median household income is nearly 50 percent higher in San Francisco compared to Los Angeles.