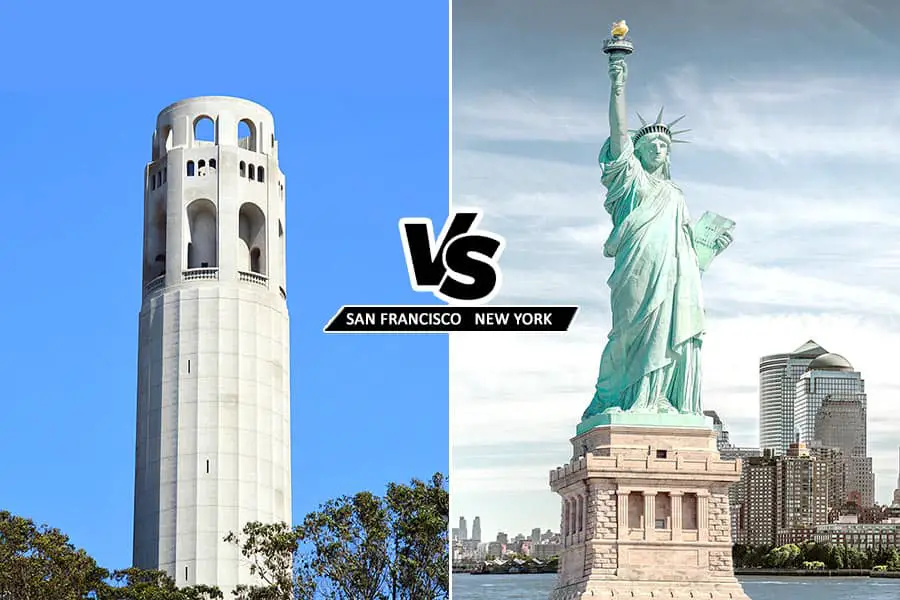 Life in the big city can be an amazing experience. Regrettably, it can also be an expensive one. Places like New York City and San Francisco are notorious for their exorbitant costs of living. But which city costs more – is it true San Francisco is more expensive than New York City?
San Francisco has a higher cost of living than New York City: residents of the Golden City will pay more for housing, utilities, and even medical bills than Big Apple denizens. Even so, Bay Area residents may find San Francisco living worth the price.
After all, there is more to contemplate than just a dollar-for-dollar price comparison between cities. A better question might be, what is the overall value? What kind of living experience do you get for your dollar? We'll compare how much it costs to live in San Francisco compared to New York City and describe what you get for your money below.
San Francisco vs. New York City: Which Is More Expensive?
When analyzing New York City and San Francisco, we'll need to examine the expenses that we all have in common: housing, transportation, utilities, and groceries. These things are necessary for any person who resides in a major city.
We'll also examine other expenditures such as healthcare, entertainment, and dining out. These outlays are pretty standard across the human experience. Almost everybody enjoys going out on the town or having a fine meal now and then, and we all need the doctor eventually.
Along with the costs, we'll discuss some other salient factors to consider. For example, which city offers you a better commute? Where can you find more free activities? Just how much bang does your buck get you?
Housing
San Francisco and New York City are very different places, but one thing unites them both: pricey housing. That said, these cities offer a wide variety of living situations available across a broad spectrum of budgets. But it's safe to say most of us have experienced or will experience the one-bedroom apartment at some point. This fact makes them a practical point of comparison.
So which metropolis has more affordable one-bedrooms? New York has a reputation for high rental costs and the facts back that up, New Yorkers will pay an astonishing $2,500 a month for their single-bed suite. But that's almost a bargain compared to the Golden City, where a one-bedroom apartment will run you $2,650 a month.
Perhaps you are in the market for a house? We know New York isn't cheap, but the San Francisco area has a price tag to match. New Yorkers can expect to pay over $750,000 for an average home. That certainly seems expensive, but it's about half of San Francisco's current average home price of $1.3 million.
More Affordable: New York City
Commuting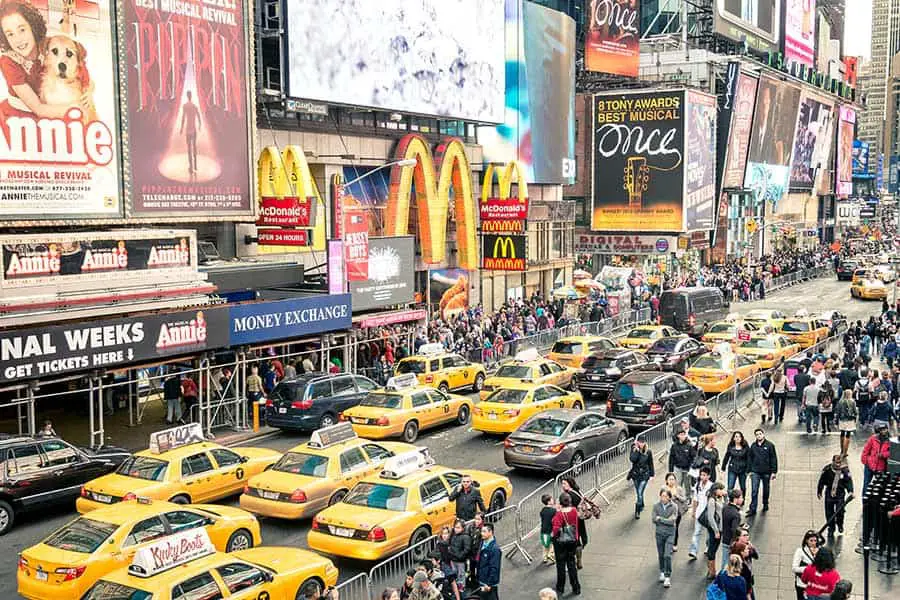 Like it or not, many of us must endure the commute to work. For New Yorkers, however, the commute is especially heinous. If you're driving to work, know that only two cities in the United States – Washington, D.C., and Chicago – have worse traffic ratings. And while San Francisco and New York are both very dense, highly congested metropolitan areas, the congestion is objectively worse in New York.
On the other hand, you will pay more to fill up your gas tank in San Francisco.
For those who dislike city driving, both of these metropolises offer their residents other transportation options. Who doesn't want to ride the cable cars or streetcars in San Fran or ride the New York Subway that transports over 4.3 million riders daily. Or for those who wish to arrive in true New York style, Uber Copter allows you to hire a helicopter to beat that rush-hour traffic.
Overall, San Francisco's transit riders have a far better deal, paying almost 50% less for passes than the unfortunate riders of the New York City subway system. Plus, San Franciscans get to ride the previously mentioned cable cars – and the San Francisco metro system is ranked higher than New York City's.
More Affordable Gasoline: New York
More Affordable Transit: San Francisco
Better Commute: San Francisco
Bay Area Answers Fun Fact: San Francisco was once ruled by a self-proclaimed emperor. In 1859, Joshua Norton – a former businessman who lost a fortune in a rice deal that went sour – declared himself to be Norton I, Emperor of the United States. Emperor Norton was celebrated by many San Franciscans, and even issued currency which was accepted at some establishments. When he died unexpectedly, nearly 10,000 people turned out to honor him when his funeral procession passed.
Other Posts of Interest
Utilities
There is no way to avoid utility costs. We all need the same basic set of services: electricity, water, sewerage, and internet access. New York takes the advantage in this category. San Franciscans have a higher utility bill, including access to the web, than New Yorkers.
Is internet access really a utility? Some might argue that internet access is not an essential utility like electricity. That said, internet access has become indispensable, making it a valid consideration when discussing utilities.
More Affordable: New York
Groceries
Groceries are another unavoidable. No matter how good the local restaurant fare is, we all need to eat at home sometimes. So which city has more expensive grocery bills? As it turns out, residents of New York City pay about 7% more than residents of San Francisco for their trip to the market.
Is it because their apples are bigger?
More Affordable: San Francisco
Health & Wellness
Nobody wants to need the hospital, but we're all grateful for it when the occasion arises. One of the conveniences of living in a big city is access to high-quality medicine, including teaching and research hospitals and access to sub-specialists. But which city has the most affordable healthcare?
According to Nerdwallet, the average person can expect to pay about 16% more for medical and dental expenses in San Francisco than in New York. San Franciscans pay an average of $154.00 to see the doctor, compared to an average of $106.72 for New Yorkers. A trip to the dentist will set you back $138.14 in San Fran compared to $124.43 in New York.
Self-care is important. One must consider access to safe places to exercise. New York City offers access to indoor parks & rec facilities for free to persons under 18; 18 to 24-year-olds pay $25 a year, and adults over 25 pay $100 a year. This price includes access to all recreational gymnasiums in the city. Higher-end gyms will charge more.
Overall, it seems that gym prices are comparable between the two cities, so in the gymnasium category, we'll call it a draw.
When in New York City, one mustn't forget Central Park. The park covers 843 acres and provides residents the opportunity for free outdoor fitness, including walking, running, rollerblading, biking, and more. The full loop has almost 6.1 miles, but if you want a shorter option, they are also available. And on top of that, they have 21 playgrounds to keep the kids entertained.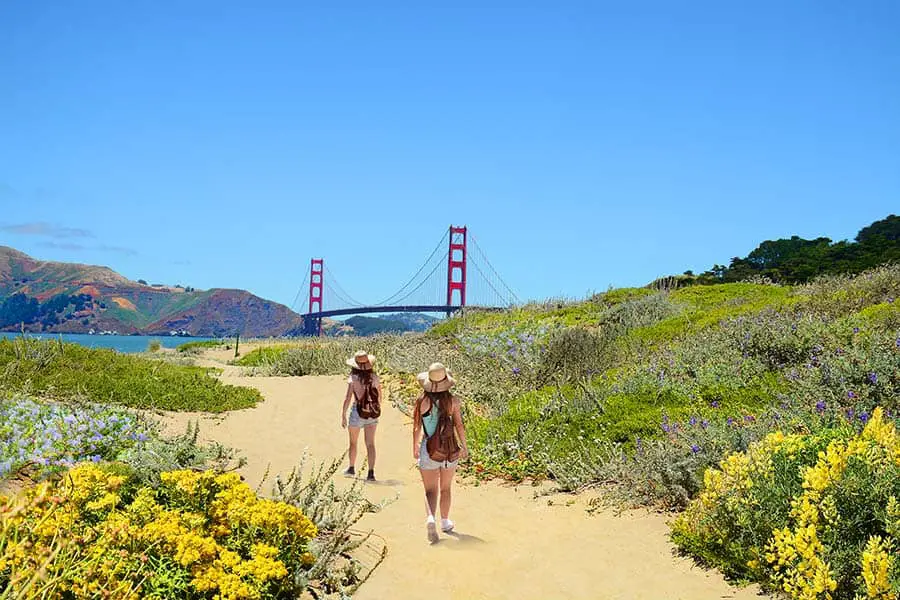 On the other hand, San Francisco residents can also go outside and enjoy the beauty of the Bay Area for free. Or, they can take delight in using the city's well-developed system of bicycle trails, including the Bay Bridge Trail. And some of the best hiking you'll experience is a short trip away from San Francisco, and the beaches even provide excellent hiking opportunities.
More Affordable: New York City
Entertainment
Both of these cities offer visitors and residents world-class entertainment options. Whether you are looking for a trip to the theater or a gourmet dinner, you know that both cities will probably set you back a few dollars. What does it cost to go out in San Francisco compared to New York?
Maybe it is all the expensive broadway tickets, or perhaps New York restaurants charge a little more for access to their chefs. Whatever it is, Dwellers of the Golden City can enjoy a night on the town for about 9.2% less than their counterparts on the East Coast. We'll toast to that.
More Affordable: San Francisco
Fine Dining
If you are a gourmand, it would be hard to find two finer cities in the United States in which to dine than San Francisco and New York. For the average person, an inexpensive restaurant meal or even a three-course meal at a more upscale eatery will cost you less in San Francisco than in New York.
Cappuccinos and imported beers for before and after your meal will also set you back less in the Golden City. But for those of us who enjoy the simpler things, sodas, domestic beers, bottled water, and fast-food are more affordable in the Empire City.
More Affordable: San Francisco
Cost of Living, Quality of Life
With higher costs for housing and utilities, we have to conclude that San Francisco is more expensive than New York. These are unavoidable, repeated expenses that anybody has to consider when comparing two places.
However, San Francisco does offer a unique charm. While both of these cities are truly world-class places to live or visit, we just can't help but love the Bay Area. With amazing things to do, easy access to nature, affordable transit, and many other quality-of-life factors, we will admit that San Francisco is more expensive – but we contend that it might just be worth the extra cost.