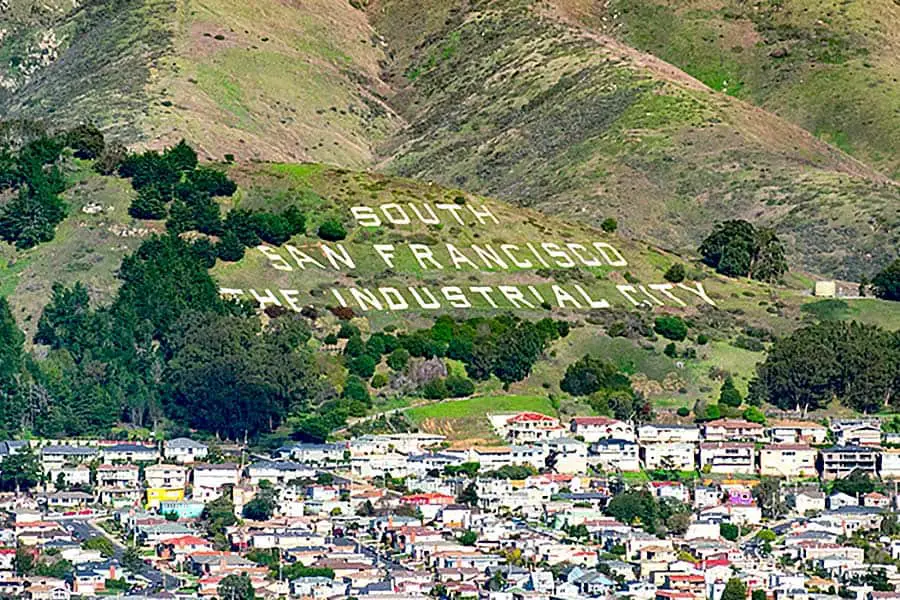 The name San Francisco is appended to a lot of things. There is the San Francisco Peninsula, which sits in the San Francisco Bay, which contains the county of San Francisco, which includes the city of San Francisco. Thinking in these terms, when you hear the words South San Francisco, a logical guess might be that it's a neighborhood or an area within the city of San Francisco. But is South San Francisco part of the city of San Francisco?
South San Francisco is not part of San Francisco – it is an independent municipality located to the south of the city of San Francisco. The two cities are not in the same county and do not even share a border. Locals distinguish the two by referring to San Francisco as "The City" and South San Francisco as "South City."
So knowing that South City is not part of The City, what would entice a traveler to visit South San Francisco? The same things that would attract one anywhere: unique attractions, local character, relaxation, shopping, and culture! Continue reading to learn more and discover why South San Francisco deserves a visit.
South San Francisco vs. San Francisco
Located north of the San Francisco International Airport (SFO) and south of the city of San Francisco, South San Francisco sits in a valley on about 9 square miles of land in San Mateo County. San Francisco, The City, sits in San Francisco County to the north of South City.
While residents of The City often have to fight off the notorious local fog (known as Karl), residents of South City are protected from Karl's influence as the city is nestled among hills. Residents and visitors can enjoy splendid views of the San Francisco Bay from high points.
With census numbers reporting about 63,000 residents, South San Francisco is somewhat densely populated, averaging 6,921 people per square mile. San Francisco (The City) is substantially denser, with 881,549 residents and a population density of 18,838 people per square mile. While they are vastly different in size, both cities enjoy diverse populations with residents and visitors from a multitude of backgrounds.
San Francisco has a slightly higher rate of violent and property crime than the US national average. South San Francisco has a slightly below average violent crime rate but a little higher property crime rate than San Francisco. Overall, however, both cities are fairly safe.
South San Francisco is home to many well-known companies. Biotech firms Genentech and Amgen have headquarters here, and payment processor Stripe is relocating to South City in 2021. Other major businesses in South San Francisco include Costco, Air China, and See's Candies.
What is South San Francisco Known For?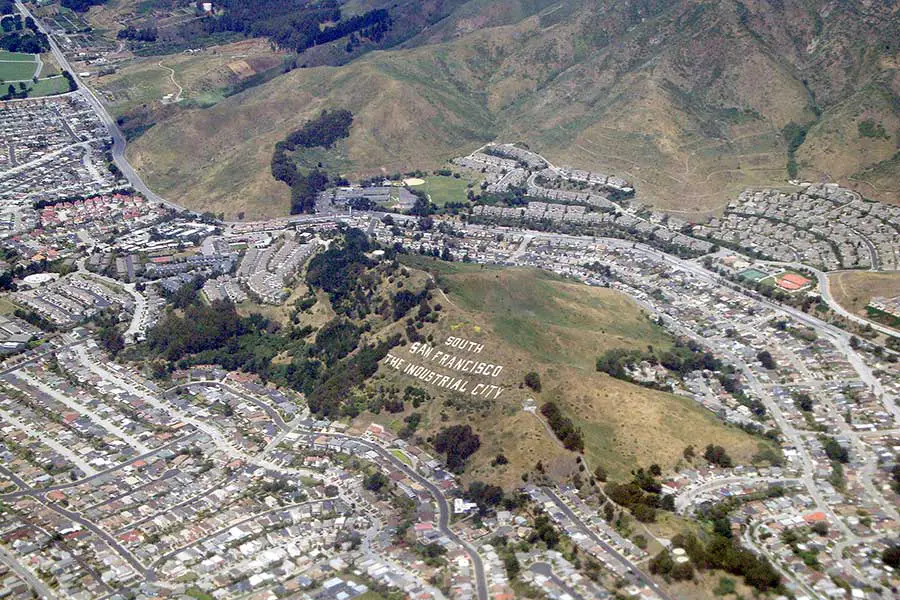 One of South San Francisco's most unique attractions is the Wind Harp. Ninety-two feet tall and built of swooping metal arches, the Wind Harp is an aeolian harp constructed by Aristides Demetrios. Wind blowing in from the ocean will play the harp, filling the air with the singing of metal.
Because it is situated on a hill 243 feet above sea level, visitors to the Wind Harp can enjoy beautiful views while listening to the music. South San Francisco is also known for an iconic hillside sign welcoming visitors to The Industrial City, nature trails, hiking trails, and a local craft brewery.
Other Posts of Interest
Bay Area Answers Fun Fact: San Francisco International Airport handles about 58 million visitors each year, which equates to approximately 158,904 people per day.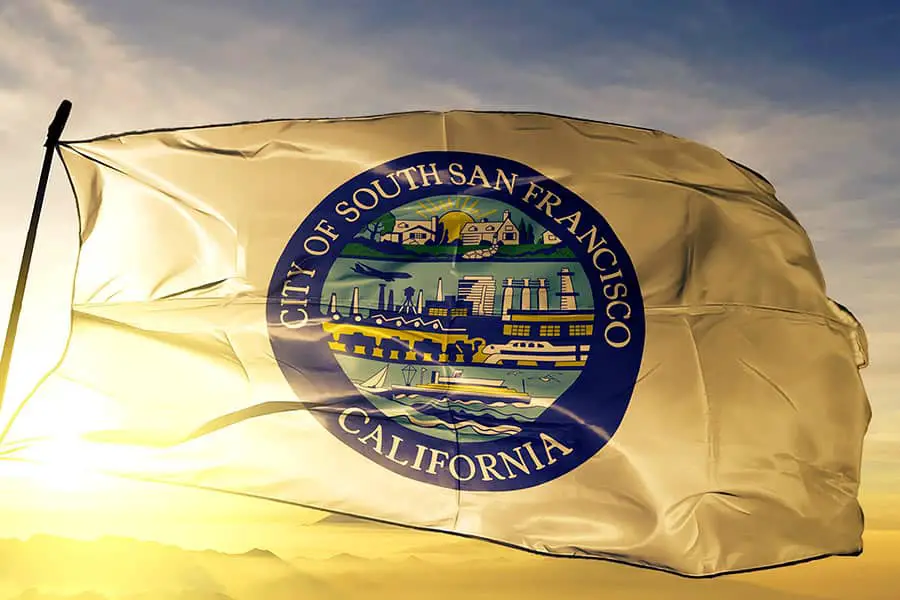 Is South San Francisco a Good Place to Live?
South San Francisco has a reputation as a good place to live. The region is beautiful and offers area residents an endless array of things to do and see. The public schools located in South San Francisco are above average. With a highly diverse population, many local attractions, and easy proximity to transit into The City, South San Francisco is an attractive place to live. It has earned a B grade from Niche.
Is South San Francisco Expensive?
Like much of California and the Bay Area, South San Francisco is a beautiful but expensive place to live. South City housing prices keep pace with housing prices in The City, running at about 165% of the national average. Utility expenses are 9% above average, and transit prices are 34% above average. Unfortunately, local food and healthcare costs also exceed the national average. Like most of the Bay Area, South San Francisco is a fairly expensive place to live.
Does BART go to South San Francisco?
Bay Area Rapid Transit (BART) is one of the best ways to get around the San Francisco region. Luckily, BART does serve South San Francisco. Riders can catch the BART near El Camino High School and ride it to SFO, East Bay, and San Francisco.
How Much are Houses in South San Francisco?
Homes in South San Francisco are expensive. The median sale price for a house in South San Francisco is about $1.2 million. The real estate market is very competitive, with homes generally selling for about 5% above list price and staying on the market for less than three weeks. Particularly desirable properties can sell in about a week, and sellers can enjoy profitable bidding wars between buyers. For renters, the market in South San Francisco also skews expensive: rent for a one-bedroom apartment costs about $2,100 per month.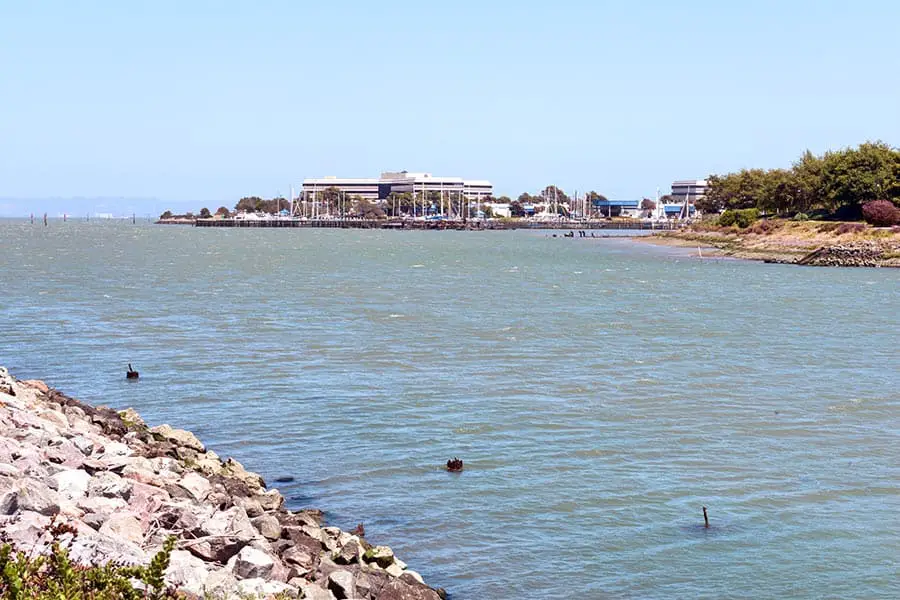 What is There to do in South San Francisco?
South San Francisco has something for everybody. Being on the Bay, one of the best things to do in South San Francisco is to visit the water. Oyster Point Park is a local public park and marina where you can enjoy a casual stroll along the docks, swim at a safe and well-manicured beach, grill out in a picnic area, or try your luck fishing.
For the thrill-seekers among you, K1 Speed offers a fast and fun indoor go-karting experience. Racers get to navigate the track and compete for the fastest lap times. Real-time scoring is displayed on a telemetry screen, giving drivers data to help them compete. And after a thrilling race, parties can relax with classic foods like hamburgers and pizza at the Paddock Lounge.
Perhaps you are seeking to learn about local history during your time in South San Francisco. For the historian in you, head down to the Plymire-Schwarz House Museum. Here, you can learn about local history and catch a glimpse of how life was for Californians in the early 1900s. While in the area, check out some of the historical buildings and local restaurants lining downtown Grand Avenue.
While you're on Grand Avenue, you should indulge in one of California's most well-known and beloved pastimes: wine. The San Francisco Wine School offers a high-quality education on wine, winemaking, wine tasting, and wine scholarship.
With courses taught by certified Master Sommeliers and Certified Wine Educators, this is a place where you can elevate your wine game to the next level. Offering workshops, tastings, and even credentialing, the San Francisco Wine School is a must-do for the wine enthusiast in your family.
Wine culture is not the only culture you'll find in South San Francisco. South City also offers visitors a taste of high culture at the Bay Area Ballet Conservatory. Offering both lessons and performances, this organization is dedicated to teaching and displaying the fine art of ballet.
Of course, some seek a more mellow vibe. South City's very own 47 Hills Brewing Company has a taproom featuring local brews and a kitchen offering a variety of fare, including tacos and sandwiches.
How do you Get to the South San Francisco Sign?
Of course, when visiting South San Francisco, one must climb the hill and experience the magic of visiting the sign. Remember to take along your camera and binoculars because Sign Hill Park offers visitors breathtaking views of San Francisco Bay – and an excellent spot for the plane watcher in your family to enjoy the comings and goings from SFO.
But of course, the big attraction at Sign Hill Park is the sign itself. Featuring permanent concrete letters welcoming visitors to The Industrial City, this park offers hikers a chance to get up close and personal with the iconic sign. On arriving at the park, look for Letters Trail to enjoy a 0.2-mile hike to the base of the letters. Continue up the trails to find beautiful panoramic views of San Francisco Bay.
After enjoying the letters, set out for a jaunt along one of the other trails in Sign Hill Park. Observant hikers can look for the endangered mission blue butterfly or the rare coast iris. A variety of birds such as scrub jays, Anna's hummingbirds, and red-tailed hawks can be seen here.
A South San Fran Summary
While The City may enjoy global fame, South San Francisco is a fantastic city in its own right. Offering visitors everything from food and wine to cultural and outdoor attractions, this shining city nestled into the valleys of the San Francisco Peninsula is well worth a stop on your next trip through the region.