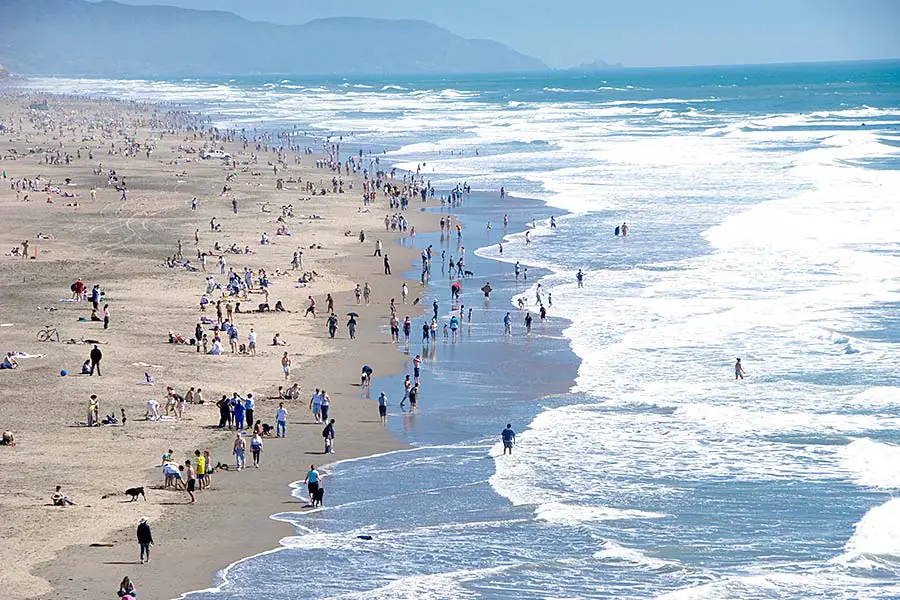 Visiting San Francisco can be an action-packed experience. With so many exciting things to do and see in the downtown area alone, packing it all in can get exhausting. That's when it's time to give Union Square, Fisherman's Wharf, and the Golden Gate Bridge a break and head for the beach! But does San Francisco have any beaches, and if so, where are they?
San Francisco has many beaches, which should be no surprise given that the city is surrounded by water. Despite their urban settings, San Francisco's beaches are beautiful, natural, and easily accessible, refuges of rugged seaside beauty just a few miles from the chaos of downtown.
They may not be Southern California variety beaches with rows of palm trees overlooking long, sandy beaches and crowds of scantily clad sun worshippers. In fact, the opposite is true, as San Francisco's beaches are dramatic and rugged with towering coastal bluffs and craggy coastlines that are more fitting for hiking and nature walks than sunbathing. Let's take a look to see what makes San Francisco beaches so distinctive.
Four of San Francisco's Best Beaches
As mentioned earlier, the rugged settings and pristine, almost primitive beauty offer beachgoers a more complete seaside experience. For our purposes, I've chosen beaches that are within city limits that are easily accessible by car or public transportation. Each of these beaches offers a variety of outdoor activities and stunning views that can't be matched anywhere in California. Here are four of our favorite San Francisco beaches.
Ocean Beach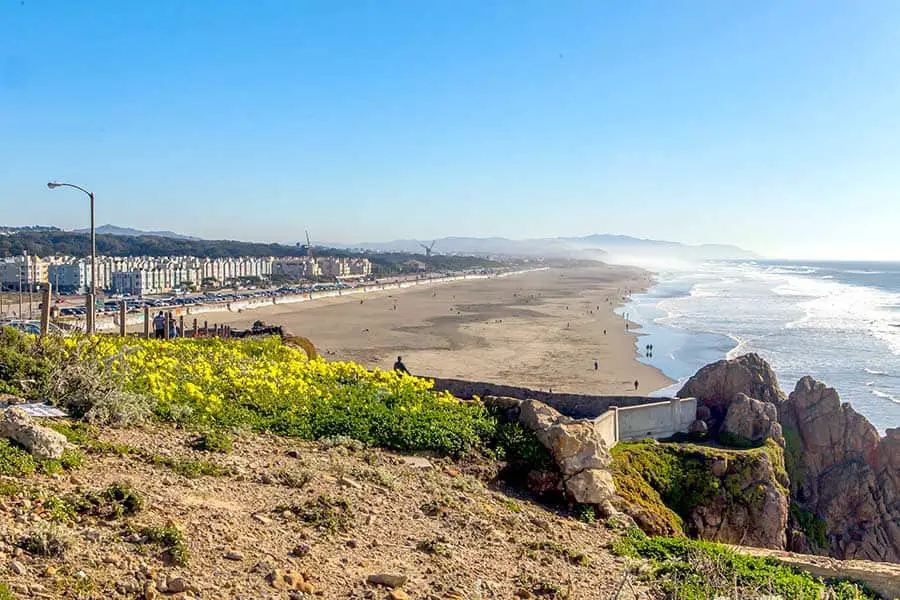 Located at the edge of the city's Outer Richmond district, Ocean Beach is San Francisco's biggest and most popular beach. Stretching for 3.5 miles along the city's entire western side, Ocean Beach is popular for kite flying, sand sculpting, jogging, surfing, photography, walks along turbulent surf, or strolling the promenade that runs alongside the beach.
It's great for dog walking, too, but Fido must be on a leash or under voice control. Nab one of the beach's six public bonfire rings, and you can watch the sun go down in front of a roaring fire.
You might just need a bonfire, as Ocean Beach is notorious for its moody weather. Days will typically start off chilly and overcast until midday when the sun makes an appearance before giving way to the late afternoon winds and mists. Visitors are advised to dress for the weather and to leave the Speedo at home.
Bay Area Answers Fun Fact: Between 1850 and 1926, 20 ships sank on Ocean Beach. You can see the wreck of the 19th-century clipper ship King Philip sticking out of the sand near Ortega Street during very low tides. Launched in 1856 and wrecked in 1858, it is the most complete remains of an American clipper ship in the world.
When you get tired of being buffeted by winds on the beach, exploring the Great Highway offers its own rich rewards. Whether you visit the Cliff House and Sutro Baths on the northern end, the San Francisco Zoo on the southern end, or the windmills and tulip gardens in Golden Gate Park in between, there's something of interest all along this long three-mile stretch of road.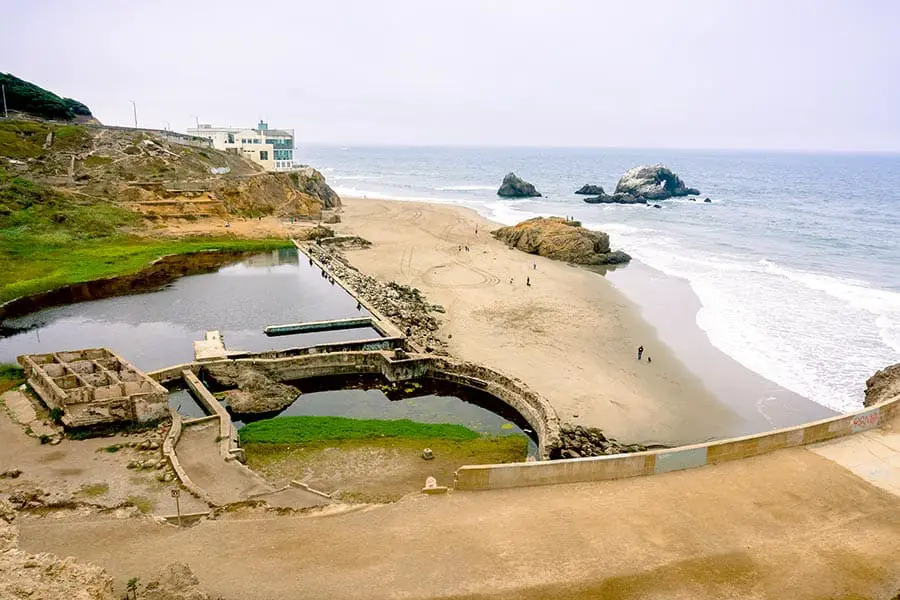 How to Get There: Several Muni city buses will take you there, as will the N-Judah and L-Taraval Muni light rail lines. If going by car, Ocean Beach has miles of free parking, which can fill up fast on those rare warm days. Parking can also be found in residential side streets near the beach but be respectful of the locals.
Other Posts of Interest:
Baker Beach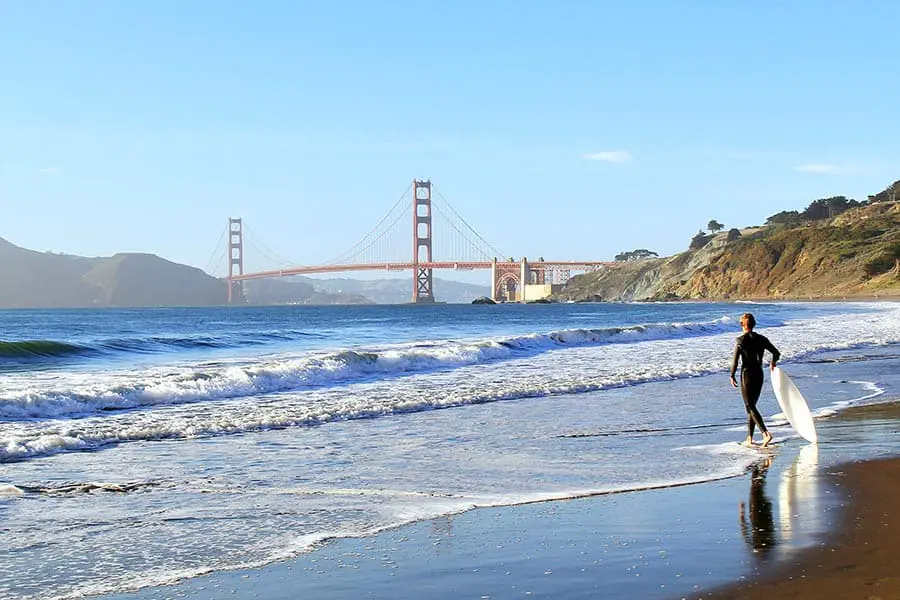 Tucked away behind serpentine rock cliffs, Baker Beach is a scenic stretch of sandy beach that runs for about a mile along the Presidio's western edge facing the San Francisco Bay. With the Golden Gate Bridge and Marin Headlands as a backdrop, the magnificent views here are quintessentially San Francisco. Needless to say, the Instagram-worthy photo ops are some of the best in the city.
The views make Baker Beach an ideal place for strolling along a surf that's less intense than Ocean Beach but still too dangerous for swimming. History buffs can explore the Battery Chamberlin while hikers will want to take on the 2.4-mile section of the California Coastal Trail for a one-hour hike that winds alongside stunning coastal bluffs before ending at the Golden Gate Bridge. Dogs are welcome, but they must be on a leash or under voice control.
You can find picnic areas with grills right off the parking lot at Cypress Grove, but it's best to grab one early. The northern end of Baker Beach is clothing-optional, so stick to the middle and southern areas if the idea of "letting it all hang out" is not your thing. The weather here can be typically unpredictable, so be prepared for anything.
How to Get There: When using public transportation, take the 38 Geary Muni outbound bus and transfer to the 29 Sunset bus. If driving, signs along Lincoln Boulevard direct you to the beach. Free parking is available, but spots fill up fast.
China Beach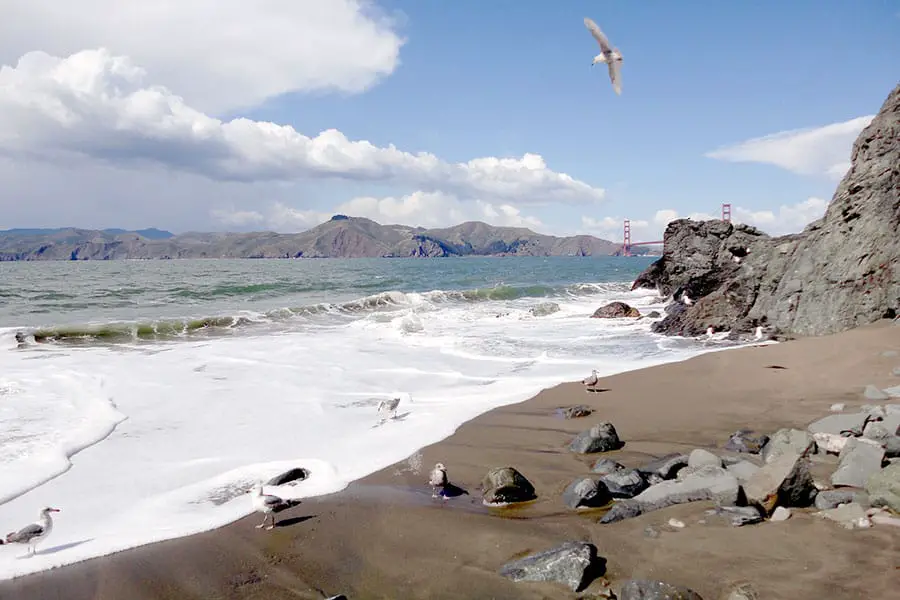 The visually stunning China Beach is found in a sheltered cove wedged between two tall cliffs in the city's tony Sea Cliff neighborhood. It's a small and thin stretch of beach that offers even more breathtaking views of the Golden Gate Bridge and the Marin Headlands.
Compared to other city beaches, China Beach feels much more intimate and peaceful. Mild, shallow waters make it safe for swimming and exploring tidal pools, and when the tide is low, you are able to walk across the rocks to Baker Beach. Because it's so sheltered, China Beach can also be warmer than other city beaches.
The beach got its name from early Chinese fisherman who camped there, and visitors can see a monument erected to those early inhabitants close to the parking area at the end of Sea Cliff Avenue. Picnickers will appreciate the areas with grills, but dog lovers probably won't like the "no dogs allowed" policy.
The small 40-spot parking lot fills up fast; otherwise, there's ample street parking in the Sea Cliff neighborhood above the beach. The gazillion-dollar mansions that line the Sea Cliff streets are a view in their own right. China Beach is included in the Golden Gate National Recreation Area (GGNRA), as are all the beaches in this area.
How to Get There: China Beach is located at Sea Cliff and 28th Avenues in the city's Sea Cliff neighborhood. By Muni, take the 29 bus and get off at Lincoln/Camino del Mar and 25th Avenue and walk west. Or take the 1 California bus to California Street and 30th Avenue and head north. Both stops are about five blocks away from the beach. If driving from El Camino del Mar, follow the small brown "Public Beach" signs.
Fort Funston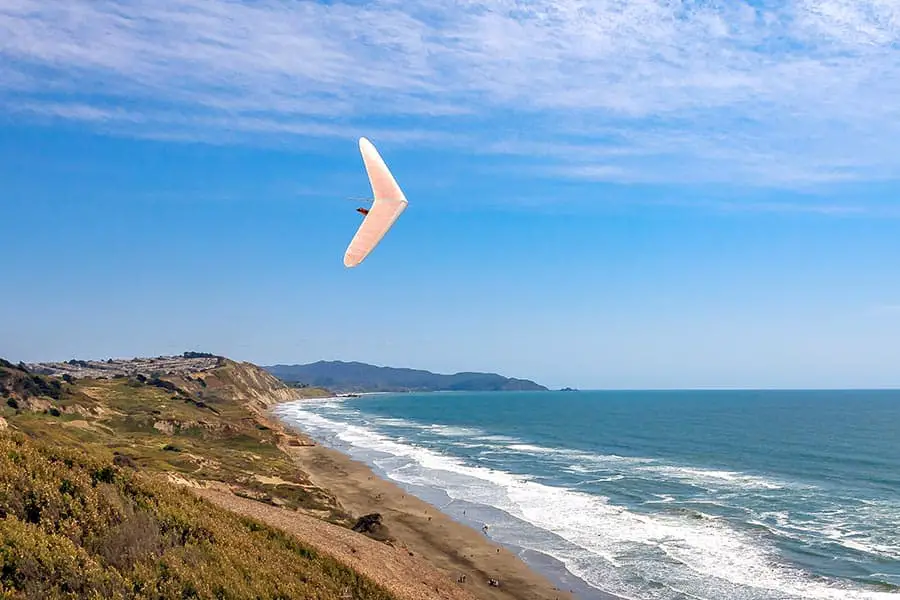 San Francisco's prettiest and most rugged beach, Fort Funston, is a former military installation turned natural wonderland. Found in the southwestern corner of San Francisco near the far southern end of Ocean Beach, it's a local favorite that tour books often overlook. First-time visitors find a place of astonishing beauty that offers no end to outdoorsy things to do.
It's those multitudes of outdoor activities that put the fun in Fort Funston. Hang on to your hats here, as the winds blow fierce. Thanks to its steady winds and 200-foot-high bluffs, Fort Funston is one of the country's premier hang-gliding spots, especially between March and October when the hang gliding is best. Even better: there's a launch area and a wheelchair-accessible viewing deck.
A network of trails that are part of the California Coastal Trail makes it popular with hikers, horseback riders, and dog walkers who love that Fort Funston is the only park in the GGNRA that lets dogs go off-leash. Nature trails connect the beach with historic sites like the World War II-era Battery Davis and the Cold War-era Nike Missile Site. At the far southern end of Fort Funston Beach are the largest remaining sand dune fields on the Peninsula.
A steep path leads from the parking area at the top to the beach area. The walk up can be strenuous, but two Dutch sand ladders that extend down to the beach make it easier. Either way, the views of rugged coastline and crashing surf are amazing. Look past the breakers, and you just might see dolphins, sea lions, and maybe even a whale or two!
How to Get There: Fort Funston is on Skyline Boulevard, minutes from the San Francisco Zoo. Take Sloat Boulevard to the ocean, turn left on Skyline Boulevard and keep going. Go through the traffic light at John Muir Drive (ignoring the first Fort Funston sign) until you see the second sign, turn in, and follow the road to the free parking lot. A number of Muni and public transportation lines are also available.
Summing It Up
No trip to San Francisco is complete without a visit to at least one of its amazing beaches. Best of all, since the beaches we've listed are all relatively close to each other, you can visit all four and make a day of it!