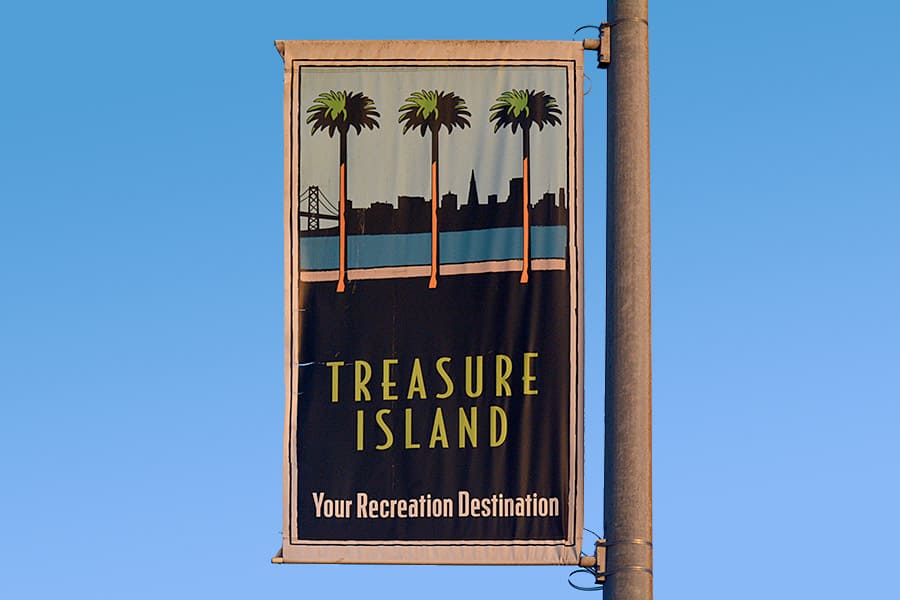 Driving across the Bay Bridge that connects San Francisco to Oakland brings you across an exit onto Yerba Buena Island and Treasure Island. Since Treasure Island was built for an exhibition in the 30s, it has been many things: a stop for flying boats, a Navy base, and a film location. But what exactly is Treasure Island used for today?
Treasure Island is home to about 1,800 people, with more coming soon. The City of San Francisco is partnering with private developers to transform the island into a new kind of community. Plans call for eco-friendly, walkable neighborhoods of condos, retail, open parkland, and lodging.
With desirable amenities and a unique, convenient location for travel to the mainland or to San Francisco, Treasure Island has a lot to offer. What should you expect if you come here as a tourist or a prospective resident? Read on to discover additional information about this fascinating place and where it's going in the future.
Modern Living on Treasure Island
Treasure Island has a storied past. From its role in exhibitions and fairs to its conversion into a naval base during World War II and the cold war and its eventual handover to the City of San Francisco, Treasure Island's history is a rather colorful one. While we could talk about this island's history all day, we're here to examine a different subject: what can one find on this island today? What is it like on Treasure Island?
As of early 2021, approximately 1,800 people call Treasure Island home, living in converted military housing and apartments. The living options might not sound that great, but the island boasts many hidden and sophisticated amenities for those in the know. Local restaurant Aracely offers San Francisco-quality brunch and lunch experiences without the crowds or the wait. Those wishing to indulge in some famous California wines can go to The Winery for an unforgettably west-coast vinicultural experience.
For those with eclectic taste or those who simply enjoy variety, Treasure Island plays host to a famous flea market. Browse booths of chic and modern fashions, collectibles and antiques, and artisanal goods. Explore food and drink from local purveyors and enjoy live performances of all kinds. Food trucks and outside bars will camp near the market to sate your shopper's appetite. The flea market happens on the last full weekend of the month, so plan ahead.
Clearly, there is a lot to do on this small island. As exciting and enticing as Treasure Island's present is, the future of this neighborhood is shaping up to be good. The island is undergoing a transformation into a completely new kind of neighborhood.
While a small population has lived on Treasure Island for quite some time, the island has never before sustained a large population. That is changing fast, as the City of San Francisco and several private development firms have partnered to alter the island from a renovated military base to a modern, eco-friendly, chic, pedestrian-focused island: an Eden in the midst of the city.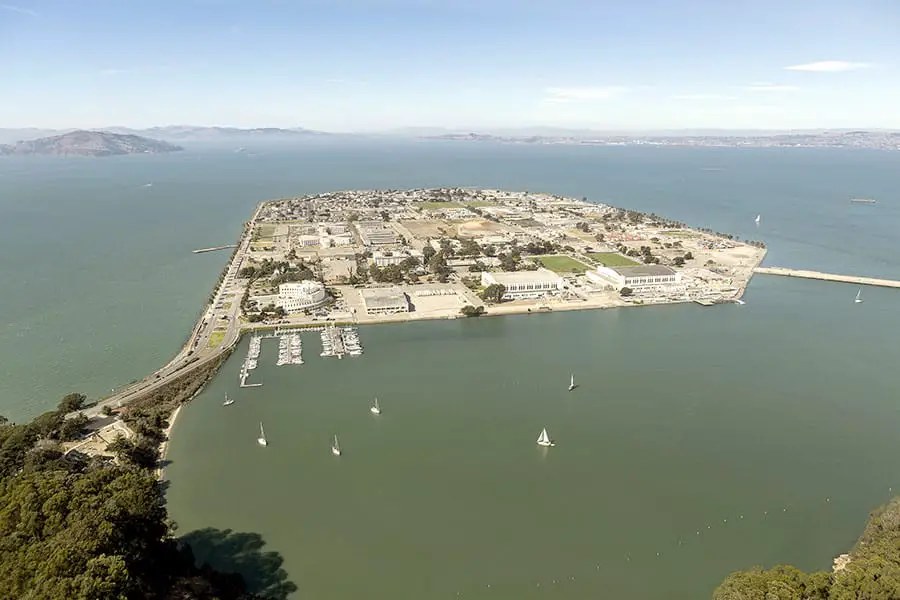 Unlike most neighborhoods, Treasure Island is in a unique position to be completely rebuilt. Much of the existing infrastructure and housing is dated and old, in need of renovation. But because the neighborhood is isolated in the bay, developers have recognized that the future of Treasure Island can be built in a more deliberate way. Whereas designers in a crowded city have to contend with nearby buildings and infrastructure and topography, Treasure Island has no such problems, making it a clean slate for redevelopment.
The absence of development has allowed architects and engineers to plot out the optimal layout for Treasure Island. South-facing homes take advantage of the sun's trajectory for heat; thoughtful building designs disperse winds and avoid the wind tunnel phenomenon found in many cities.
Developers and architects have planned out an entirely new kind of neighborhood on Treasure Island. Buildings will be constructed with modern, eco-friendly materials and designs. The natural features of the setting – the sunscape, the views, the prevailing winds – have all been considered. Building design and placement have been optimized to make the coming neighborhoods attractive, interesting, and timeless.
The master development plan calls for all residential buildings to be within a ten-minute walk of necessary goods such as food. Residential neighborhoods will fan out from a commercial core centered on a ferry terminal, bringing residents to and from the city in minutes. The urban core surrounding the ferry building will feature a large tower building, retail, hotels, and dining.
Housing is divided into three distinct types of homes. Residents can move into townhouses, flats, or low-rise residential towers. Those who prefer more prominent buildings can call one of the five coming high-rise towers home. Those who wish to live on a boat can moor in the new 400-ship marina that will be built into the bay.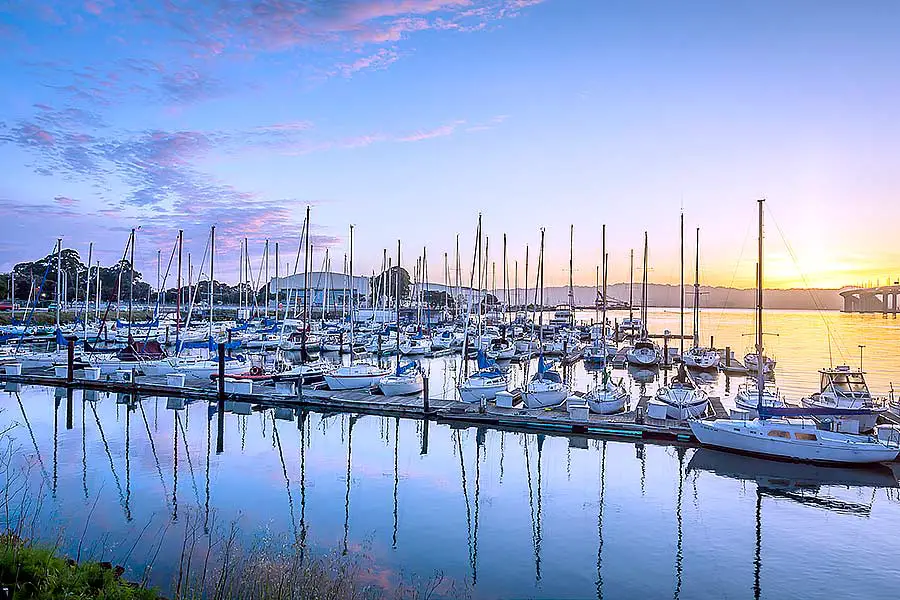 Recognizing that people need green and open spaces, the master plan also calls for the island to have a 275-acre park and a 20-acre organic farm. These green and open spaces will nicely balance the one-square-mile island's spaces between modern buildings and more natural surroundings.
Of course, housing in a place like this is likely to be high-demand and therefore high-priced. The city has mandated that some percentage of homes be offered at below-market rates to keep the neighborhood from being too exclusive. Nevertheless, housing prices on the island are expected to remain quite high; some condos are planning to ask $800,000 for studio suites.
Other Posts of Interest
Bay Area Answers Fun Fact: Fans of George Lucas' films should plan a trip to Treasure Island – Lucas is considering the island as a potential site for his coming museum.
Is it Safe to Live on Treasure Island?
In terms of public safety, Treasure Island is a very safe place to live. There is very little crime on the island, and the schools and public utilities are well rated.
During the cold war, Treasure Island was used by the U.S. Navy as a naval station. At this station, sailors and marines trained in "NBC" warfare: nuclear, chemical, and biological. As part of this training, teams would handle various radioactive isotopes on the grounds of the base. Some materials were spilled or dumped, which left some degree of contamination on the island.
Some residents of Treasure Island have come forward with allegations that radioactive contamination has affected their health. The Navy, the developers, and some public health officials have said that these claims are baseless. A Reuters investigation in 2019 found that there were many radioactive items still on the island, some of which could exceed safe levels for exposure. On the other hand, research in 2014 showed no evidence of higher cancer levels on Treasure Island.
How Much Does it Cost to Live on Treasure Island?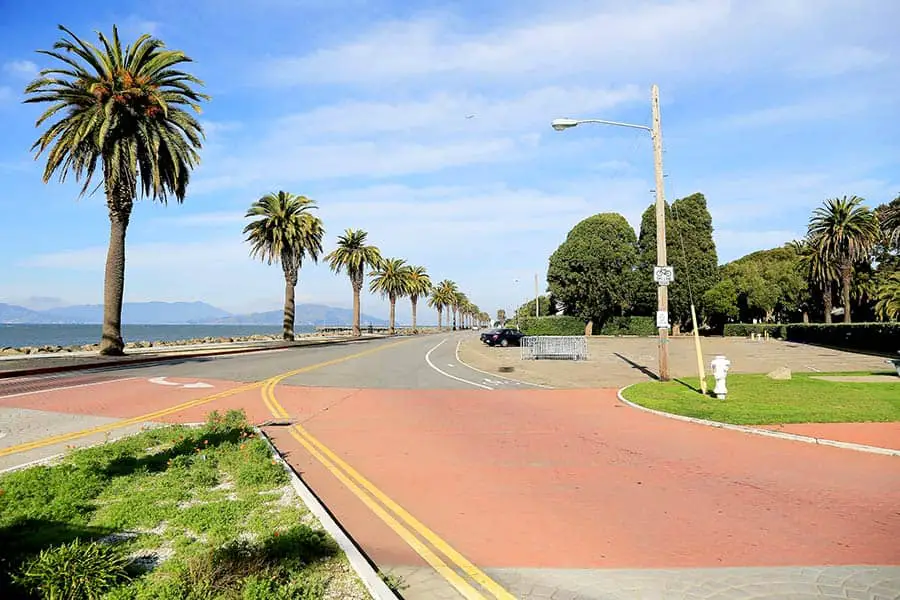 Treasure Island is an expensive place to make your home. Real estate prices on the island are high – new construction on the island costs anywhere from $800,000 to $5 million. If you want to live on this island, you will need to find a means to finance your expensive preferences. It's worth the price tag. Treasure Island is a good place to live, and it's likely to get better in the future.
How Do You Get to Treasure Island in San Francisco?
If you are coming to Treasure Island from the City, get on I-80 toward Oakland. Get off at Yerba Buena Island and follow Treasure Island Road into the island. In anticipation of a growing population, The City of San Francisco broke ground on a new ferry terminal in 2019. It will be offering a ferry service to and from the island in the near future.
Persons who do not wish to drive or take the ferry can hop on a bus; the Municipal 25 line will bring you from downtown San Francisco to Treasure Island in about ten minutes. If you happen to own a boat, you may access Treasure Island by simply heading to the Treasure Isle Marina and Sailing Center. And if you're walking, biking, or hiking to the island, head across the Bay Bridge Bicycle/Pedestrian Path.
While it was previously used as an airstrip, there is no access for aircraft on Treasure Island at this time.
The Island is the Treasure
San Francisco is full of fascinating places. Treasure Island is as interesting as they come. This island's remarkable history takes us on a journey from the heady days of the 1930s, through the hardships of World War II, and straight through the Cold War to bring us to where we are today. Treasure Island is a fantastic place, and it is growing and changing before us.
Soon, San Franciscans will be pining for life in this desirable and modern neighborhood that offers conveniences and leisure activities all close at hand. While it was likely the source of some good-natured jokes during its Navy days, Treasure Island turns out to have been a prophetic name for this place: the Island is, indeed, quite a treasure.