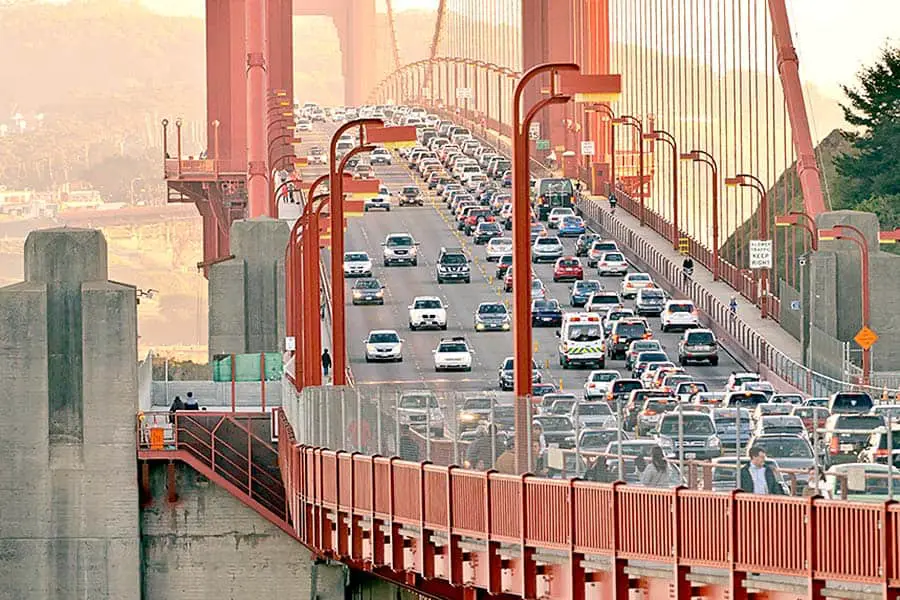 If you are planning a trip to San Francisco, you are probably considering how to get around the city. Fortunately, there are many options for transportation, including bikes, trains, ferries, and taxis. However, when most people travel, they tend to rent a car. Yet, renting a vehicle may or may not be the best solution for you. So, is it worth renting a car in San Francisco? 
Choosing to rent a car in San Francisco will mostly depend on your selected itinerary. Renting a car can be expensive, especially after you include the cost of parking. If you are staying in the city, public transportation is likely your best option. But you will need a car if you plan to venture outside of the city. 
When planning your trip to the city, consider all of the locations you want to visit, then review the transportation options available to see which one will suit your needs best.
Unfortunately, there isn't a one-size-fits-all solution. So continue reading for more information on whether to rent a car when visiting San Francisco, ways to reduce the cost if you need to rent a car, or if it makes more sense to take advantage of the exceptional public transportation system. 
Renting a Car in San Francisco – Is it Worth it?
Renting a car in San Francisco will depend on what you have planned for your trip. Fortunately, most of the city's attractions are located downtown and easily accessible with public transportation. However, a rental car will be a must if you want to escape from the urban landscape and visit rural areas like Napa Valley. In addition, driving in San Francisco is unlike many other cities around the country. Here are some things to consider:
Urban Driving

 — Driving in the bustling heart of San Francisco can be overwhelming for people who are not used to driving in a big city. In addition, 

the city is full of hills and one-way streets,

 making it difficult to navigate. The mild year-round climate also means that 

drivers must constantly be on the lookout for pedestrians and cyclists darting about.

 

Parking

 — The City of San Francisco has minimal options when it comes to parking. 

Not only is it challenging to find a parking spot, but parking is costly.

 The cost of parking usually ranges from $3-$4 per hour, and many garages charge up to $40 for the entire day. In addition, 

tourists are often surprised to discover that many hotels charge their guests for parking.

 Be sure to check with your lodging destination ahead of time to see if they include parking in their overnight stay costs.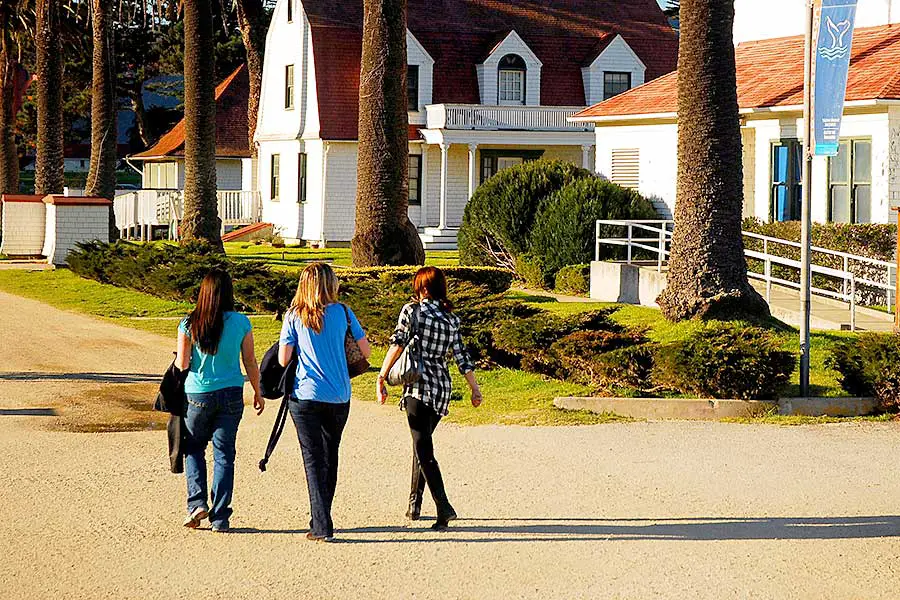 The Walkability of San Francisco

 — In 2020, the City of 

San Francisco was ranked as one of the most walkable cities in the country.

 San Francisco received a Walk Score of 87.4 (a close second to New York City at 88.3 points). The Walk Score takes into account population density, intersection traffic, access to nearby amenities, and block length. This option is excellent for visitors who want to stroll the city on foot checking out the many sights along the way. 
If you talk to a San Francisco local, you will find that many residents don't own cars or only drive them occasionally. That's because of San Francisco's superior public transportation system, so, like they say, "When in Rome," you might want to experience the city like a local. 
Why Are Rental Cars So Expensive in San Francisco?
As you plan your San Francisco trip, you will likely notice that the cost of rental cars is higher than the national average. Multiple factors play into this. 
First, many San Francisco tourists will rent a car to make the trip to Los Angeles. Because it costs money to transport them back to the Bay Area, rental car companies will often charge a premium to deter longer-term rentals. 
Also, events in the city such as conventions and major sporting events can attract large crowds. As demand increases, rental companies typically raise their rates. To save a little money on both rental cars and hotels, you might plan your trip around any major events. 
Bay Area Answers Fun Fact: The first cable car in San Francisco started operation in 1873, making it one of the oldest moving National Historic Landmarks.
Other Posts of Interest
Tips to Avoid High Rental Car Rates
If you decide to go with a car rental for your stay, there are plenty of ways to reduce the amount that you spend. Here are some tips to keep in mind when you book your vehicle rental. 
Rent Fewer Days

 — If you plan to spend a week in San Francisco with only one day trip outside of the city, you are better off renting a car for just one day. 

Skip the Insurance 

— Check with your credit card or insurance company to see if they cover the insurance on rental cars, so you don't have to pay for coverage through the rental car company. 

Get a Smaller Car

 — Don't fall for the trap of renting a big SUV for your family of four. Instead, if you don't need the space, spend less money on a smaller vehicle. 

Don't Rent from the Airport

 — Car rental rates are usually more expensive from the airport. Instead, rent from a location that is not near the airport. 

Pay for One Driver

 — Rental car companies will often charge extra if you plan to have more than one driver. 
Is Public Transportation Good in San Francisco?
The public transportation system that is available in San Francisco is excellent! In fact, it is one of the best in the United States. There is an extensive network of trains, buses, cable cars, light rail, and ferries that are available. There are few places in the city that you can't reach through the public transportation system, especially major attractions.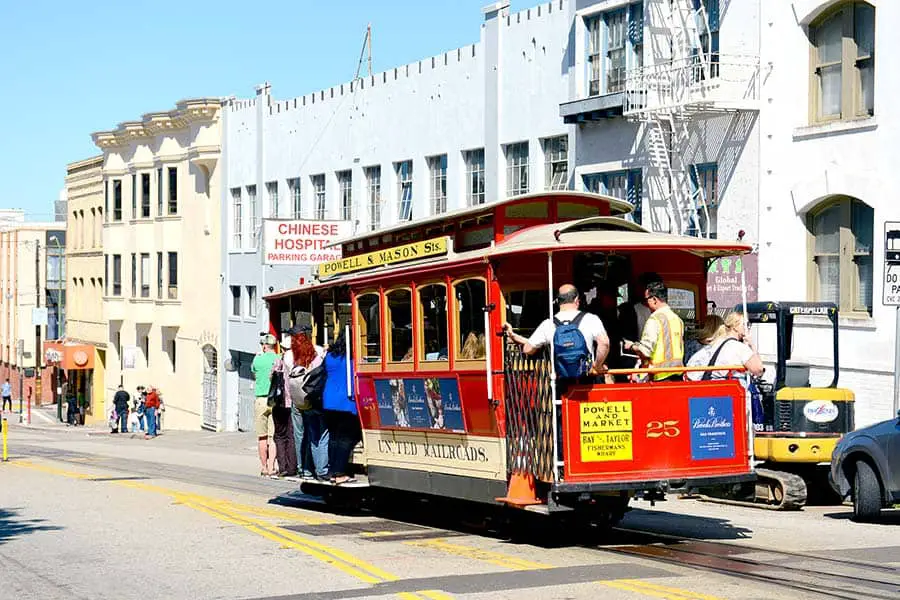 Most transportation agencies in the area accept the Clipper Card, a reloadable smart card that is used for payment. So no matter where you are in the city, you are likely a very short walk to the nearest public transit stop. That makes getting around in the city easy for locals and especially tourists.
What is the Cheapest Way to Get Around in San Francisco?
With so many transportation options, you are probably wondering which is the cheapest way to get around San Francisco. While cost should be a major factor, some modes of transportation may be more efficient than others.
Since San Francisco is so walkable, walking is the absolute cheapest way to get around. But, of course, you will be limited to what you can physically do, especially in areas that have a lot of hills. 
MUNI
MUNI (short for San Francisco Municipal Railway) is the most popular and cost-effective option. The MUNI system started as a single horse-drawn bus line in 1851. Today, MUNI has more than 1,000 vehicles providing over 700,000 rides each day. But, despite its name, MUNI is more than just a railway system. MUNI is a complex network of trains, trolleys, and buses that traverse the entire city.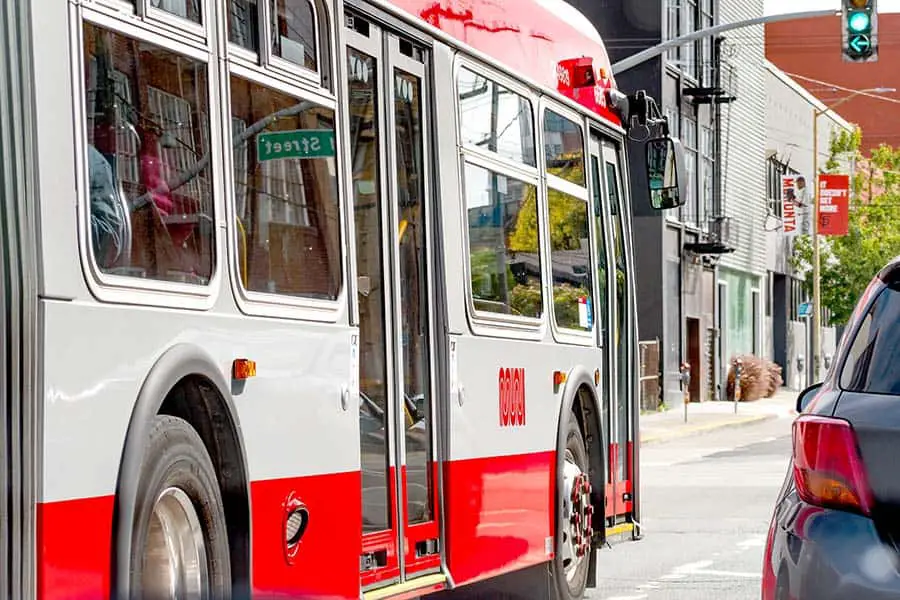 A one-way trip on Muni costs $2.50 per adult one way ($3 if you purchase tickets from the metro ticket machine). Starting in August of 2021, the city kicked off a program that allows youth under the age of 18 to ride MUNI for free (except for cable cars). There are also discounts available for seniors (65+) and those with disabilities. 
Visitors can also purchase 1-day, 3-day, and 7-day visitor passes that allow unlimited travel throughout the MUNI system. These passes cost $13, $31, and $41, respectively. 
Taxis/Ride Share
After MUNI, taxis are the next cheapest option. Visitors can usually get a ride around downtown for approximately $20. In many cases, rideshare services such as Uber and Lyft will be more affordable. Just watch out for surge pricing with these services that could drive up the price during peak periods. 
Planning Transportation for Your San Francisco Trip
Clearly, renting a car is not the cheapest mode of transportation when visiting San Francisco. However, you might need a car depending on your situation.
First, create a list of all the attractions you want to see and what parts of the Bay Area you plan to visit. Then if you need a car for more than half your trip, you will probably need to consider renting one.