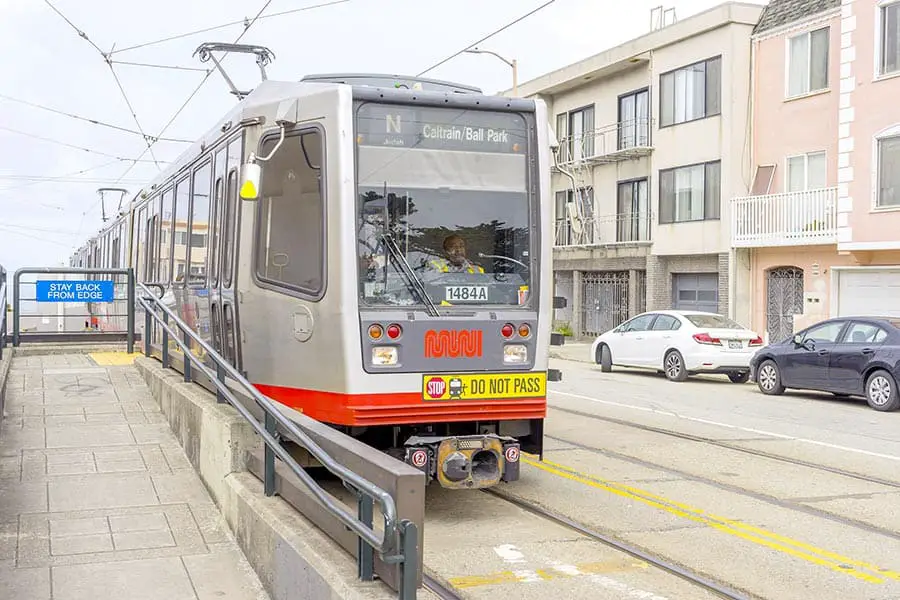 San Francisco is among the most tourist-friendly cities in the United States when it comes to transportation. Not only is the city highly walkable, but it also boasts one of the best transportation systems in the country. This transportation system is a vast network of trains, buses, ferries, and cable cars from multiple agencies. Of course, the most common ones that you will hear about are BART and MUNI. But you may be wondering, are MUNI and BART the same thing? 
While MUNI and BART do connect with one another, they are two separate agencies that serve different purposes. MUNI is a transportation network of trains, buses, and cable cars that operates within just the city limits of San Francisco. BART is a heavy rail system that connects San Francisco with many cities across the Bay Area.
Before planning your trip to the Bay Area, it's crucial to evaluate your transportation options thoroughly. In this post, we'll cover the difference between MUNI and BART, where they go, and how to make the most of San Francisco's excellent public transportation.
MUNI and BART — What's the Difference?
There are two main differences between MUNI and BART — Service area and mode of transportation. Which service you choose will depend on where you want to go when visiting San Francisco. However, it's likely, you will probably use both during your trip, depending on your itinerary. 
MUNI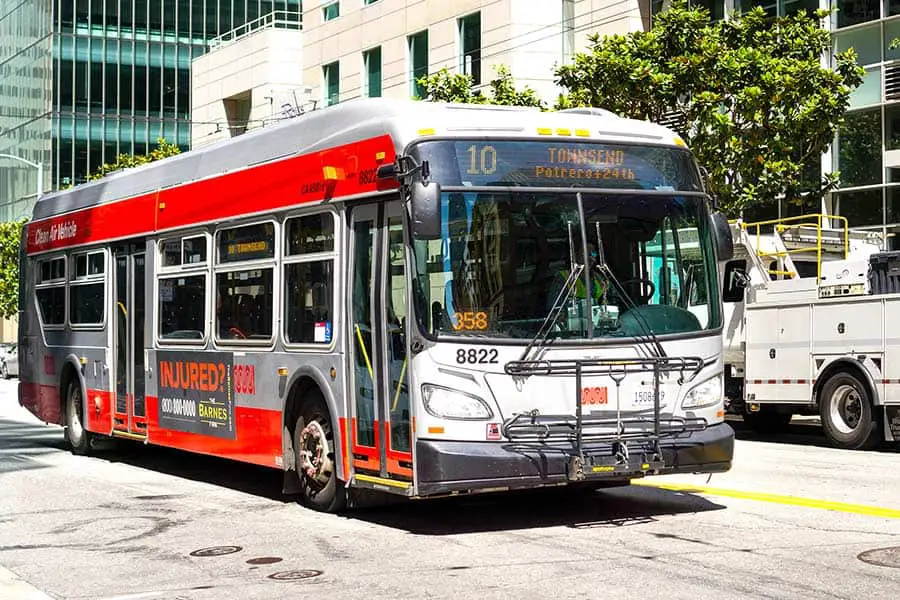 The San Francisco Municipal Railway, most commonly known as MUNI, is the leading transportation network within the City and County of San Francisco. Despite its name, MUNI consists of much more than just railway travel. The entire MUNI system operates 45 bus lines, 17 trolleybus lines, 7 light rail lines, 3 cable car lines, and 2 heritage streetcar lines. The MUNI system is used by over 700,000 riders every day and is the 7th largest transit system in the United States (second in California after Metro in Los Angeles). 
MUNI connects to virtually every neighborhood of San Francisco, giving tourists quick and easy access to all of the most popular attractions. While staying in the city, MUNI will be your go-to mode of public transportation. 
One important thing to note is that MUNI does not connect directly to the airport (SFO). However, there is a bus service that connects MUNI and SFO that is operated by SamTrans. 
Of the two systems, MUNI is older than BART. MUNI officially began operations in 1912. Both systems, while separately operated, are interconnected. MUNI and BART share five different stations (Embarcadero, Montgomery, Powell, Civic Center, and Balboa Park), making it easy for visitors to transition between the two. 
BART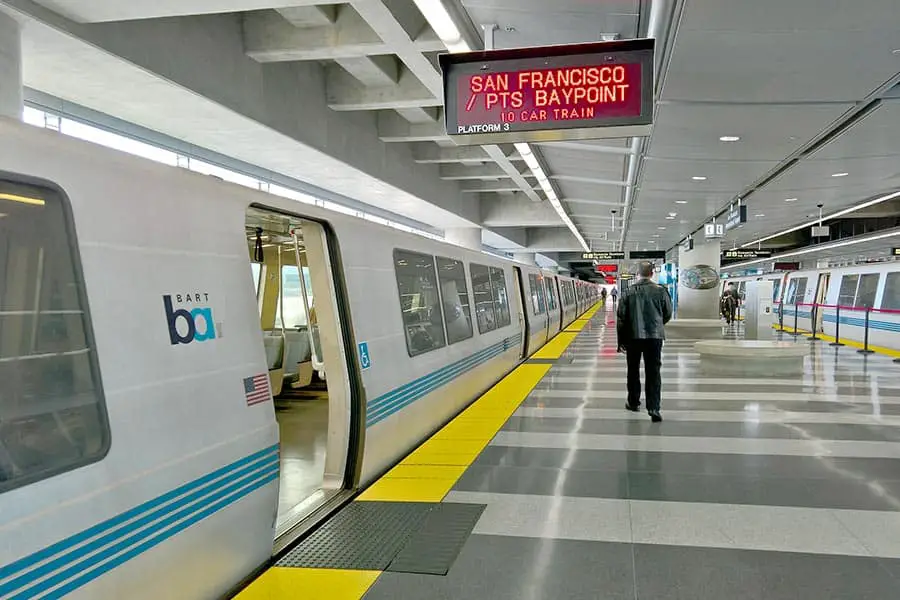 The Bay Area Rapid Transit system (BART) is a heavy rail network that began operations in 1972. The purpose of BART was to connect San Francisco with the greater Bay Area and reduce congestion on the bay bridges. Today, BART operates six different routes that stop at 50 stations in Alameda, Contra Costa, San Francisco, San Mateo, and Santa Clara counties. With over 100 million passengers each year, BART is the 5th busiest heavy transportation system in the United States. 
The great thing about BART is that it connects to both San Francisco (SFO) and Oakland (OAK) airports giving arriving passengers access to public transportation that takes them directly to downtown San Francisco. Unfortunately, BART does not connect to San Jose (SJC) airport currently. Therefore, travelers going to San Jose airport will need to catch a Caltrans train and connect by bus. 
For visitors to San Francisco, BART will likely only be needed when traveling to and from other Bay Area cities or going to the airport. 
Are MUNI and BART Expensive?
Between the two systems, BART is generally considered more expensive than MUNI. For example, a ride from SFO to downtown will take 30 minutes and cost about $10 per person (one-way). A one-way ticket on MUNI will typically cost about $3 per person. One of the other perks to MUNI is that youth under the age of 18 ride for free. To keep your transportation costs to the very minimum, visitors should use MUNI whenever possible. 
Other Posts of Interest
Do MUNI and BART Run 24/7?
Unfortunately, BART does not run 24 hours a day. However, they do have very generous operating hours. During the week, riders can travel on BART from 5 AM to midnight every day. Saturday hours only vary slightly, with the first train starting at 6 AM. For Sunday service, trains run from 8 AM to 9 PM. 
MUNI, on the other hand, does run 24 hours a day for the most popular routes. The Allnighter service is a combined effort of MUNI, AC Transit, SamTrans, and Golden Gate Transit and provides service on 20 bus routes from midnight to 5 AM. Buses during the overnight operations run every 30 minutes. 
Bay Area Answers Fun Fact: Because of the number of stops and people who ride each day, MUNI is ranked as the slowest major transportation system in the country at an average of 8 MPH. 
Which Option in Faster — BART or MUNI?
When it comes to public transportation, speed is a bit subjective. It all depends on where you want to travel. While BART trains technically run at a faster speed, there is much further distance between each stop. Therefore, you also need to consider the amount of walking time between your station and desired destination. Since MUNI has more stops, using MUNI will likely minimize your walking time. 
BART trains run every 15 minutes from 5 AM to 8 PM. After 8 PM, this frequency changes to every 30 minutes. For MUNI, buses typically arrive every 30 minutes. However, it should be noted that MUNI is notorious for being off schedule. According to some transportation statistics, MUNI is only on time about 50 percent of the time despite having a special voter-passed rule that the transportation authority maintains an 85 percent on-time record. 
What is a Clipper Card? And where do you get one?
A Clipper Card is a reloadable, contactless payment card used for public transportation in the Bay Area. This card is considered the universal currency and is accepted by most transportation authorities, including MUNI, BART, Caltrans, and the Golden Gate Ferry. Don't worry, the world-famous cable cars and heritage streetcars also accept the Clipper Card as payment. 
The best thing about the Clipper Card is that rides are discounted compared to purchasing individual tickets. You can buy these from self-service kiosks or manned locations throughout the Bay Area. 
Special Rules When Riding MUNI and BART
Bikes
BART has some strict rules when it comes to bikes being taken onboard. Bicycles are not permitted at any time on the first car of any train. There are also restrictions on other cars during heavy commute hours. The general rule is not to take a bike on BART if the train car is crowded. You won't have any issues as long as there is sufficient space for the bike without restricting other passengers. 
On MUNI, every bus has a bike rack. However, there is only enough space for 2-3 bikes that can be used on a first-come, first-serve basis. Therefore, if the rack is full, you may need to wait for the next bus. For MUNI trains, there is no designated place for bikes, so they are not permitted aboard. The only exception is foldable bikes, as long as they are kept out of the way of other passengers. 
Dogs and Other Pets
Service dogs are allowed to travel on BART. Any other pets, including non-dog service animals, must be placed in an approved pet carrier while on board. The crated pet must ride on the passenger's lap or under the seat. 
MUNI is a little more dog friendly. All dogs are permitted to ride freely on MUNI as long as they are leashed and muzzled. Larger dogs might be a little more difficult as dogs must sit on the owner's lap or under the seat. All other pets must be placed in a pet carrier. MUNI also charges the same ticket price for the pets as the owner. 
Food and Beverages
When using BART, eating and drinking is prohibited in all paid areas (areas requiring a ticket), including boarding platforms and train cars. Free areas (no ticket) don't have this restriction. 
MUNI does prohibit passengers from eating and drinking while riding in any buses or trains. However, you can eat and drink at any of the transit stops or shelters. 
Using San Francisco's Amazing Transportation System
Whether you are using MUNI, BART, or any other transportation service in the Bay Area, tourists and visitors are sure to enjoy the convenience and efficiency of San Francisco's superior public transportation system. However, you can make the most of your trip and save some money and time by planning ahead.