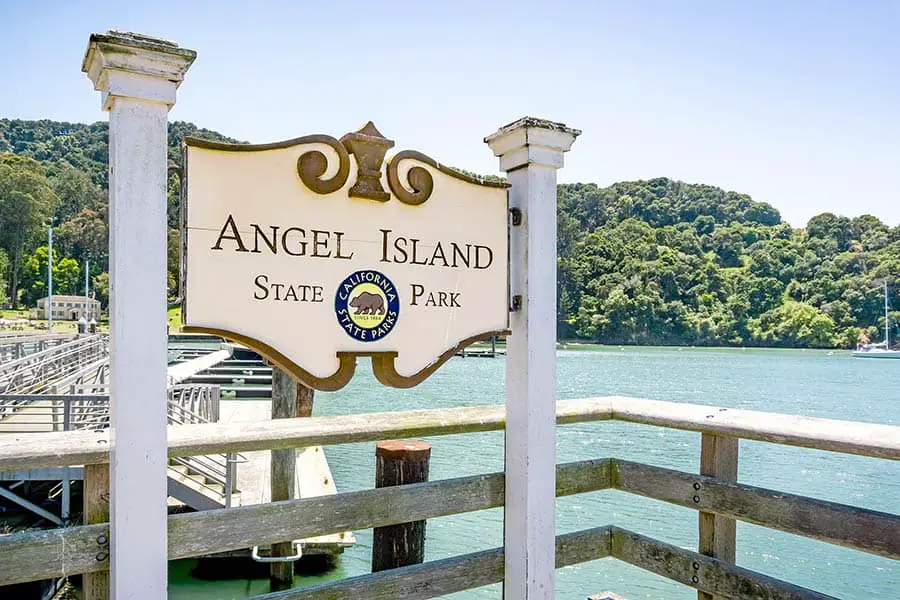 Of San Francisco's two island attractions, Angel Island might not get the same crowds as nearby Alcatraz, but in many ways, it offers visitors a more complete experience. The approximately 200,000 people who visit Angel Island each year find a peaceful greenspace that offers so much more to do and see than that famous former prison, especially for those who appreciate magnificent, awe-inspiring views. But once you get there, how easy is it to get around?
Visitors will find getting around on Angel Island is surprisingly easy. Many options are available, including walking on leisurely strolls to challenging uphill hiking trails or by bike, tram, or Segway. Even better: the park's easiest walking path is accessible to strollers and wheelchairs.
Since the island sits right in the middle of San Francisco Bay, the only options to get to Angel Island are to take a ferry, water taxi, or a private boat, which means except for tour trams and the occasional park maintenance vehicle, the island is car free.
Once you get to the island, there are several ways for you to take in all it has to offer. Continue reading to discover more about the various options you will have to get around on Angel Island upon your arrival.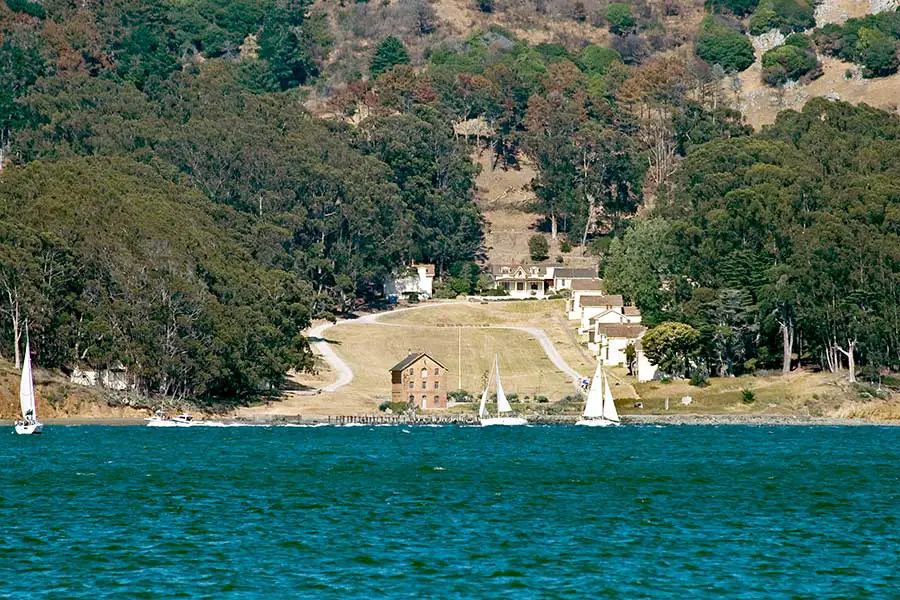 Getting Around on Angel Island
With spectacular views and so many things to see and do once you arrive on the island, the next issue is how to explore this incredible destination.
Walking/Hiking: For those who want to see the beauty of the island up close and personal, Angel Island's 740 acres feature 13 miles of hiking trails of varying levels of difficulty and lengths. Click here for in-depth information about three of the island's more popular trails. Depending on which trail you take or the pace of your walk, island hikes can generally take 2-3 hours. Along the way, prepare to see some of the most stunning views the San Francisco Bay has to offer.
Tram Tour: Perhaps the most popular mode of Angel Island transportation, the open-air trams are the absolute best way to see the entire island, especially for families with young children or seniors. You'll visit the Immigration Station, Camp Reynolds, the Nike Missile Site, and Fort McDowell on this informative tour.
Lively audio recordings bring the trip to life with information about these sites and the island itself. The tram also stops at Battery Ledyard and its spectacular views of the San Francisco skyline, Alcatraz, and the Golden Gate Bridge.
Tram seating is limited to 50 guests, and tours often sell out, so buy your tickets at the Angel Island Café as soon as you arrive on the island. Ticket prices are $15.50 for adults, $14.00 for seniors 65 and older, and $10 for kids 12 and under. Tours operate seven days a week at 11:45 AM and 2:00 PM. The tour runs less frequently in October and does not run at all between November and February. Click here to book the Angel Island Tram Tour.
Bay Area Answers Fun Fact: Angel Island is the second-largest island in the San Francisco Bay (behind Alameda Island) and is approximately 1.2 square miles in size. The Spanish first explored Angel Island in 1775.
Biking: Bikes offer an excellent way to see the island's sites at your own pace. Depending on how fast or leisurely you ride, which trail you take, or how often you stop to take pictures, a bike trip around the loop of Angel Island can take 90 minutes to 2 hours.
The island offers two bike trails with varying levels of difficulty. The easiest runs the length of Perimeter Road, a 5-mile flat circular loop around the island's outer edge that takes in most of the island's main sites. The 3-mile, calf-busting Fire Road Trail takes bikers up some inclines and is definitely for more experienced riders. Both trails offer stunning 360-degree panoramic views of the entire San Francisco Bay, so keep those cameras ready.
You can bring your own bike to the island or you can rent one at the Angel Island Café by the hour or for an entire day. Riders under 18 years of age are required to wear helmets. Rates are $13.50 per hour or $50 for a full day, which includes a helmet. Click here for more information about Angel Island bike rentals.
Other Posts of Interest
How to Get to Angel Island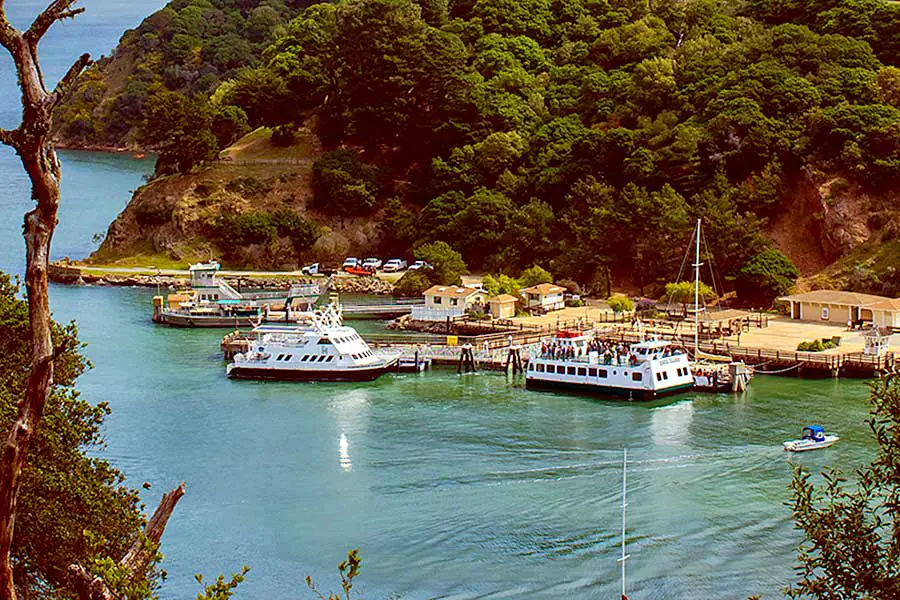 Ferries leave from the Tiburon/Marin County side every hour between 10 AM and 5 PM in the summer. Ferry service from San Francisco is available via the Blue and Gold Ferry Fleet, but there are fewer departures, and the round-trip ride is about an hour longer. Follow the links for departure dates and times and ticket prices and availability.
Are Dogs Allowed on Angel Island
When you have a dog taking them on outings with you is one of the pleasures of being a dog owner, and let's face it, walking with your dog ranks right near the top.
So you are probably thinking with all the miles of hiking trails that Angel Island has, it would be the perfect destination to take your dog with you.
It is essential to know that you cannot take your dog to Angel Island unless it is a service animal as defined by the ADA. If your dog is an emotional support dog, it will not be able to accompany you.
Therefore if you are vacationing with your dog, you will have to make arrangements for a safe place to leave your dog while visiting the island.
Summing It Up
Angel Island, in the past, was known as the "Ellis Island of the West" due to the Immigration Station that processed thousands of immigrants arriving from Asia between 1910 to 1940. Angel Island has many historically significant sites to match its rich natural beauty. Plus, the island boasts perhaps the most incredible views anywhere in the San Francisco Bay Area, making it popular with photographers and selfie lovers.
While Angel Island may always be outshined in popularity by Alcatraz, its natural beauty, rich local history, diversity of activities, and stunning "one in a million" views make it a must-visit destination for visitors who want to see the San Francisco Bay from a genuinely different perspective.