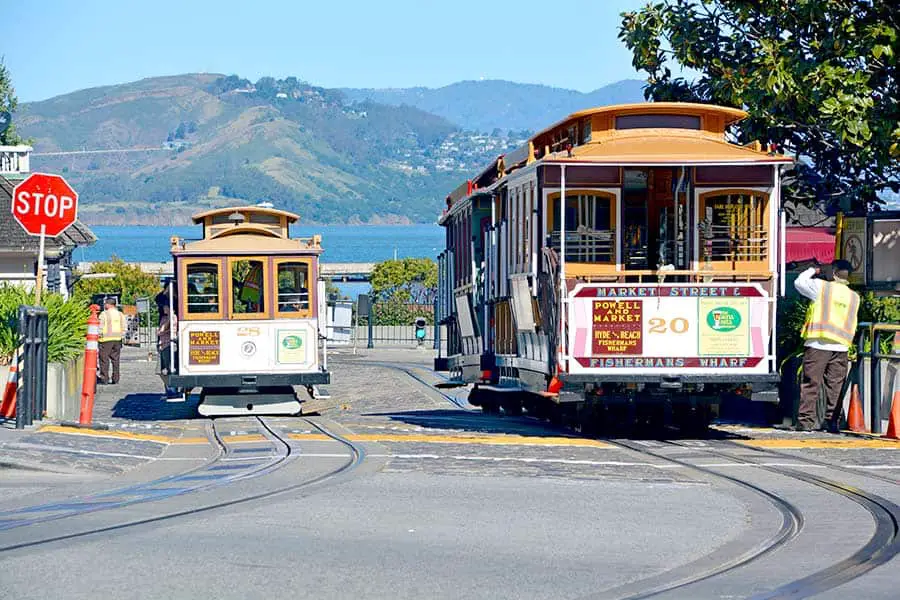 Rice-a-Roni is a dish loved and enjoyed by many. Few foods are as versatile and budget-friendly as this delicious, savory dish. However, you may be wondering, where did this food originate, and where is it made?
Rice-a-Roni is currently made in Bridgeview, Illinois. Rice-a-Roni originated in the San Francisco Bay area in 1958 and was previously manufactured in San Leandro, California. Vince DeDomenico invented the dish, and it was a creative spin on an Armenian rice pilaf dish. 
Rice-a-Roni has an intriguing history that combines an Italian-American family company, a survivor of the Armenian Genocide, and the historic city of San Francisco. The following sections will take a closer look at how these things worked together to create this tasty dish. 
San Francisco and the Birth of Rice-a-Roni
In 1958, Rice-a-Roni was first created; however, the history of Rice-a-Roni begins much earlier than that. Italian immigrants Domenico and Maria DeDominico immigrated to San Francisco in the late 1890s. Unfortunately, the immigration officer misunderstood Domenico's name and wrote "Charlie" on his immigration papers, so he went by Charlie for the rest of his life.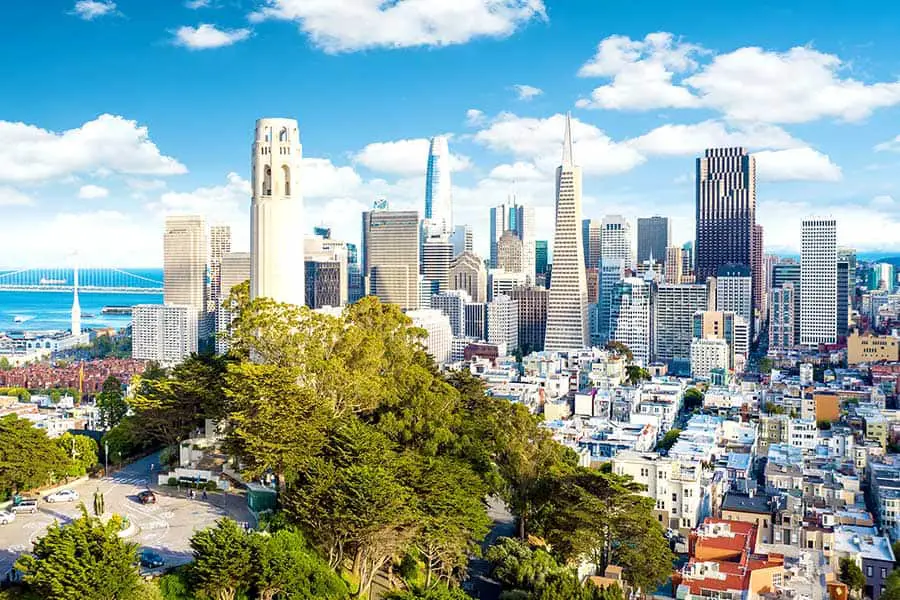 Once settled in San Francisco, the family started a pasta company, Gragnano Products, Inc, which would eventually be named "The Golden Grain Macaroni Company."
The DeDomenico family had several sons that helped with the company. Their sons joined the family business and would work long hours in the pasta factory. Tom (one of the sons) married, and he and his wife Lois found an apartment with an Armenian immigrant named Pailadzo Captanian (Grandma Cap), who came to San Francisco after fleeing the Armenian Genocide.
Lois was pregnant and would stay home, where she learned to cook from Grandma Cap. One of the dishes she learned to make was Armenian rice pilaf. Lois would make this dish for the DeDomenico family, and eventually, it inspired the famous dish that brought rice to many American households: Rice-a-Roni.
The story of Rice-a-Roni represents the sanctuary that San Francisco was for many immigrants. Historically, San Francisco was a sanctuary for many reasons. One of the main reasons is it allowed immigrants to start over in a place where they could make a sustainable living and be safe. In addition, it brought people together from different cultures, creating a place where things like Rice-a-Roni could be created.
Today, Rice-a-Roni is no longer produced in the San Francisco Bay Area. Instead, Rice-a-Roni is made, packaged, and shipped from a PepsiCo factory in Bridgeview, Illinois.
Who Invented Rice-a-Roni?
In 1958, inspired by the Armenian rice pilaf, one of the sons, Vince DeDomenico, created Rice-a-Roni. Vince had a creative idea of adding macaroni to the rice pilaf dish that his family made at home. Additionally, he added a dry seasoning to the rice and pasta combination to create a unique flavor.
The family had an experimental kitchen at the pasta company for making new recipes, and once they had the idea for Rice-a-Roni, it took about an hour in the kitchen to find a recipe that could be made quickly in one pan.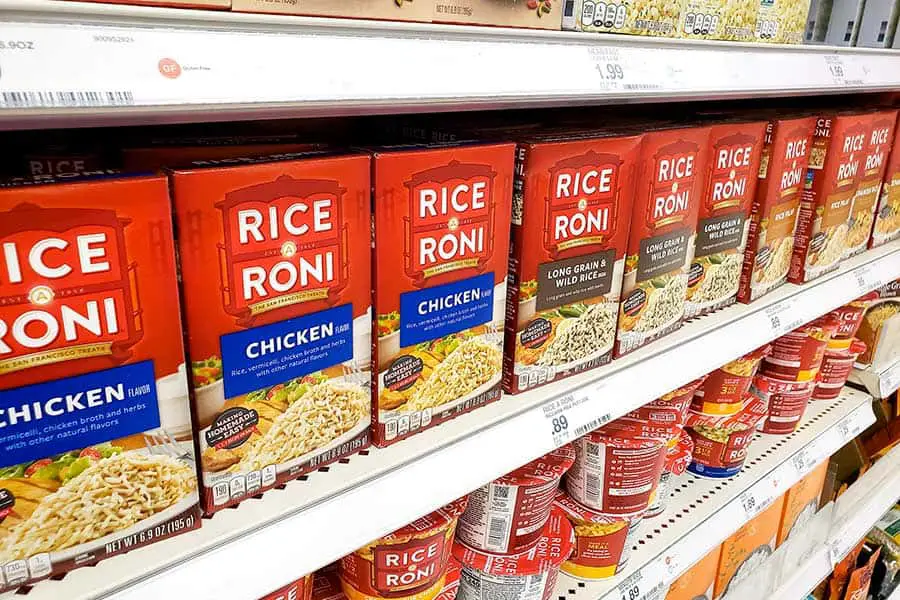 The dish was an instant success and quickly gained a following in the city. The resources of the family company, The Golden Grain Macaroni Company, provided the opportunity to mass-produce this dish.
This dish was created in a time when fast, easy meals were gaining popularity in America. In addition, the kitchen was becoming a place where things like dishwashers were reducing the typical cooking and cleaning time. So the delicious meal that was quick to make in a matter of minutes and only used one pan was created at the perfect time.
Is Rice-a-Roni Real Rice?
The recipe today has not changed much from its original formula. Rice-a-Roni does contain real rice, but it also contains small pieces of pasta, spaghetti, or vermicelli broken up into little pieces half an inch or smaller.
Originally, Rice-a-Roni used primarily long-grain white rice, but the company has now incorporated brown rice into some flavors of Rice-a-Roni, bringing healthier options.
The rice, pasta mixture is flavored with dry seasoning, giving it a unique flavor. The dry seasoning is a mix of spices, onion powder, salt, and garlic. It is a simple recipe that has been perfected over time for the unique flavor it gives to this dish.
Bay Area Answers Fun Fact: Mrs. Pailadzo Captanian, who helped inspire Rice-a-Roni, would make her twist on rice pilaf with Golden Grain Macaroni Company pasta that she broke into small pieces.
The original is a popular flavor, but Rice-a-Roni also comes in different flavors like herb and butter, creamy four cheese, cheddar broccoli, chicken, beef, jalapeno cheddar, and many more.
Cooking the rice in Rice-a-Roni is done by simmering water in a pot after browning pasta/rice in butter. However, there are now "Heat and Eat" options, meaning instant, microwaveable versions where the rice and other ingredients are pre-cooked and only need to be warmed up.
Other Posts of Interest
Who Owns Rice-A-Roni?
The creation, production, and popularity of Rice-a-Roni changed The Golden Grain Macaroni Company forever. Vincent eventually became the President, and with two of his brothers, together they had control of the family business. The DeDomenico family kept their family business until they sold it to Quaker Oats for $275 million. Quaker Oats, which PepsiCo owns, still owns Rice-a-Roni today.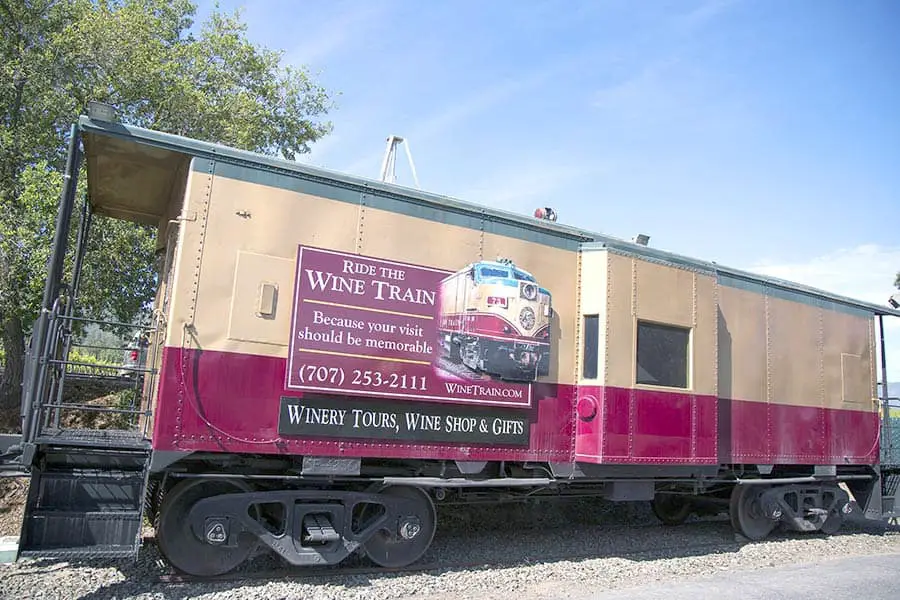 After selling The Golden Grain Macaroni Company, Vince DeDomenico stayed close to San Francisco, the place he was born and raised. He moved to Napa Valley and started the Napa Valley Wine Train. This restored train takes passengers on a journey through the wine country, giving them a taste of the different wines produced there.
Though the company has now moved toward trying to reach a broader audience outside of San Francisco, the packaging remains rooted in San Francisco, containing images of the Golden Gate Bridge and cable cars. The back of the box also still boasts the saying "The San Francisco Treat."
Who Wrote the Rice-A-Roni Jingle?
The catchy jingle for Rice-a-Roni was written by Robert Pritikin, who was an advertising exec, in 1979. The jingle has been rewritten over time and used in various commercials, but the main lyrics have stayed the same.
The jingle is a memorable tune that has helped make Rice-a-Roni one of America's favorite side dishes. In addition, the jingle was used in commercials to raise interest in this new dish.
The jingle helped the dish become more popular and helped coin the famous catchphrase, "The San Fransico Treat."
The jingle was retired when Quaker Oats bought the company and decided to connect Rice-a-Roni with places other than just San Francisco. The company wanted the famous food to be a treat in other areas. Though it has been retired, many people still remember this catchy tune.
Is Rice-A-Roni the Same as Rice Pilaf?
Though they share some similarities, Rice-a-Roni and rice pilaf contain slightly different spices and ingredients. Rice pilaf is a simple food when compared to Rice-a-Roni. Rice pilaf is made by cooking rice with vegetable stock and adding vegetables like onions, green onions, and celery. You can also add meat to rice pilaf if you want. Rice pilaf traditionally contains rice, but no pasta.
On the other hand, Rice-a-Roni is a dish that contains both pasta and rice. It also has different flavors and ingredients than pilaf. In addition, Rice-a-Roni has a mix of seasonings that give it a bolder flavor than rice pilaf.
Another difference between these two dishes is that rice pilaf has been around much longer than Rice-a-Roni. Rice pilaf has been around for thousands of years, while the San Francisco treat was created in the mid-1900s.
Despite their differences, these two dishes are prepared and served almost the same and are affordable, delicious options to add to a meal.
Do They Still Make Noodle Roni?
In 1964, Vince created a similar product called Noodle Roni. This spin-off was boxed pasta that was quick and easy to cook and came with flavorings and pasta together in a box. Flavors included Romanoff, Stroganoff, and Fettucini Alfredo.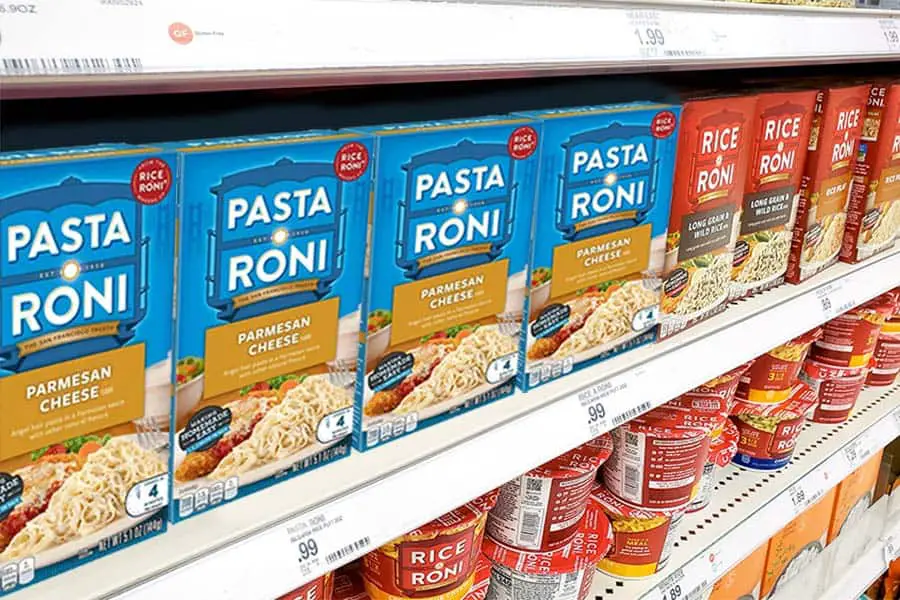 After Quaker Oats took over the company, they changed Noodle Roni to Pasta Roni to better describe the various kinds of instant pasta available. Although it's not called Noodle Roni anymore, the same product is still available under a different name, Pasta Roni.
Where is Pasta Roni Made?
Just like Rice-a-Roni, Pasta Roni was initially produced in San Leandro, but now it's manufactured at the Rice-a-Roni plant in Bridgeview, Illinois, the same place where Rice-A-Roni is made.
The Rice-a-Roni plant produces 17 different flavors of Rice-a-Roni and 13 different flavors of Pasta Roni. The plant was also featured on the Food Factory television program. This program documented how this plant produces 6 million boxes of Rice-a-Roni every week. This factory uses an efficient assembly line to make enough Rice-a-Roni to meet national and global consumption.
A Cultural Melting Pot in a Box
Today, Rice-a-Roni can be enjoyed by people all over the world. This dish is a reminder of how San Francisco brought different cultures together. So whether you are searching for a quick and easy weeknight meal or something special to impress your guests, Rice-a-Roni is an affordable option with a unique flavor and a rich history.