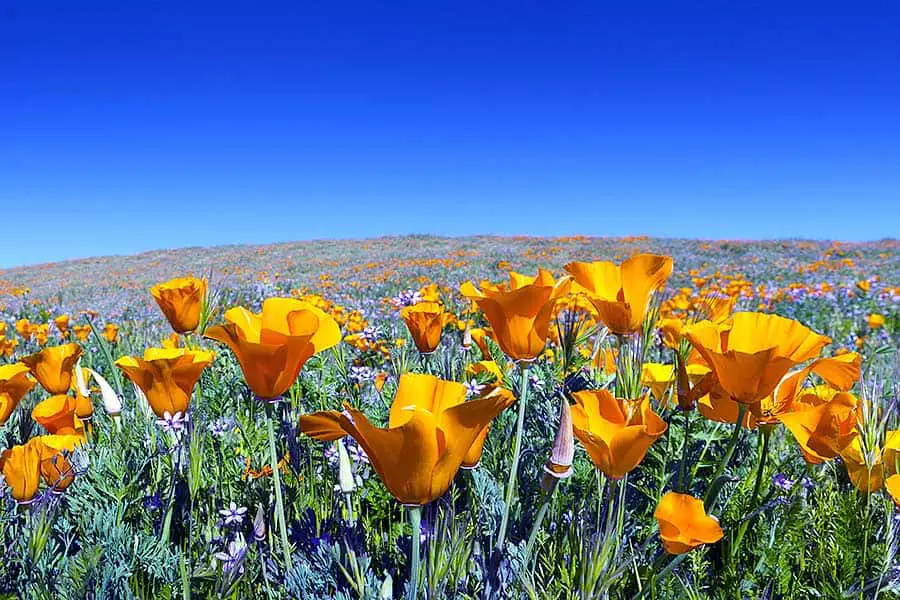 During the spring, the California hillsides explode with patches of color to signal the end of winter. Visitors have the opportunity to spot daffodils, primroses, dandelions, and lilies in sprawling fields. One of the most popular of these flowers is the California poppy. But the question is, do poppies grow wild in California? 
Certain varieties of poppies are native to and do grow wild in California. The most popular and abundant type is the brilliant orange California poppy, also known as the golden poppy, that covers the landscape in spring. The California poppy is also recognized as the official state flower. 
If you pick the perfect time to visit California, you'll have the opportunity to experience the bold colors of spring. If you want to see California poppies in full bloom, continue reading for the best times to visit, most popular spots, and history of how this flower became a symbol of the Golden State. 
Poppies: Do They Grow Wild in California?
Since early settlers began visiting California, there were remarkable references to the numerous types of wildflowers found growing across the state. One of the most visible and easily recognizable of these wildflowers is the California poppy.
This bold orange flower which is native to the state, can be seen growing in the countryside, mountain fields, along busy highways, and even in neighborhood flower gardens. 
California poppies prefer to grow in grassy areas between sea level and 6,500 feet above sea level. They are effortless to grow as they don't require a lot of water. The fact that they don't need much water makes them perfect for California's notoriously dry climate. 
The only parts of California where you won't find these flowers are the northeast corner of the state (where California, Nevada, and Oregon meet) and the southwestern desert region. But, in addition to California, these poppies are also abundant in much of Western North America, from Baja California, Mexico, to the southern portion of Washington State. 
The best time of year for you to see California poppy fields bursting with orange (pink, yellow, red, and white varieties also exist) is late winter and early spring (mid-February to mid-May).
The bloom on a single plant can last up to four weeks. The flowers then die when the summer heat arrives. However, the blooming period can extend into the summer months in areas where the climate is cooler, such as the San Francisco Bay Area. 
If the state experiences a mild summer and gets plenty of rain, poppies can even bloom for a second show in the fall (normally during September). However, this bloom is less reliable, so don't plan any trips around this timeframe unless you want to risk being disappointed. 
A "super bloom" is a natural phenomenon that occurs about every ten years where an abnormally large number of dormant seeds bloom at the same time. In California, this requires significant rainfall, which is becoming less common with recent years of drought.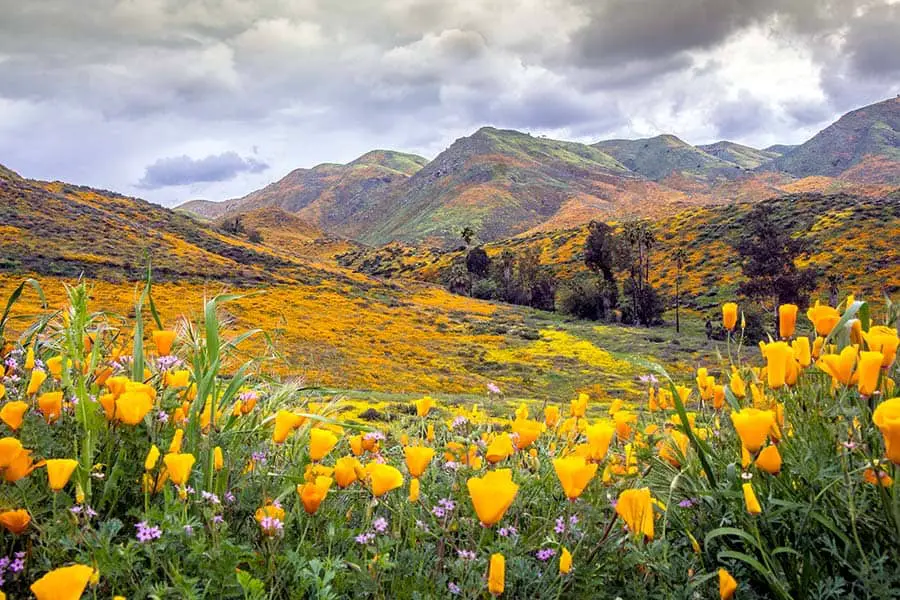 Where is the Best Place to Go to See Wild Poppies in California? 
Because these flowers are extremely common, you won't have to go too far out of your way to see them. If you are visiting during the peak part of the poppy season, it is highly likely that you will be able to easily spot rolling hills as they turn from green to a brilliant orange. However, there are some top places to go if you want to see the poppies blooming up close. 
Antelope Valley California Poppy Reserve – Antelope Valley California Poppy Reserve is one of the best places to see brilliantly colored fields of flowers. The park, which is about an hour and a half from downtown Los Angeles, has a unique microclimate that is ideal for California poppies and other wildflowers.
There are about 8 miles of hiking trails spread across 1,700 acres to allow visitors to wander through sweeping fields full of poppies and different types of wildflowers. Several of the trails are paved, making them accessible to people in wheelchairs. 
Mount Diablo State Park – This park is considered one of the best places near San Francisco to see California poppies. The area of the park near the South Gate is where you will find the most picturesque fields.
Mount Diablo State Park is located about an hour and a half away from downtown San Francisco, has many outdoor activities such as hiking, biking, and even rock climbing. 
Bay Area Answers Fun Fact: A massive poppy field was featured in the film The Wizard of Oz and was used by the wicked witch as a trap to put Dorothy and her friends to sleep.
Other Posts of Interest
Mount Tamalpais State Park – Mount Tamalpais is an excellent option if you are in the Bay Area but looking for a much shorter day trip. Located less than an hour from downtown San Francisco, visitors can spot many wildflowers along the Yolanda Trail and Phoenix Lake Loop Trail.
While you are there, you can also drive nearly to the top of the mountain for sweeping views of San Francisco's Bay, the Skyline, and the Pacific Ocean. 
For best results at any of these locations, you should plan your trip carefully around the weather. Poppies close up their flowers at night and on cloudy days. So plan your visit on a day that has lots of sunshine in the forecast. You'll catch the best blooms first thing in the morning, just as they are opening up.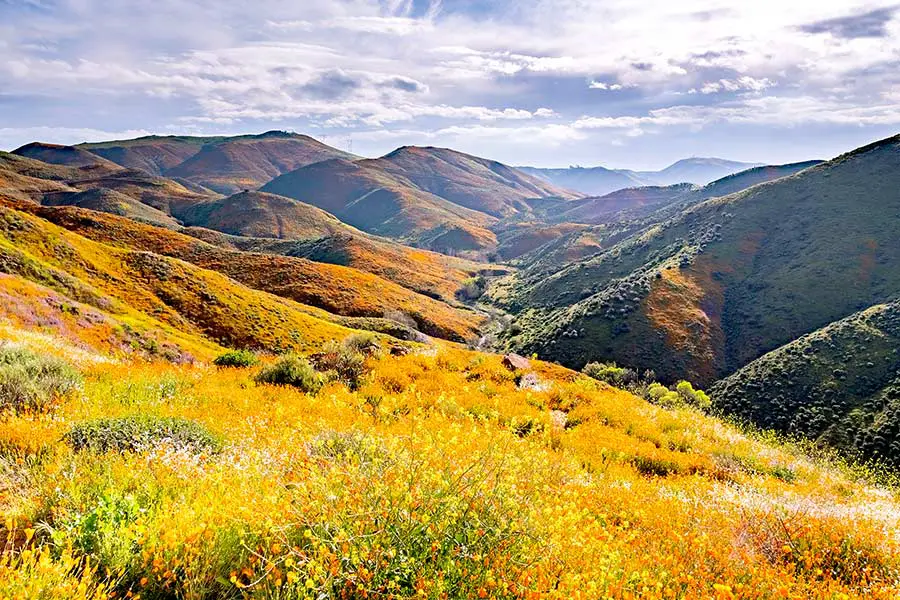 Why was the Poppy Chosen as the State Flower? 
The California poppy quickly became a symbol of California. It was often said to symbolize the "fields of gold" that brought many settlers during the infamous California Gold Rush in the mid-1800s. 
Famous writers and naturalists, like John Muir, have made reference to their beauty and prominence across the landscape. In March of 1903, California selected the California poppy as the official state flower. 
Each year, the state hosts the official California Poppy Day on April 6th. On this day, the state encourages schools to provide activities that teach students about the importance of wildflowers (especially California poppies) in the natural environment. Some cities, like Lancaster (near the Antelope Valley California Poppy Reserve), host festivals dedicated to the flower. 
Is it Illegal to Cut or Pick Poppies in California? 
Despite being the state flower, there are no laws protecting California poppies. People are permitted to pick them as long as they are found on private property, but only with the property owner's permission. However, poppies do tend to wilt quickly, so don't expect to be able to take them home and keep them in a vase for decoration. 
The only places where poppies are not permitted to be gathered are on state lands such as parks and nature preserves. But, of course, this rule isn't just for poppies, as most plants are protected in these areas.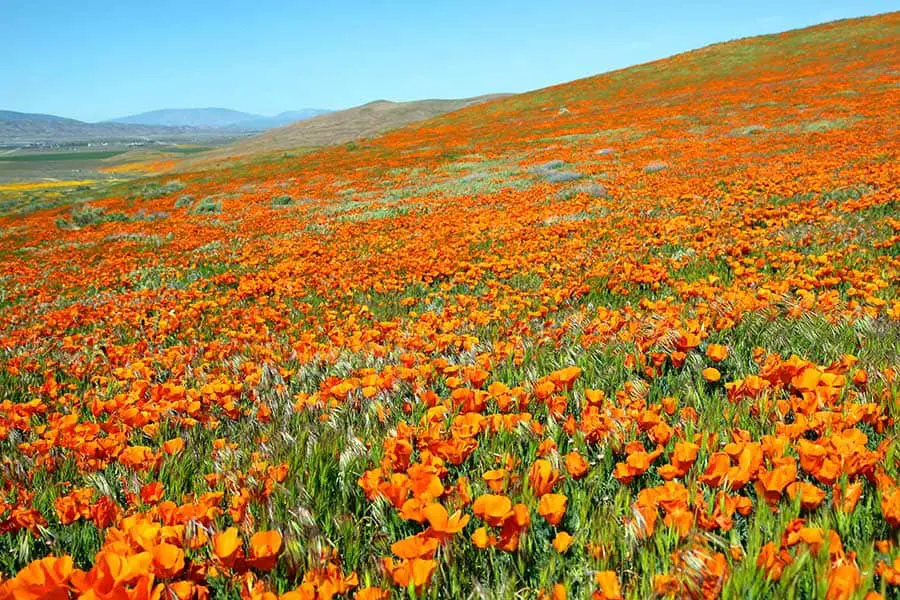 Is it Illegal to Grow Poppies in California? 
California poppies do sometimes get a bad reputation because of their opium-producing cousins — the Opium poppy. For this reason, many people often assume that all poppies are bad or illegal. This assumption is a complete misunderstanding.
California poppies are not restricted or used in the production of opium. They can be grown anywhere in the state, including residential yards and gardens. 
The Opium poppy is native to southern parts of Asia and is cultivated for its properties used to make illegal drugs like heroin and legal pharmaceutical opiates like codeine. These flowers are technically illegal under the Controlled Substance Act of 1970.
However, this law is rarely enforced unless you are growing large quantities for elicit purposes. It's very common to find the seeds of Opium poppies mixed into wildflower mixes that you can purchase from your regular hardware stores or garden centers. 
Are Poppies Invasive in California?
An invasive species is a plant or animal that can cause damage to an ecosystem that they are not native to. For example, introducing a new type of fish to a lake could cause the native species to go extinct.
When it comes to poppies, they are native to California and not considered invasive. However, because California poppies are easy to grow, they can easily take over a new environment. Currently, they are considered invasive in Alaska, Hawaii, and Tennessee.
Be Safe When Viewing California Poppies
The good news is that you won't have to go far out of your way to be able to see California poppies. You'll probably see them along many of the highways throughout your trip. But, a word of caution, as you are traveling the roads to view the poppies, watch out for motorists and pedestrians trying to take a photo.
Each year, there are reports of accidents from tourists and locals behaving unsafely to get the perfect Instagram shot. Stopping along the roadside is perfectly fine, but be sure that you pull all the way off the road and watch small children and pets.