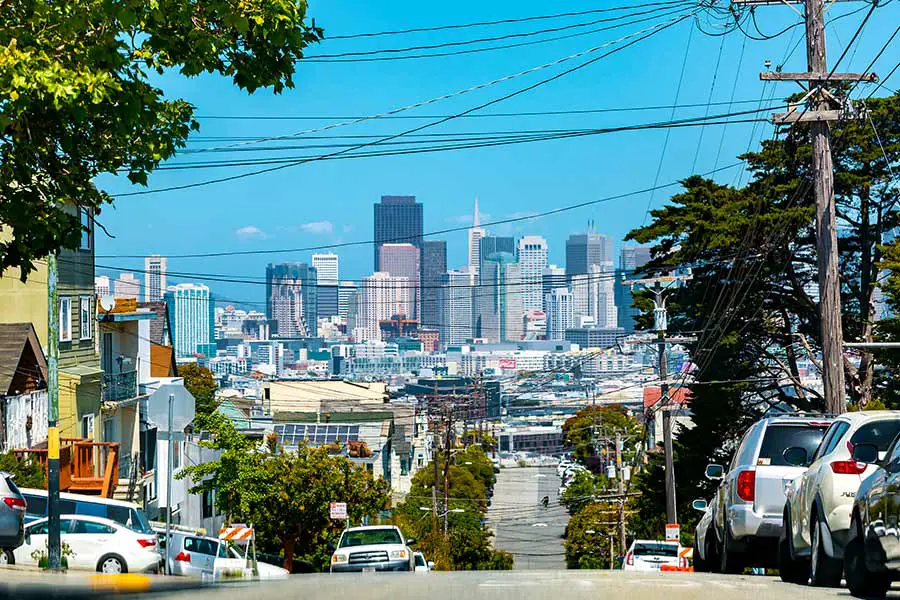 Driving in any metropolitan area can be challenging, but San Francisco has its own set of unique difficulties that put driving skills (and driver patience) to the test. With its dizzying hills, puzzling one-way streets, astonishing lack of parking, and pedestrians and cyclists who think red is the new green, driving in San Francisco is not for the faint of heart.
Driving in San Francisco is definitely hard, but mastering the art of driving here is not impossible. All it takes is a strategy, knowing what areas to avoid, patience, street smarts, and large amounts of intestinal fortitude. It is also paramount to be aware of those sharing the road with you.
Ironically, these are the same traits you need to live here successfully. It's good for visitors to learn these qualities, as there will always be those who need to drive around the city. They could be here on business, traveling the country in an RV, or living close enough to San Francisco that driving is a cheaper alternative to flying. To those people, we offer insider advice to help you not only get through the experience but to kind of, sort of, enjoy it. Read on to unlock the secrets of driving in San Francisco.
Map Out A Route First
Before hitting the streets in a car, be sure to draw up a game plan first. Whether you use maps or apps, plot out a route to your destination(s) before leaving your hotel room.
Depending on what time of day you are entering the city or the area of the city you're departing from, taking a direct route may not be the best strategy. That is why it's also essential to have a Plan B that's heavy on multiple alternative routes that you can resort to if other roads are congested.
Use Apps
Maps and tour books are great when you're walking around the city, but they're useless when you're racing the hills on Franklin Street in Russian Hill, frantically searching for your turnoff street.
Smartphone apps solve that problem nicely, as a little voice can tell you exactly where to turn. An app will also tell you how to get to out-of-the-way places that you might not find on a map. When driving in San Francisco, using any of the excellent travel and map apps now available is the only way to go.
Explore Back Streets
San Francisco's street layout is a mostly grid-like pattern so that driving can be fairly intuitive. A local's tip would be to start off on a major street and then hit less-traveled parallel side streets to avoid messy traffic situations and clogged intersections. Again, this is where apps will come in handy.
This advice is especially true if you're driving on heavily traveled, frequently congested main streets like Geary Street, Mission Street, Fell Street, Gough Street, The Divisadero, California Street, Oak Street, and Van Ness Boulevard. But it's Market Street that's hands down the granddaddy of all bad roads in San Francisco.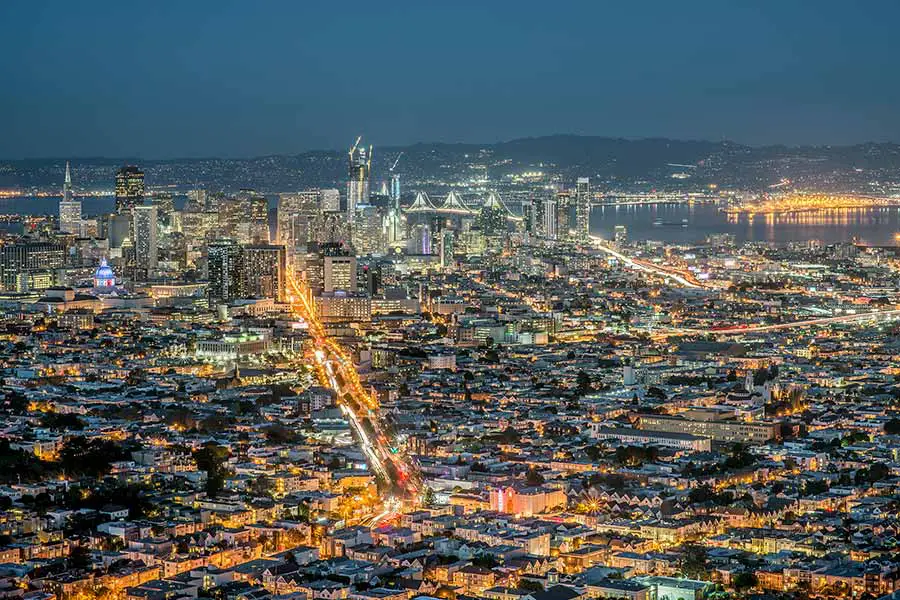 Say No to Market Street
Market Street is the city's main thoroughfare and a nightmare to drive, especially the downtown portion. From Van Ness Avenue to the Ferry Building at the edge of the bay, Market Street can be jammed with pedestrians, cyclists, trucks, buses, and streetcars, and it's baffling string of one-way streets make turning off of Market Street nearly impossible.
A new wrinkle for downtown drivers is that in early 2020, parts of Market Street went car-free as part of a downtown revitalization effort. Car-free restrictions are now in effect eastbound from 10th to Main and westbound from Steuart to Van Ness. Click here for more information on car-free Market Street.
Bay Area Answers Fun Fact: When it comes to the steepest street in San Francisco, it's actually a tie between Filbert Street between Leavenworth and Hyde Streets in Russian Hill and 22nd Street between Church and Vicksburg Street in the city's Noe Valley neighborhood, both with a calf-busting steepness grade of 35.1%.
Driving the Hills: Don't Panic!
Driving San Francisco's famous hills can be a daunting experience for the inexperienced, but once you master it, it can be as much fun as a rollercoaster. Here are some tips:
When climbing a hill, driving fast will help you build the momentum you'll need to get you to the top. Speeding up could be challenging when driving a stick, as you'll need to gain enough speed to shift into second gear and then maintain your speed. Stop signs, traffic lights, pedestrians, other drivers, and city buses will all conspire to keep that from happening. You will need patience and skill to reach the top.
Once you get there, you have a second or two to admire the incredible view before hurtling downwards. In some neighborhoods, especially those above The Marina, be aware of diagonally parked cars pulling out as you descend. Keep a foot lightly on your brakes and your speed moderate, and you'll be okay.
Parking on a Hill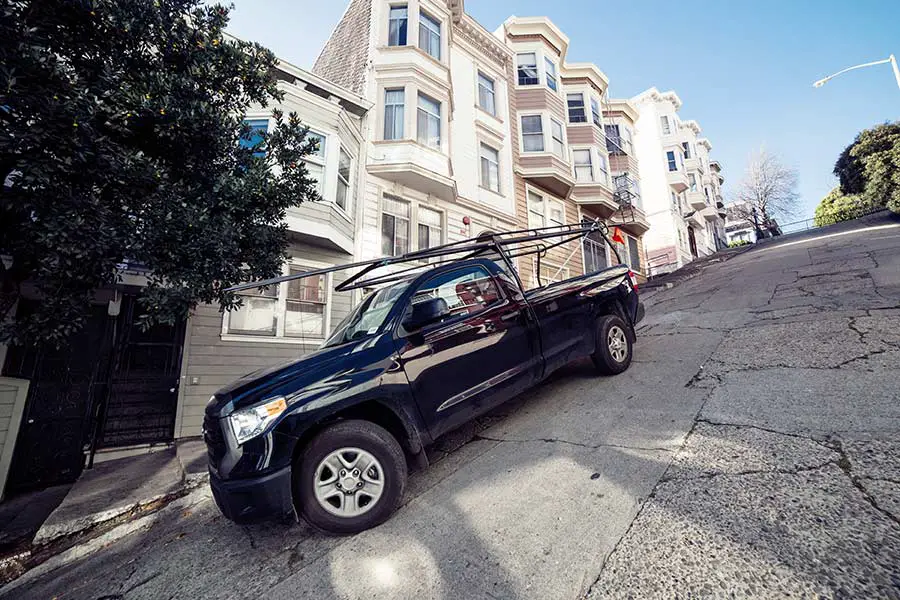 Here's one San Francisco parking rule that most visitors aren't aware of: When parallel parking on a hill, it's important to remember to turn your wheels away from the curb if you're facing uphill and toward the curb when you're facing downhill. Turning the car's wheels prevents vehicles from rolling away during an earthquake or because of brake failure. Also, set the parking brake. Do not take this lightly. Forget to "curb your wheels," and you could get hit with a $58 ticket.
Street Parking in The Neighborhoods
San Francisco is a notoriously difficult spot to park, but there is an art that locals employ. Drive in a one block concentric circle around your destination and search the neighborhood streets for a spot. If you still can't find one, broaden your circle to two or three blocks (or more) until you find a place, which, quite frankly, may or may not happen.
This tip will be especially well-employed in neighborhoods popular for their restaurants, pubs, and nightlife entertainment, like 24th Street in Noe Valley, Upper and Lower Haight Street, Fillmore Street, Union Street, and Chestnut Streets in The Marina, Valencia Street in the Mission, Cole Valley, Hayes Street, and the 18th and Castro area.
However, be aware that residents don't take kindly to visitors hogging their precious parking spots. In most neighborhoods, residents must display a parking permit on their windshield that signifies they live there. You will get a ticket and a fine if you don't have that parking permit, and yes, locals will call towing services.
Speaking of vehicular rules, San Francisco and California have a seemingly endless list of driving and parking regulations. Visitors who drive are advised to be familiar with these laws, as breaking them could earn you tickets and hefty fines.
This informative page on avoiding tickets in San Francisco and the DMVs handbook is also a good source for information.
Look Out for Pedestrians, Cyclists, and Skateboarders
San Francisco prides itself on being a pedestrian and bike-friendly city, so drivers will need to deal with both as they drive the city's streets. Drivers should especially be on the lookout for cyclists because they're everywhere and don't dare drive in a bike lane.
Skateboarders also pose unique challenges because they often play by their own set of rules. Your best bet is to slow down at busy intersections, especially when making a turn, and be aware of those last-second stragglers.
Public Transportation Alternatives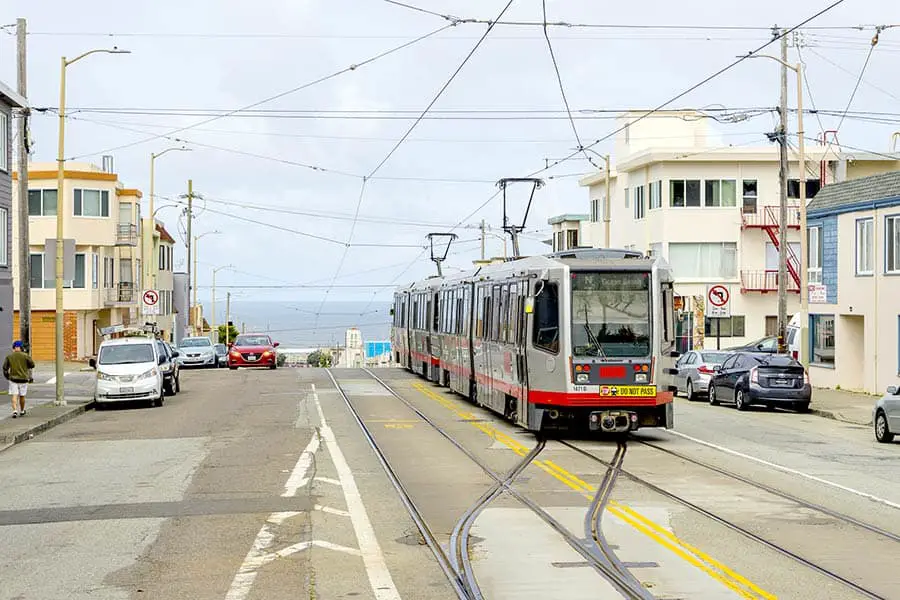 San Francisco's public transportation system is known as MUNI (Municipal Transportation Agency). It serves the entire city with its fleet of buses and the light rail MUNI Metro subway cars. MUNI Metro serves 157,700 passengers daily and is the nation's second-busiest light rail system. Needless to say, avoid the subway during the morning and evening commutes when cars get packed.
Adult single ride fares for all MUNI buses and light rail is $3.00, but upon payment, riders are issued a transfer pass that's good for 90 minutes. You can pay for a ticket on the buses and at all subway stations. The MUNIMobile app lets you pay for tickets in advance and offers users many discounts and perks. Click here for a full list of all MUNI routes and stops, and here for tips on riding MUNI. And here's a map of the entire MUNI service area.
Other Options
While staying in the city, it's best to give the car a rest and see the city through alternative means. Most of the popular, tourist-heavy destinations like Fisherman's Wharf, Chinatown, Union Square, Telegraph Hill, and downtown restaurants and museums are best reached through rideshares, cabs, public transportation, or just plain walking. Using alternative transportation will save you the hassle of looking for street parking and parking lots' exorbitant rates.
Why Would I Need A Car?
Whether you rent one upon arrival or drive your own, having a car gives visitors access to iconic California attractions that are far from San Francisco. Driving is the best and most practical way to reach the northern Napa Valley wine country, beautiful Monterey and Carmel to the south, and the fun seaside city of Santa Cruz in between. The city also is a gateway to popular camping destinations like Lake Tahoe, Gold Country, and Yosemite National Park.
Summing It Up
Driving in San Francisco can be challenging, but once you get the hang of it, it can actually be somewhat fun. That "getting the hang of it" part is the tricky part, but once you do, you'll soon be cruising the city like a local.