Whether you have visited California beaches or not, it is difficult to talk about the California coast without mentioning surfing. Beginners, pros, and everyone in between will jump at the chance to enjoy California's official sport. However, you may be wondering, can you surf all year round in California?
California's coastline stretches for over 800 miles, providing many options for surfing year-round in the Golden State. However, due to colder water temperatures, surfing usually requires a full wetsuit, though you might get away without one in Southern and Central California during the summer.
Finding the right place to surf in California is all about what you are looking for. Are you looking for critical sections and big, powerful waves? Or are you looking for a relaxing surf with knee-high rollers? Read on to find out how to have a fun surf no matter when you visit California.
Surfing All Year Round in California
The California coast has gentle, sloping beaches, narrow beaches at the base of sheer cliffs, cliffs that lead straight into the ocean, and just about every other type of coastline. Similarly, California's waves are as unique as the shores they break on. There are heaving point breaks, steep waves with spitting barrels, the famous wedge that jolts heavenward then thunders onto the sand, and small slow waves.
To find the wave that's right for you, it is helpful to ask yourself three questions:
What is my skill level?

When and where will I be in California?

What do I know about where I want to surf?
Know Your Skill Level
First, you must know your skill level. Anyone who has surfed above their skill level knows that it can quickly turn stressful and even dangerous. Though California has waves to surf all year round, fall and winter are when the waves are consistently big, powerful, and clean in Southern California. If you are an intermediate/advanced surfer, fall and winter could be the seasons to take your skills to the next level with heavier surf.
When and Where
California is usually divided into Southern, Central, and Northern California. Below are a few examples of places that typically have year-round waves.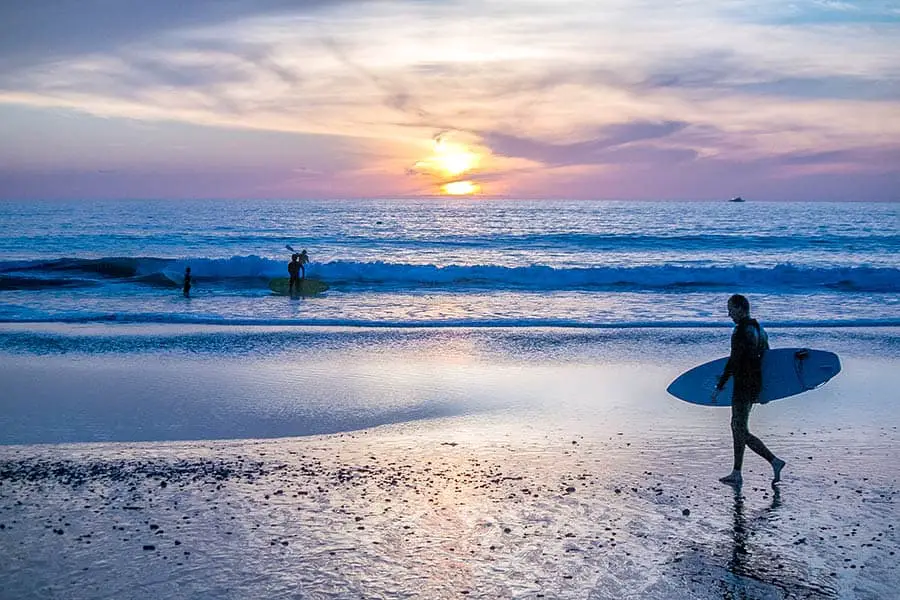 Southern California
Malibu – 

Along this beach, you can find a range of waves perfect for all skill levels. If a wave looks too intense for you, you can walk down the beach and find a calmer one.

Huntington Beach – 

With miles of beach, 

there are beautiful waves throughout the year.

 Huntington Beach is known as 

Surf City USA

, as it frequently holds surf competitions, and some daring surfers even ride between the pillars of the pier.
Central California
Cayucos Beach – 

Here, 

spring and summer offer mellow waves that are great for beginners, while fall and winter offer bigger waves suitable for intermediate and advanced surfers. 

This beach is a great place to take a few trips to and progress your skills throughout the year.

Pleasure Point – 

Sometimes called the 

jewel of Santa Cruz

, this wave is different from many California point breaks because it breaks year-round. In the winter, the wave consistently breaks off the point. 

In the summer, there are different peaks to explore, making summer a better time to surf for beginners at this break.
Northern California
Ocean Beach, San Francisco – 

One of the 

Bay area's

 most famous surf spots. 

On a big day, Ocean Beach is representative of most of the surf spots in NorCal—rowdy and powerful,

 but on a small day, Ocean Beach provides a good place for beginners looking for smaller surf.

Fort Point, San Francisco – 

It's hard to beat the view of the 

Bay Bridge

 from Fort Point, with the wave sometimes starting almost under the bridge. On a flat day, you can still check out the history of 

Fort Point

 or explore San Francisco, not a bad backup plan for surfing.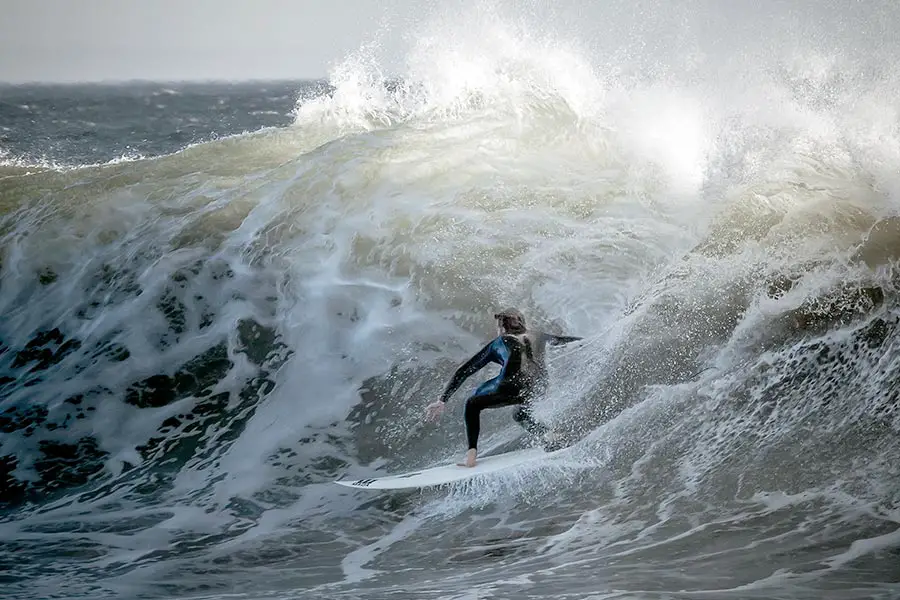 What Do You Know About the Surf Spot?
It is essential to look at what the ocean is doing before you go surf. Waves are affected by wind and storms that begin hundreds or even thousands of miles away. As a result, one wave may be small and surfable one day and messy and maxed out the next. Even the angle of the beach, the direction waves are coming from, and the steepness of the ocean floor influence the waves.
There are many helpful free resources out there if you are trying to locate surf spots near you. For example, Magicseaweed offers 7-day forecasts from surf breaks all around the world. It comes with easy-to-read, color-coded wind forecasts and candid descriptions of waves and crowds.
Another great resource is Surfline, which offers three free surf checks every week, so use them sparingly. Some of these checks come with live cameras so you can see what the waves are doing before you get there. These resources will save you time as you try to find the right wave to surf.
Bay Area Answers Fun Fact: Huntington Dog Beach hosts the annual Surf City Surf Dog charity event where dog competitors can ride the waves and be judged by local celebrities.
Seek out Local Knowledge
One of the most valuable things you can do either before or during a visit to California is talk to people who live where you want to surf and explore. There are many people willing to talk to someone who is genuinely interested in their hometown. As you eat, walk around, shop, and meet people, ask them about the best places to surf or if anywhere is looking good to surf.
Some of the most helpful places to check out are local surf or rental shops. Surf shops will usually have employees who can point you in the right direction if you are looking to surf. Additionally, rental shops will help guide you to the right beach with the right gear.
Other Posts of Interest
How Do You Know When a Wave is Good to Surf?
Generally, if you see other people out surfing, the wave is probably a nice place to surf. However, if you have a board with you while traveling around California, be on the lookout for good waves. You never know when you will stumble upon a gem with only a few people out surfing.
Since the California coast is home to so many different waves, they are not all documented on apps and websites. However, surfing is all about getting out there to explore, so if you see a fun wave that you feel comfortable surfing, grab a friend and paddle out.
Do You Need a Wetsuit to Surf in California?
Few things set up an enjoyable surf session more than being comfortable in the water, not too hot or too cold. Depending on the season and area you visit, you will probably need a wetsuit. The further North you go in California, the colder the water gets and the thicker your wetsuit should be. NorCal surfing usually requires a full wetsuit with a hood and sometimes booties and gloves, especially when it comes to winter surfing.
You can get away with not wearing a wetsuit in SoCal and Central California in the summer, but you should have a spring suit or a short arm steamer moving into the colder months (September-February).
If you have a wetsuit, it never hurts to throw it in the car just in case it's colder when you're trying to surf. If you don't have one, an inexpensive alternative is renting them at local surf shops, which provide a wide selection of styles and thicknesses. Even cold, howling days become not so bad with the right wetsuit.
What Months Are Best for Surfing in California?
If you are looking for heavy surf that can give you a good smackdown if you're unlucky, or you could score the best wave of your life if you're lucky, November-February will be the best time for you to surf.
If you want waves that are powerful and have plenty of size, February-May and September-October will be the best months for you. However, if you're looking to cruise on some smaller waves, the summer and spring months will be your go-to months.
What Beach has the Biggest Waves in California?
At Half Moon Bay, a half-mile out from shore, lies a sleeping giant that comes alive each winter in California. This famous and infamous wave is called Mavericks. It is a 60-foot wave that crashes down with a rumble that can be felt back on shore.
There is an invitational surf contest held at Mavericks where big wave surfers from all around the world gather to charge down mountains of water. A crowd will usually gather on a nearby bluff with binoculars to watch the surfers, though the wave is so big you don't need binoculars to see the surfers. Mavericks usually only breaks in the winter because that's the only time the swell gets big enough.
Discover California Through Its Waves
Surfing is a great way to explore new parts of California while making friends along the way. Whether you are a pro or are just beginning to discover the art of surfing, California has year-round waves to enjoy. No matter what time of year you visit California, you can find waves if you plan and use the resources above to figure out where the best waves are for you.