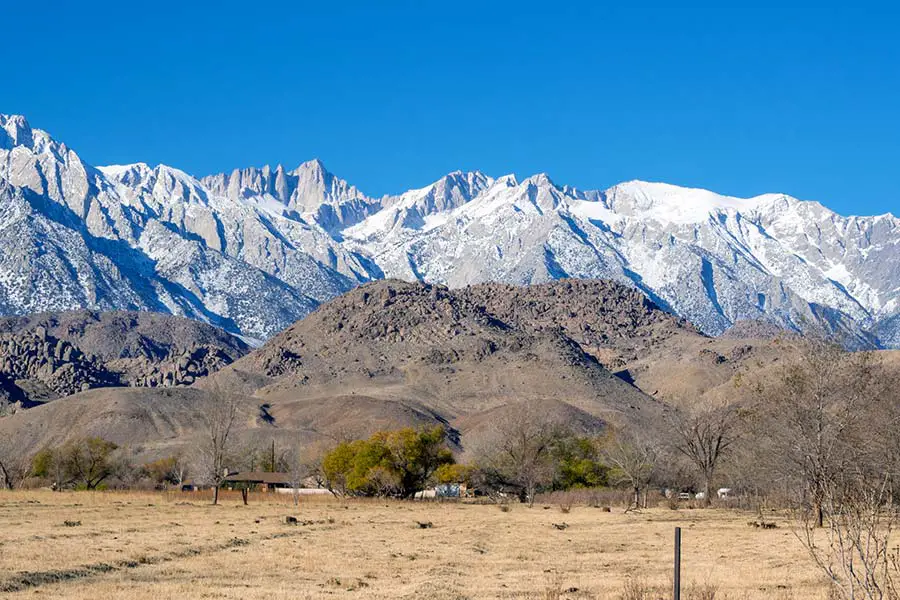 The State of California is known for incredible natural landscapes, from the towering trees of Sequoia National Park to massive granite rockfaces of Yosemite to a seemingly endless Pacific Coastline. The state is also home to some of the tallest mountain peaks in the United States. So, what is the highest mountain in California? 
Mount Whitney is the highest mountain in California. Mount Whitney is also the tallest mountain in the lower 48 United States. Every year, thousands of people flock to Mount Whitney to hike to the summit and take in the awe-inspiring views. 
For visitors looking to view or climb California's tallest peak, special arrangements need to be made, including obtaining a permit and packing the correct gear. Continue reading for more information about where Mount Whitney is located and how to make the most of your visit. 
Mount Whitney – California's Highest Mountain
The Sierra Nevada Mountains are one of California's most notable geological features. These mountains stretch over 400 miles up the eastern side of the state. Within the Sierra Nevadas lies the highest point in California, Mount Whitney.
Mount Whitney sits near the boundary of Inyo and Tulare counties between Sequoia National Park and Death Valley. The mountain towers 14,505 feet above sea level (4,421 meters). It is partially dome-shaped with iconic jagged ridges extending to the sides. 
Mount Whitney is a very popular destination for hikers and mountaineers looking to scale California's tallest peak. To reach Mount Whitney, you will need to drive a vehicle, as no public transportation is available. However, both day use and overnight parking are available for hikers near the Mount Whitney Trailhead (see this detailed map).
The closest major city is Los Angeles, about 3 ½ hours to the south. Those who are physically fit enough to reach the summit will enjoy an alpine climate, and sweeping views as the summit sits well above the forest tree line. Unfortunately, very few plants grow near the rocky summit.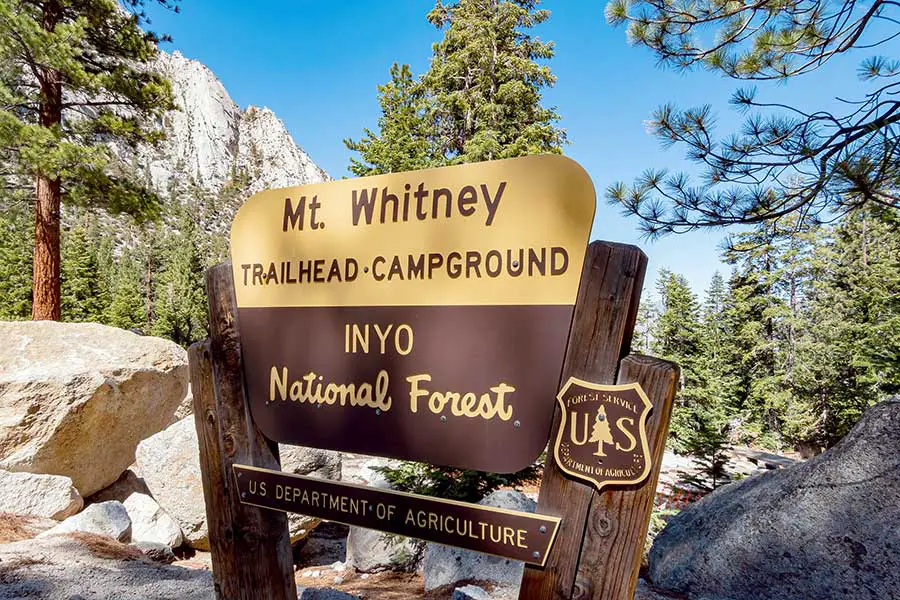 Most people climb Mount Whitney by way of the Whitney Trail. This trail is a heavily trafficked 22-mile out-and-back hike that starts near Lone Pine. The trail begins at an elevation of 8,600 feet. Because of the length of the trail, the 6,000-foot vertical elevation gain is relatively gentle. However, only experienced hikers should attempt this ascent.
For an average hiker, this hike takes 7 to 8 hours to reach the summit (about 12 to 14 hours round trip). There is also a more strenuous mountaineers' route that requires rock climbing gear and a partial vertical climb. Experienced climbers only should attempt this challenging route. 
Over 20,000 people visit Mount Whitney each year. However, because of its popularity for climbers, there are limits to the number of people who can climb the mountain. Therefore, permits are issued using a lottery system to give them to random applicants.
As a result, only 195 hikers are permitted on the trails on any given day (which includes about 60 overnight backpackers, 100 day hikers, and 25 hikers arriving from other routes). These limits allow the US Forest Service to protect the landscape's natural beauty from overuse and ensure plenty of resources are available for Search and Rescue if needed. 
Bay Area Answers Fun Fact: Athlete Matt Dubberly holds the world record ascent of Mount Whitney at a miraculous time of 1 hour and 47 minutes. He also holds the round-trip record of 2 hours and 38 minutes. 
How Do You Get a Permit to Climb Mount Whitney?
Online lottery applications to climb Mount Whitney are accepted each year between February 1st and March 15th at Recreation.gov. Two types of permits are available for climbers — Day Use and Overnight. There are pros and cons to each.
If you select a Day Use permit, you will be required to complete your ascent in a single day. The overnight option does give you an additional day, but you will need to pack extra gear such as a tent and sleeping bag. 
All permits must be picked up in person at the Eastern Sierra Interagency Visitor Center located two miles from Lone Pine. If you don't get a permit during the lottery, you still have a chance to get one. In some cases, people cancel their trips or don't arrive. The extra spaces are given to hikers that arrive at the Visitor Center on a first-come, first-served basis.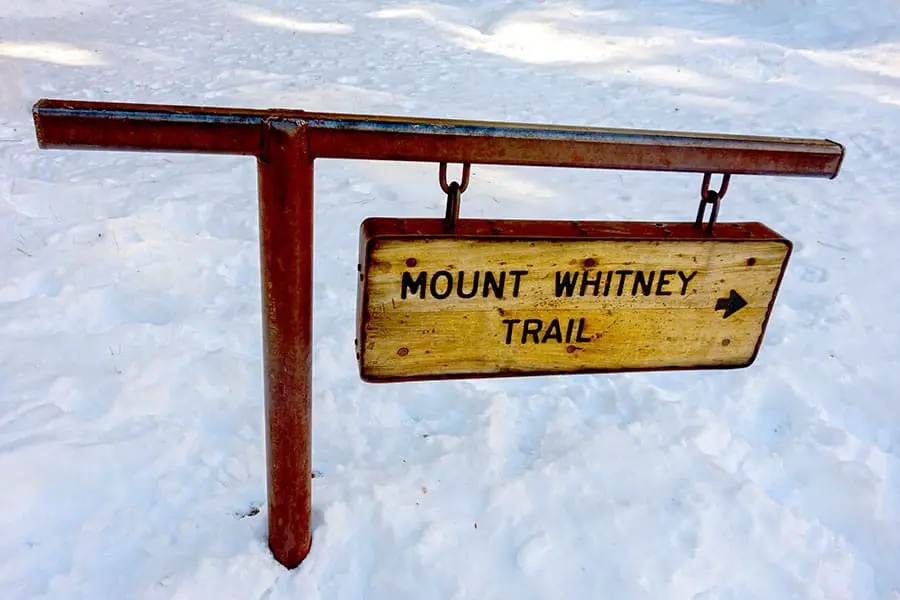 The Sierra Nevada Mountains are known for snow. In fact, the Sierra Nevadas are the second snowiest mountain range on the North American continent (after the Cascade Range, home to Mount Rainier). 
Mount Whitney does get a good amount of snowfall each year. However, due to its southern location, it doesn't have the same amount of snowpack as the Palisades or Mammoth Lake areas.
As a result, the snowy season changes each year, but hikers generally find no snow on Mount Whitney from late June to mid-October. Therefore, hikers should be cautious about planning their trip in the early or late part of the snowless season to avoid any abnormal snowfall. 
Other Posts of Interest
Is Mount Whitney the Highest Mountain in the United States?
In addition to being the tallest mountain in California, Mount Whitney is the tallest mountain in the contiguous United States (Lower 48). While this is impressive, Alaska has ten mountains that are taller than Mount Whitney. The tallest mountain in all 50 US states is Denali (also known as Mount McKinley), which boasts 20,310 feet.  
Mount Whitney is a part of the third largest mountain range in the United States after the Rocky Mountains and the Appalachian Mountains.
The Appalachian Mountains are located in the Eastern United States and are known for their heavy forest cover and rugged terrain. The range stretches 1,500 miles from Alabama to Maine (and even into Quebec, Canada).
The Rocky Mountains are the most extensive range covering an impressive 3,000 miles from Canada to New Mexico. 
What is the Difference in Elevation Between Mount Whitney and Death Valley?
Death Valley is located to the east of Mount Whitney. It's known for being the hottest and driest place in North America. This basin is a part of the northern Mojave Desert.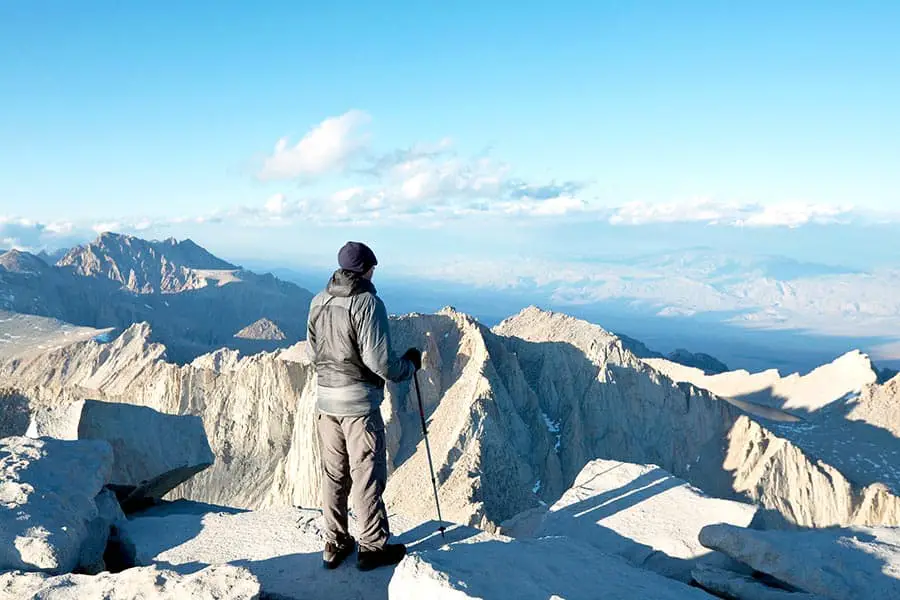 While Mount Whitney is the highest point in the contiguous United States, Death Valley is the lowest at 280 feet below sea level. These two extremes are located a short 88 miles apart with an elevation difference of 14,785 feet.
Temperatures in Death Valley can easily exceed 120 degrees in the summer and is a huge contrast compared to Mount Whitney, located less than 100 miles away. Yet, temperatures at the top of the mountain can dip below freezing even in the summer. 
Can You Ski on Mount Whitney?
There are some areas of Mount Whitney where people ski (notably the North Face). However, very few people chose this option as there are many other ski-friendly peaks and areas in the Sierra Nevadas like Mammoth Lakes or South Lake Tahoe. 
The winters are especially harsh on Mount Whitney. The off-season brings risks of avalanches or being stranded on a remote descent. Therefore, few people are willing to take the chance or risk their safety to ski Mount Whitney which requires very advanced skiing skills. 
Can You See Mount Whitney from Death Valley? 
On an exceptionally clear day, it is possible for you to see Mount Whitney from Death Valley. The best point to spot the towering peak is Dante's View Overlook. Visitors can spot the mountain by looking at a 2 o'clock position from the observation platform. The hiking distance between the two points is approximately 135 miles. 
Dante's View Overlook can be found towering above Badwater Basin at an elevation of over 5,500 feet. The good news is that visitors looking to access Dante's View Overlook can reach it by car (no hiking required). Unfortunately, while the road there is paved, the last few miles are very steep and windy. 
What is the Second Highest Mountain in California? 
Mount Whitney isn't the only impressive mountain in the State of California. The state is home to 15 mountain peaks that exceed 14,000 feet (often referred to as "fourteeners). The mountain to hold the official second spot is Mount Williamson which is also located in the Sierra Nevada Range. Mount Williamson stands 14,379 feet tall, a difference of only 126 feet from Mount Whitney. 
Visiting California's Tallest Peak
No matter where you happen to be in California, you are likely to spot the mountains in the distance, often snow-capped in the winter. Getting the opportunity to see them up close is a treat that will deliver an experience beyond words.
If you plan to hike to the top, be sure to secure a permit to make the trek when planning your trip. The last thing you want is to reserve flights and hotels only to find out you didn't get your permit request approved. While there are plenty of things that need to be done in preparation for your climb, the stunning views will be worth the effort.