Channel Islands National Park is located in a beautiful ocean setting in the United States. It consists of five outcroppings from the Southern California coast. These islands each provide different opportunities for adventure. Camping is one of the most pleasurable activities to do on the Channel Islands, but which island is best?
Santa Cruz Island is the best Channel Island for camping because it's the largest and most diverse of all the Channel Islands. Santa Cruz Island has 31 campsites at Scorpion Canyon Campground, which provides camping and activities suited for novice campers or experienced backpackers. 
Although camping is allowed on all the Channel Islands, Santa Cruz Island has the best options for campsites and recreational activities. Camping on the Channel Islands is different than mainland campsites with easier access. With proper preparation, camping on the Channel Islands can be more rewarding than other camping locations.
The Best Channel Island to Camp On
The Channel Islands are found off the gorgeous coast of Southern California. The beautiful Channel Islands are just a short trip from LA and offer visitors a fantastic camping experience. Each island has different characteristics that allow for unique experiences on each one.
Camping on a Channel Island is a great adventure, but it is essential to do your research before planning a trip. The Channel Islands offer primitive camping, so extra preparation is required to have a safe and enjoyable time. Campers must pack in everything they need for their trip. They also need to pack out all their trash since there are no garbage services.
You cannot purchase food on the Channel Islands, so whether you're camping or just exploring for a day, make sure to bring all the food you'll need with you.
Santa Cruz Island, California's largest island, provides 95 square miles to explore when you're not at your campsite. The hiking trails are well-marked for easy navigation. When considering heading to this site, you will have 31 different hike-in campsites available to choose from.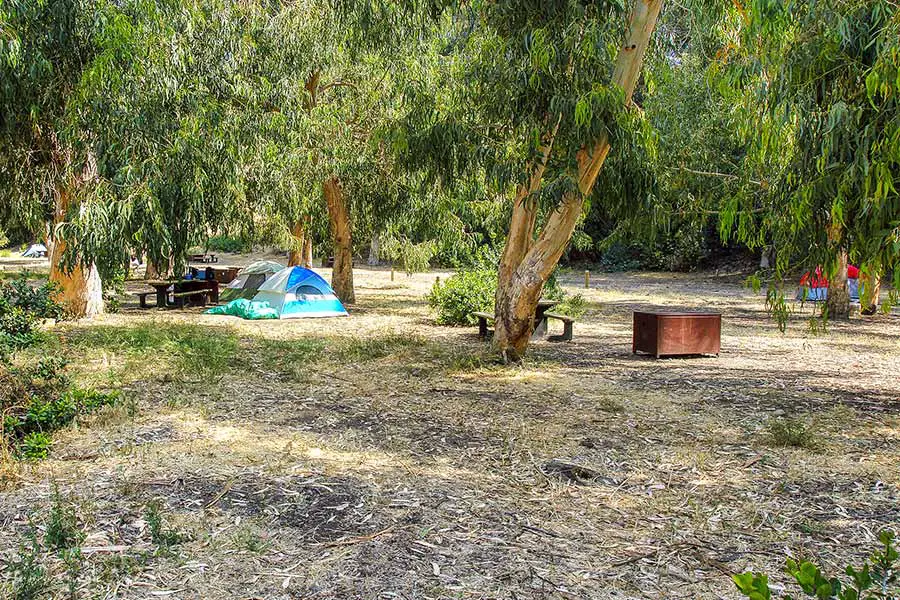 Visitors must have reservations and transportation before camping on Santa Cruz Island. Island Packers provides transportation, and campers need to book a cruise time to get to the island. Santa Cruz Island lies about 20 miles offshore, and the boat ride there takes around an hour.
The island has a wide variety of vegetation, views, and terrain, including beaches, dunes, and mountains. The island has flat, shaded places to camp and also steep hillsides to hike. 
One of the great benefits of camping on Santa Cruz Island is that it has potable water available at the Scorpion Canyon Campground. Out of the five islands, there is only one other campsite that has potable water. Having water available at your campsite makes it that much easier to prepare for your trip.
Another benefit of camping here is that it has the most available campsites. Scorpion Canyon is the main campground. It has 31 total sites. Of the 31 sites, 25 are individual sites where up to six people can stay, and the other six are for groups of up to 15 people. This campground on Santa Cruz Island gives you the greatest variety for different group sizes.
Additionally, the campground is only half a mile away from where the boat drops you off, and it's a flat trail to get there. Other Channel islands require longer, steeper hikes. There are also picnic tables and a pit toilet at the campsite.
Santa Cruz Island has kayaks available to rent, or you can reserve a place to bring your own. Kayaking offers a new view of the island as you can explore some of the caves and coastline of the beautiful Santa Cruz Island. There are guided tours available, too, so you can get the most out of your camping trip.
There are also camping opportunities for experienced backpackers on the island. Backcountry camping is only available year-round on Santa Cruz Island, and Del Norte is the only backcountry campsite available. Backpackers must hike 3.5 miles from Prisoner's Harbor or 12 miles from Scorpion Anchorage and go up 700 feet in elevation to get to this site.
The campsite provides views of the pristine coastline. Unfortunately, there are only four campsites available, and four people can stay at each one. Picnic tables and pit toilets are provided; however, water is not available.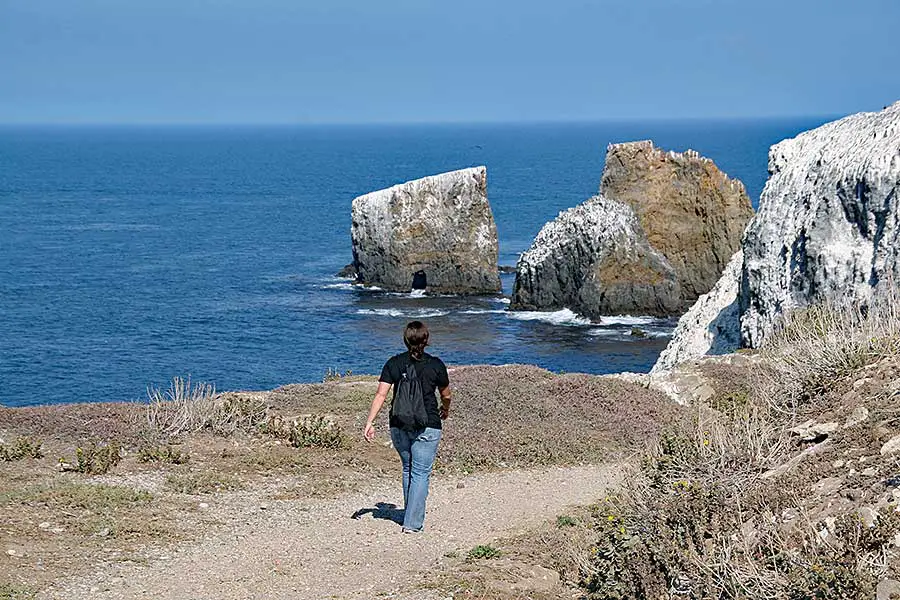 The other islands offer great camping experiences with different benefits that make them unique. For example, Anacapa Island is a great island to camp on because it has incredible views, but the island is small, so hikers can cover the entire thing in one day.
However, of all the Channel Islands, Santa Cruz is the best one for camping because it has the most campsites, potable water, and recreational activities.
Other Posts of Interest
What is the Best Time of Year to Camp on the Channel Islands in California?
Although year-round camping is available on the Channel Islands, there are times to go that are better than others. Since the Islands are in Southern California, the best time to go camping is from mid-spring through the early fall. Anywhere from April to October is generally the best time to camp.
These are the best times to camp because of the weather. The average high is around 70 degrees in the spring, and then it increases as summer starts to hit, with highs averaging 80-85 degrees.
In the fall months, September and October are considered shoulder seasons because although there is still a chance for rain showers throughout these months, rain showers are much more infrequent than during other times of the year.
The best time to camp at Santa Cruz is during the colder months when it's not so hot and humid outside. It's best to try to schedule a trip when it's not too cold or too hot. Check availability here, since milder months are more popular for camping.
Camping on the Channel Islands in the winter can be a bit more challenging because of the rain and colder weather, but it is still possible. In December, the average high is only 65 degrees Fahrenheit, and the average low is 48 degrees Fahrenheit.
If you plan on camping in the summer, be prepared for the heat with plenty of water and places to rest in the shade. If you are camping in the winter, it's essential to bring plenty of warm clothes and have ways to keep them dry. It's helpful to have a waterproof bag, a warm sleeping bag, and a tent that will keep moisture out.
Which Channel Island is Best for Hiking?
The best Channel Island for hiking is also Santa Cruz Island, which is one more reason that makes it the best for camping. Since it's the biggest island, it offers the most options for hiking.
Island hikers must be prepared to hike on trails with uneven, rocky surfaces and steep inclines (up to 600 feet). Bring plenty of water and snacks as well as a first-aid kit just in case there is an injury that prevents you from completing your hike.
One good hike is Smuggler's Cove. It is 3.5 miles each way, and there are groves of trees that offer places to rest or have a picnic.
Bay Area Answers Fun Fact: Painted Cave on Santa Cruz Island, accessible only by water, was the inspiration for some sets of the famous movie Pirates of the Caribbean.
Another exciting trail is the Scorpion Canyon loop trail. The hike is strenuous with a lot of elevation gain, but the views are worth it! There are bluebirds and foxes along the trail, and you can even hike down to Smuggler's Cove and spend some time in the water if you're hiking on a hot day.
If you're looking for a more moderate hike that still offers incredible scenery, try Cavern Point Loop Trail. This hiking loop is only two miles long and takes hikers through meadows and around rocky cliffs. On a clear day, you can find gorgeous views of the other islands.
There are enough trails and areas to hike that campers can do so without being on crowded trails.
Are There Snakes on the Channel Islands?
Like most campers, you are probably wondering whether there are snakes on the Channel Islands. Of course, it is never good when you get a snake cuddling up to you in your sleeping bag. So you will be happy to know that there are a limited number of snakes on the islands.
There are only two types of snakes found on the Channel Islands, and both are non-venomous. The two types of snakes found on the Channel Islands are the gopher snake and the western yellow belly racer.
Are the Channel Islands Windy?
Yes, there tends to be more wind on most of the Channel Islands than what people experience in other nearby areas. This is because, on a windy day, the winds come unencumbered from the sea. In addition, some of the outer islands have windbreaks at the campgrounds since these islands are so exposed to the wind.
In the summer, the wind can be a great help to keep island visitors cooler in the heat.
Escape to the Channel Islands
Camping on the Channel Islands is a unique experience that few people get to do. The islands are known for their natural beauty and the opportunity to escape from everyday life.
Many places in Southern California are busy and loud, so the Channel Islands provide a much-needed escape. Just outside of LA, you can have a place to camp and enjoy the raw, untouched beauty that California has to offer.