The American prison system holds nearly 2.3 million inmates. Their offenses range from petty theft to insider trading to murder. Of the thousands of jails, prisons, and correctional institutions, only a handful holds the vilest and most sinister criminals. One of these prisons is San Quentin State Prison near San Francisco, California. The question is, what makes San Quentin State Prison so famous?
San Quentin State Prison is the only death row prison in the State of California. Notable residents include serial killers, gang leaders, and drug cartel bosses. In addition, the prison is known for being one of the most violent prisons in the United States.
Its reputation has resulted in being featured in numerous films and television shows which have helped increase its notoriety. The prison has long been a part of California history, dating back almost 170 years. Continue reading for more information about the history of San Quentin, famous inmates who served time there, and what's in store for the future of the facility.
San Quentin State Prison – What Makes it so Famous?
San Quentin State Prison is located in the Bay Area in an unincorporated area of Marin County on the banks of the San Francisco Bay. The prison complex occupies an area of 275 acres. Despite having a capacity of 3,082 people, the prison currently holds nearly 3,800 inmates.
San Quentin is famous for housing death row prisoners. In addition, another reason for its notoriety is its depiction in film, television, and literature as being one of the most dangerous prisons. San Quentin has a long history in California and has been home to some of the most famous criminals, murderers, and gang members in American history.
Only the worst of the worst get sent to serve their sentences at San Quentin. Therefore the prison has also been the place where many criminals met their end as the only prison to perform executions in California.
Famous Prisoners of San Quentin
Over the years, San Quentin State Prison has been home to many infamous criminals. Here are some of the most recognizable prisoners who served time there.
Charles Manson – Probably the most famous of them all is Charles Manson, the leader of the villainous Manson family. Manson only served part of his sentence at San Quentin. Still, while he was there, he was interviewed for several news stories and documentaries (one of which won a national news Emmy Award for Best Interview in 1987).
William Bonin – Bonin (AKA, the Freeway Killer) was a serial killer responsible for the rape, torture, and murder of at least 21 boys and young men between 1979 and 1980. Bonin, who was also suspected of committing at least 15 other murders, was executed at San Quentin in 1996.
Merle Haggard – The famous country music singer was sentenced to 15 years at San Quentin for robberies he committed in 1957. However, he was released early and went on to be inducted into the Country Music Hall of Fame in 1994.
Richard Ramirez – Known as the Night Stalker, Ramirez murdered over a dozen people in 1985 in Southern California. He served nearly 30 years at San Quentin until he died of natural causes.
Stanley "Tookie" Williams – The notorious leader of the Crips gang was executed at San Quentin State Prison in 2005.
Sirhan Sirhan – Sirhan was responsible for the assassination of Robert F. Kennedy at the Ambassador Hotel in Los Angeles in 1968.
Bay Area Answers Fun Fact: The first prison in California was a wooden ship named Waban which could hold 30 prisoners. When the vessel reached capacity, the prisoners on the ship were sent to construct San Quentin State Prison.
Why is San Quentin State Prison So Dangerous?
San Quentin is considered one of the most dangerous prisons in the country. The reason for this is the type of prisoners who are sent there. San Quentin is typically reserved for the most violent of criminals, such as murderers, gangsters, and members of drug cartels. As a result, there are regular occurrences of violence against inmates and prison guards despite efforts over the years to bring in programs to help reform inmates.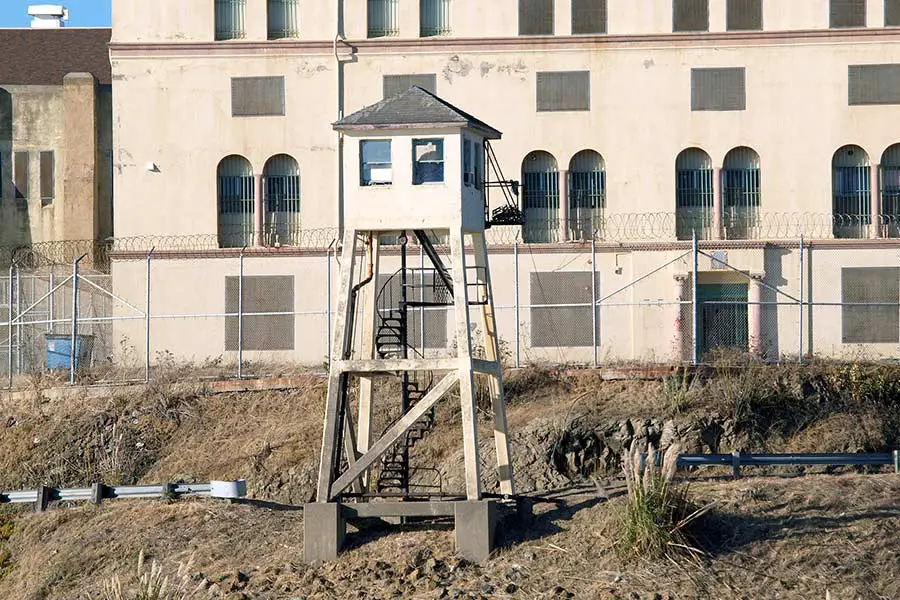 Is San Quentin Only for Death Row Inmates?
While San Quentin State Prison is the only prison in the State of California with a death row, there are many other types of prisoners who are kept there. Today, about 20 percent of the prison population are death row inmates.
The method of prison executions has changed over the years. Below are the dates and number of inmates that were put to death using the various types of execution:
Two hundred fifteen inmates were executed by hanging from 1893 to 1937.
One hundred ninety-six inmates were executed in the gas chamber from 1938 to 1995. In the mid-90s, this was deemed an inhumane form of execution and was banned.
Eleven inmates were killed by lethal injection from 1996 to 2006.
Although San Quentin is a men's prison, female death row inmates were transported there for their execution.
The last prisoner to be executed at San Quentin was in 2006. On March 13, 2019, Governor Gavin Newsom ordered a moratorium on the death penalty in the state, halting all planned and future executions.
Other Posts of Interest
Has Anyone Ever Escaped from San Quentin?
Despite being a maximum-security facility, San Quentin State Prison has seen several escapes over its history. The early years had the most ineffective security. In 1854 alone, more than 80 prisoners escaped.
The most notorious escape attempt was made by a group known as the San Quentin Six. One of the inmate's attorneys assisted in smuggling a handgun into the prison. When the gun was drawn on the prison guards, a riot ensued. Three prisoners and three guards were killed during the riot.
The most recent escape occurred on December 26, 2018, when Shalom Mendoza escaped while performing a work detail outside of the main perimeter gate. When the guards weren't watching, he took the opportunity to make a run for it. He was finally caught three days later in Paso Robles, over 200 miles away.
Did San Quentin Replace Alcatraz?
Alcatraz is world-famous as the inescapable prison. Constructed on an island in the center of the San Francisco Bay, Alcatraz was home to some of the most dangerous inmates in the western United States. Alcatraz remained in operation as a civilian prison from 1934 to 1963.
Since it was on an island, the prison was costly to maintain since fuel, food, and other supplies had to be brought by boat. When the prison finally closed its doors, its death row inmates were transferred to San Quentin State Prison.
Which is Older Alcatraz or San Quentin?
San Quentin, which opened in 1852, is technically the oldest prison in the State of California.
Alcatraz Island has a history that is just as long as San Quentin. However, it wasn't always used as a prison. Alcatraz Island was originally fortified as a military installation in 1848.
During the Civil War, the island was used to protect weapons and supplies from falling into the hands of Confederate sympathizers. From then on, it continued to serve as a military prison until it was sold to the Bureau of Prisons to be used for civilian incarceration.
Is San Quentin Closing?
From 2011 to 2021, California saw a rapid decline in the number of inmates in the prison system (prison populations fell from 144,000 to 95,000 during the decade). Because of this, government officials have received pressure from the public to close down many of the prisons and correctional facilities to save money.
It's estimated that California could close as many as five prisons by the year 2025. These closures are expected to save approximately $1.5 billion in annual spending. While no decision has been made regarding which facilities will be closed, the focus has been on the oldest prisons since these complexes typically have the highest upkeep cost. Since San Quentin is the oldest in the state, it is a likely candidate for closure.
San Quentin – Keeping California Safe
Despite being a dark place for criminals to go and serve their sentences for heinous crimes, the prison has a very interesting place in California history. Facilities like this have helped keep the residents of the state safe for many years. So while the future of San Quentin hangs in the balance, Californians can sleep well knowing that the dangerous criminals there are well secured. For now.