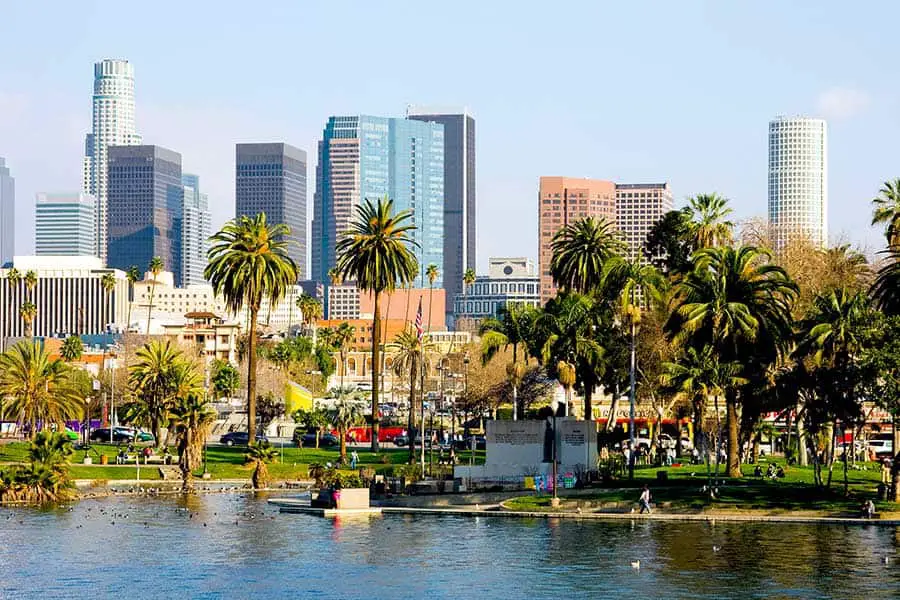 Each year, millions of people flock to California to enjoy stunning coastlines, sprawling cities, and quiet wineries. Naturally, some locations are more popular than others. If you are planning your vacation to the Golden State, you might be wondering what the most visited city in California is?
Los Angeles is the most visited city in California. Each year, approximately 50 million tourists from around the world arrive to visit the many landmarks, museums, amusement parks, and entertainment industry attractions that Los Angeles has to offer.
Planning a trip to Los Angeles can be overwhelming. There are so many things to do that it can be challenging to choose an itinerary. In this post, I'll cover why Los Angeles is so popular and which attractions are the best to visit.
Los Angeles – California's Most Visited City
Los Angeles is the most visited city in California. This fact should come as no surprise as it's known for being the entertainment capital of the world, filled with beaches, movie studios, famous landmarks, museums, amusement parks, exciting nightlife, and access to some of the best food scenes in the world.
Compared to other cities, Los Angeles is ranked number one in California and number three in the United States (after New York and Miami). Los Angeles gets approximately 50 million visitors each year. The majority of these tourists come from within the United States. However, about 7 million visitors come from abroad each year. Chinese tourists make up the largest group, representing approximately 1.2 million tourists each year.
Despite their numbers, foreign tourists generate about half of all the $32 billion tourism dollars. This influx helps to employ about half a million people across the region.
The vast majority of international tourists arrive by plane (except for Mexico, which borders the State of California to the south). However, even US-based tourists are more likely to fly because of the availability of great airports (LAX, Burbank, Long Beach, Orange County, and Ontario). In addition, because of its location on the coast, most US visitors would need to drive at least 4 to 6 hours to reach Los Angeles.
A minimal number of visitors (about 1% or around 500,000) arrive in Los Angeles through the cruise ship ports.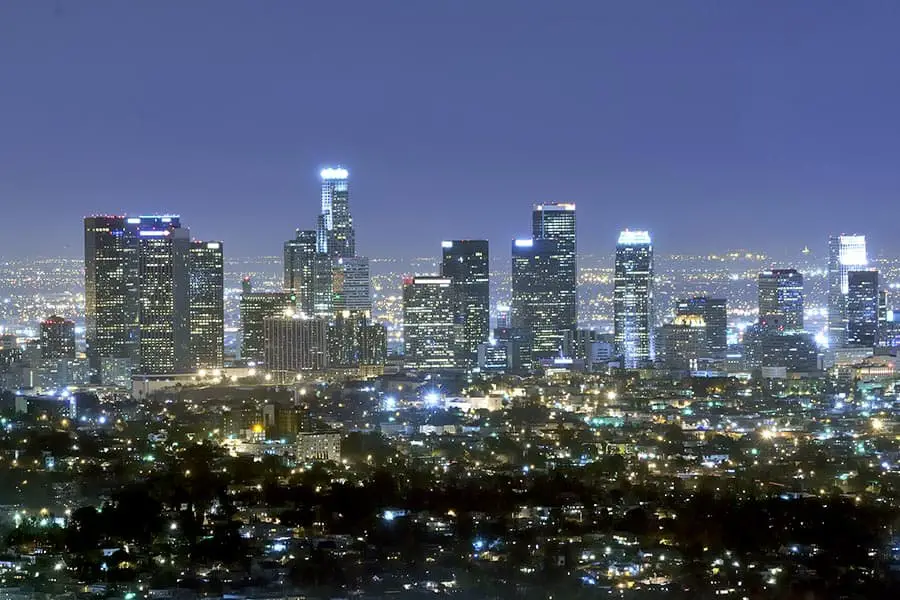 The peak tourist months run from June to September in LA. This peak typically aligns with kids being out of school as families flock to the beach or nearby Disneyland for vacation. This period is also the time when the temperatures are the highest and hotel pricing surges. Visitors looking to avoid the crowds can arrive just before or after the peak to experience cooler temperatures and save a bit of money.
What are the Top Attractions in Los Angeles?
There is no shortage of things to do in the City of Angels. Below is a list of some of the most visited and popular attractions. However, this is just a starting point. Depending on your interests, the age of your children, or access to transportation, there are lots of other options.
Bay Area Answers Fun Fact: Los Angeles is the only city in North America to have hosted the Olympics twice.
Landmarks
Hollywood Walk of Fame – Most people would recognize this famous landmark from movies and pop culture. The sidewalk along this 15-block stretch of Hollywood is dotted with hundreds of stars with the names of famous celebrities and actors.
In addition, you'll likely see lots of street performers and impersonators to entertain you. Just watch for pickpockets, as some are just a mere distraction for petty street criminals. While you are there, don't forget to stop by Madame Tussauds Hollywood Wax Museum and the TCL Chinese Theatre.
Hollywood Sign – This cultural icon and landmark is known across the globe for its appearance in movies and for being the symbol of the entertainment industry. The letters stand 45 feet tall and can be seen from various places across Los Angeles.
However, the best place to see the letters is up close. The Burbank Peak Trail is the shortest trail to take, which is 3.3 miles long and takes about 2 hours. If you aren't into hiking, the view from the Griffith Observatory is easily accessible and impressive.
Other Posts of Interest
Beaches and Waterfronts
Venice Beach – Most people visit California for the sunshine and beaches. Venice Beach is the most popular beach in Los Angeles and gets up to 30,000 visitors each day during the summer. This beach is so famous that it is the second most popular attraction in Southern California, after Disneyland.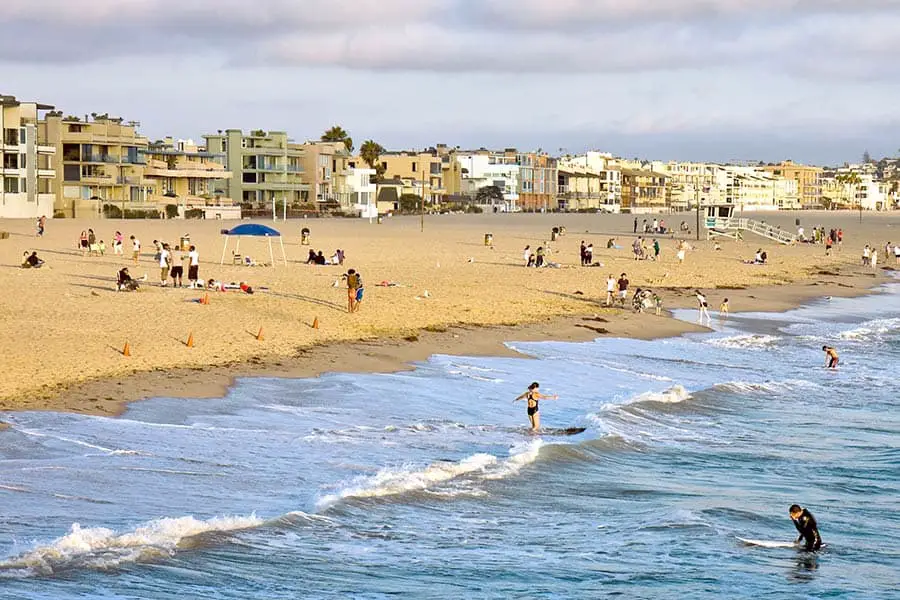 Beachgoers can spend time playing in the water, sunbathing, or walking along the two-mile-long boardwalk that features a skatepark, outdoor gym, and lots of shops and restaurants.
Santa Monica Pier – The Santa Monica Pier, located just north of Venice Beach, is a unique attraction. Originally a pier built in the early 1900s as a way to get sewage pipes to reach beyond the breakers, the Santa Monica Pier has been transformed into a mini amusement park of sorts. The pier features shops, restaurants, and carnival rides like a 55-foot tall roller coaster and a Ferris wheel.
Parks and Nature
Griffith Park and Observatory – Griffith Park is the largest municipal park in Los Angeles, spanning over 4,000 acres. It's chock full of hiking trails, a performance theatre, and a small zoo.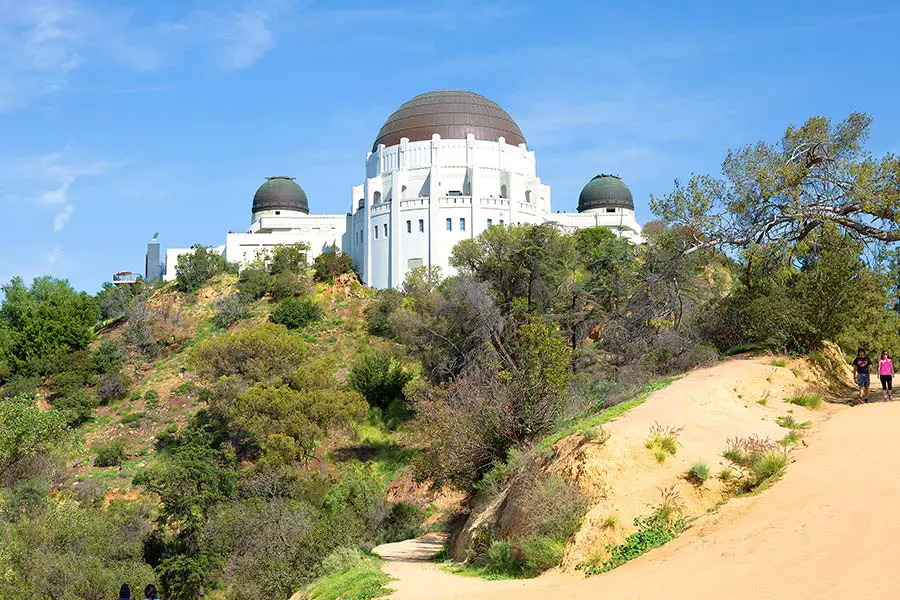 However, most visitors go to visit the Griffith Observatory perched at the top of the hills. This observatory, which is free to enter, is now a public museum dedicated to space education. In addition to the museum, you can get amazing views of the Hollywood Sign and Downtown Los Angeles.
Huntington Library – If you are looking to get away from the hustle and bustle of Los Angeles, the Huntington Library is a great option. While an on-site library holds works from great writers like Jack London and Mark Twain, Huntington Library is known for its expansive botanical gardens.
The 200-acre gardens are separated into 16 themes, including Australian, Chinese, Japanese, desert, jungle, Shakespearean, and Rose garden, each with their respective plant species.
Museums
Getty Center – The Getty Center (or "The Getty" as locals call it) is a top-quality art museum that could easily rival its European counterparts. This museum is free to the public (other than parking) and includes works from famous artists like Van Gogh and Rembrandt. The Getty also offers sweeping views of downtown Los Angeles.
California Science Center & Los Angeles Natural History Museum – While these two museums are technically separate, they are adjacent to each other so that you can visit both together. The California Science Center has permanent exhibits displaying various fields, including ecosystems, inventions, biology, and space.
The Natural History Museum is the largest natural history museum in the Western United States and has over 35 million specimens and artifacts. It's primarily known for its dinosaur bone exhibit. Between the two, these museums get 2-3 million visitors each year. Both are free to enter; you just have to pay for parking.
Sporting Events
Los Angeles Professional Sports Teams – Depending on what sport interests you and your family, Los Angeles is home to professional sports teams from nearly every major sport. The teams include the Dodgers, Rams, Lakers, Chargers, Kings, Galaxy, Clippers, and Angels.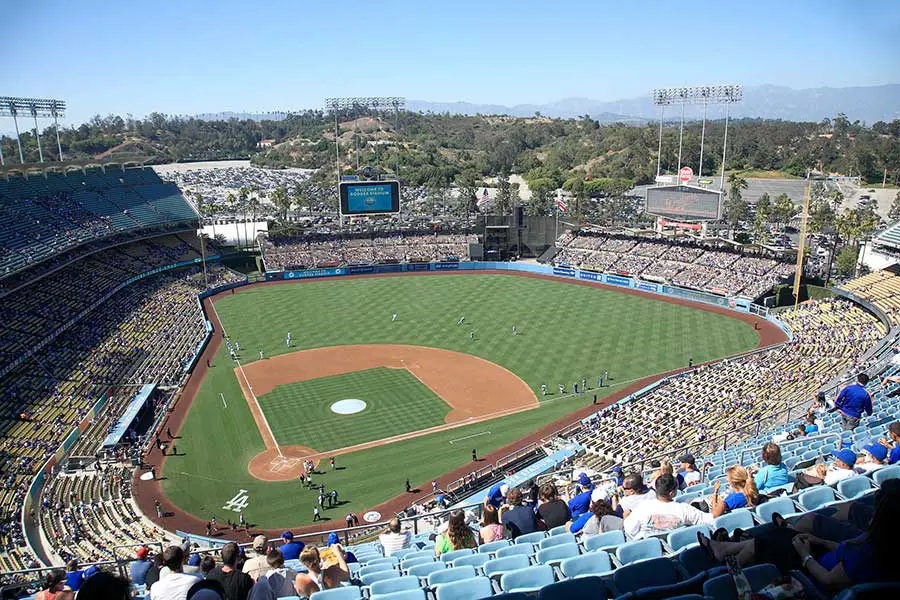 Amusement Parks and Entertainment
Disneyland – This is the only attraction on the list that is technically not in Los Angeles. However, it is the single most popular tourist attraction in Southern California, with over 18 million visitors each year. In addition, Disneyland can be reached easily from downtown Los Angeles via public transportation.
Universal Studios Hollywood – This amusement park comes in second place to Disneyland and is visited by 9 million people each year.
This unique amusement park is dedicated to movies and entertainment. Guests get the opportunity to take an interactive studio tour and enjoy dozens of movie-themed attractions and rides.
Walt Disney Music Hall – This architectural masterpiece, designed by famous architect Frank Gehry, is worth visiting if you are looking for a fantastic orchestral performance. This venue seats over 2,000 people and is home to the Los Angeles Philharmonic Orchestra.
Hollywood Bowl – The Hollywood Bowl is an amphitheater located near Hollywood and is one of the best concert venues in the country (top 10 according to Rolling Stones Magazine). The Bowl hosts many concerts from top-performing bands, orchestras, and artists throughout the year.
Shopping
Rodeo Drive – This two-mile stretch of Beverly Hills is famous for its world-famous shopping scene. You'll see all the top brands, including Gucci, Louis Vuitton, and Chanel. Even if you haven't included designer handbags in your vacation budget, it's still fun to window shop.
Planning Your Trip to Los Angeles
With so many incredible things to do in Los Angeles, it's easy to become overwhelmed as you plan your trip. One thing to remember is Los Angeles is a massive city. Geographically, it's spread out across a large area.
As a result, a lot of the tourist attractions are not close to one another. While there is an expansive public transportation network, renting a car is the easiest way to get around, so be sure to factor this in when planning your trip.